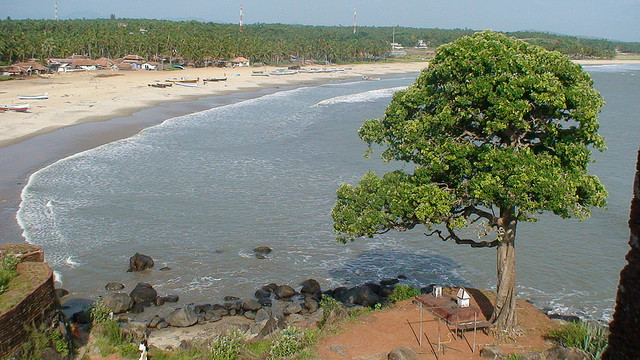 History
Bekal was under the sovereignty of Kolathunadu when it became an important maritime centre and an important port town of Thulunadu (old Kasaragod district). Later, realising the political and economic importance of Thulunadu, many laudatory chieftains successively attacked and annexed this part of the country. The economic importance of the port town prompted the Jeheri Nayak dynasty to fortify Bekal.
The Bekal Fort was completed speedily during the period of Sivappa Nayak to defend the port from overseas attack. The Chandragiri Fort near Kasaragod was also constructed during this period.
It is believed that the "Kotteyar" community found in Bekal, Panayal and other places in Kasaragod were brought here by the Nayaks to build and defend the forts. Bekal subsequently fell into the hands of the Mysore Sultans.
It then served as an important military station of Tipu Sultan when he led the great military expedition to Malabar. Coins and other artifacts unearthed by archeologist's excavation at the Bekal Fort are an indication of the occupancy of the Mysore Sultans.
Years later, the East India Company made Bekal the headquarters of the newly organised Bekal Taluk of the South Canara District of Bombay Presidency. South Canara then became a part of the Madras Presidency in 1862 and Kasaragod Taluk was set up in place of Bekal Taluk. Gradually the political and economic importance of Bekal and its port declined considerably.
Kasaragod became part of Kerala with the State reorganisation in 1956.
Accessibility
By Air: Nearest airport to Bakel is Mangalore domestic terminal, 50 km from Bekal. Nearest International airport is Karipur (Kozhikode), 180 km away from Bekal.
By Rail: Nearest major railway stations are Kasargod and Kanhangad, both are about 12 km away from Bekal.
By Road: Nearest towns are Kanhangad and Kasargod, both are about 12 km away.
Things to do
Houseboat Cruise: A cruise with the palm decorated waterways of Malabar in a sumptuous houseboat is the most astounding place to rejoice the holiday trip. Kerala offers its tourists people to delight in and take pleasure of their stay in the comfortably designed houseboats. The houseboats are the exciting reflexion of its antecedents, the Kettuvallom. The groundwork of these houseboats is made purely autochthonic and comfortable to handle. The major limelight of this houseboat is – they are no way lesser to the star hotels while considering the comfort and merriment. With sophisticatedly designed and grandly floored, the houseboat offers you a wide variety of bedrooms such as single, double and triple.
River Cruises
It is possible to take a leisurely cruise along the Chandragiri River and visit many of its green islands.
Trekking
Trek at Ranipuram, 750m above sea level, amongst the thick greenery to watch birds and small animals.
Termperature
Summer 22-35°C, Winter 20-25°C
Best time to visit
September to March
Famous For
Backwaters, Beaches