Tungnath, literal meaning is lord of the peaks, is the highest temple (dedicated to Lord Shiva) in the world and is one of the five and the highest Panch Kedar temples located in the mountain range of Tunganath. It is an enchanting location where the nature is fabulously adorned with pictorial vistas. The Tunganath mountains form the Mandakini and Alaknanda river valleys.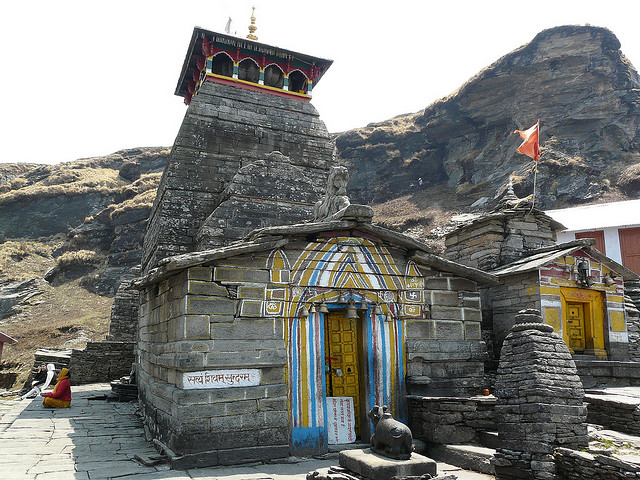 History
According to Hindu mythology lord Shiva and his consort Parvati both reside in the Himalayas: Lord Shiva at Mount Kailash and Parvati (Shail Putri) is considered to be the daughter of hills.[1]
The Tunganath myth is indelibly linked to the origin of the Panch Kedar temples built by the Pandavas. The legend states that sage Vyas Rishi advised the Pandavas that since they were culpable to the slaying of their own relatives (Kauravas, their cousins) during the Mahabharata war or Kurukshetra war, their offense could be pardoned only by Lord Shiva. Consequently, the Pandavas went in search of Shiva who was avoiding them since he was convinced of the guilt of Pandavas. In order to keep away from them, Shiva took the form of a bull and went into hiding in an underground safe haven at Guptakashi, where Pandavas chased him. But later Shiva's body in the form of bull's body parts rematerialized at five different locations that represent the "Panch Kedar" where Pandavas built temples of Lord Shiva at each location, to worship and venerate, seeking his pardon and blessings. Each one is identified with a part of his body; Tungnath is identified as the place where the bahu (hands) were seen: hump was seen at Kedarnath; head appeared at Rudranath; his navel and stomach surfaced at Madhyamaheshwar; and his jata (hair or locks) at Kalpeshwar.
Legend also states that Lord Rama, the chief icon of the Ramayana epic, meditated at the Chandrashila peak, which is close to Tungnath. It is also said that Ravana, also of Ramayana fame did penance to Shiva, the lord of the peaks, when he resided here.
Accessibility
By Air: The nearest airport is Jolly Grant Airport in Dehradun, which is about 232 km from Tungnath. Nearest International airport is Delhi.
By Rail: The nearest railhead is at Rishikesh which is about 215 km away from Tungnath. Trains are available from Rishikesh to other major cities in India.

By Road: It requires about 3.5 km trek from Chopta to reach the holy hilly place Tungnath. Chopta is accessible through road transport like cars and buses from Rishikesh through Chamoli and Rudraprayag. It is also reachable from Ukhimath (about 30 km from Chopta) on the Badrinath - Kedarnath route.
Termperature
Summer 22-45°C, Winter 0-23°C
Best time to visit
March to October