Surat, the diamond capital of the world, is situated on the left banks of the river Tapti with a moat that divides the old city form its new suburbs. In ancient India, Surat was one of the most important ports on the western coast of India and is known for its textile and diamond industry.
Surat is renowned for its silk weaves like the Tanchoi and Gajee sarees and Kinkhab brocades sometimes woven with gold and silver threads. The first warehouses was established in Surat by the East India Company in the year 1612. It is famous for its jewellery market and diamond cutting as well as ivory and wood inlay work.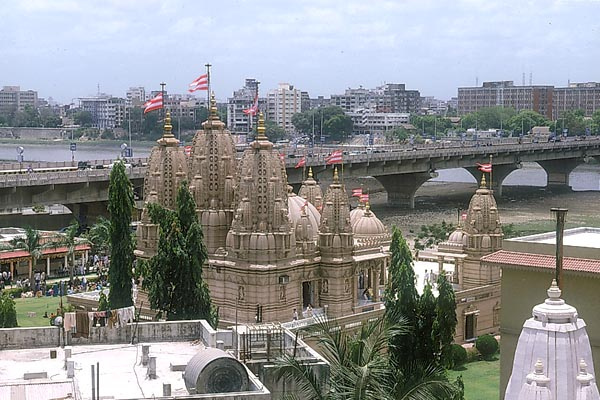 History
The city narrates the history of thousands of years, from the period of Mahabharatha to the period even after the independence of the country. According to mythological beliefs, Lord Krishna stopped in the city while his journey from Mathura to Dwarka.
It was one of western India's major ports and trading towns in the 17th and 18th centuries and the first European settlement in India. The British and the Portuguese waged battles against each other to gain supreme control over the trading route. The French and the Dutch also arrived in the city with merchandising objectives. Since then, the city witnessed plenty of movements and agitations against the English atrocities and has contributed a lot to the freedom movement of the country and thus emerged as one of the significant cities in India.
Accessibility
By Air: The nearest airport is Vadodara (140 Km), connected by Indian Airlines and Jet Airways with Mumbai.

By Rail: Surat is a railway station on the western railway broad gauge line, connected with other cities/ towns in Western and Northern India.

By Road: Surat is connected by motorable roads with Ahmedabad 267 Km, Ahwa 156 Km, Bharuch 88 Km, Gandhinagar 300 Km, Jamnagar 531 Km, Junagadh 550 Km Kheda 240 Km, Mehsana 356 Km Mumbai 326 Km, Vadodara 140 Km and Valsad 94 Km.
Shopping
Shopping in Surat is a delightful experience and you should not miss it during your trip to the city. Some of the most popular items of Surat include traditional handlooms and handicrafts, and woodworks. The artisans of Surat manufacture table lamps, boxes, side tables and various other utilities that you can carry as souvenoir. Surat is also known for zari work, while shopping in Surat pick up a few beautiful garments adorned with exquisite works of zari, kinari and salma. The city of Surat also has a rich tradition of silver work and you may buy jewelleries or items made for silver. Sadeli or marquetry work is another specialty of Surat. A number of private-run shopping centres and government emporia sprawl across the Surat city. Besides, you can also explore the stall erected by the local vendors who offer a good bargaining.
Since long past Surat, in Gujarat, has the reputation of a key trading center in Western India. During the reign of the Mughals, Surat was an important port on the western coast. Mercantile and commercial traditions still continue in the land.
The land also has a rich tradition of handlooms and handicrafts, which make for fantastic shopping in Surat. It is of course one of the most important zari-manufacturing centre in India. Fine gold and silver threads used in zari work are made in hundreds of big and small workshops in Surat. Do pick up a few lustrous Indian garments embellished with the exquisite works of Zari, kinari, salma, while shopping in Surat.
Woodworks are also popular items for shopping in Surat. The skilled artisans of Surat carve out table lamps, side tables, boxes and various other utilities and objets d'art, which serve as fantastic souvenirs. Sadeli or marquetry work is yet another specialty at Surat. Long, thin strips of wood, tin or ivory are cut and pasted in patterns on boxes and caskets to create appliquéd goods. Surat also has a rich tradition of silver work. A few items easily found in the local bazaars should feature in our shopping cart in Surat.
Accommodation
Surat is dotted with plenty of hotels many of them near the railway station and in Sufi Baug. Finding a room at Surat is not a problem, however during the weekday afternooons you may not get a room as most places are booked by visiting business travellers. Some of the famous hotels of the city are Hotel Diamond Plaza (Unapani Road), Hotel Embassy (opposite the railway station), Lords Park Inn, Holiday Inn Surat, Hotel Sheetal Plaza, Hotel Ashish International, Hotel Omkar, Hotel Vaibhav, Hotel Sarvajanik, Tex Palazza Hotel, Hotel Dreamland, Hotel Ashoka etc.
Surat is an important destination in Gujarat. By virtue of its hallowed memory of Mahatma Gandhi, a lot of tourists come to visit Surat. Since 14th century, Surat was one of the most significant ports of Mughal Empire. Today also Surat is a key trading center in western India.
There are a good number of hotels in Surat. From five-star luxury to value for money, there are lots of options for accommodation in Surat.
A few reputed Indian and international chains also have their hotels in Surat. Side by side individual hotels also offer modern amenities and comfortable stay.
Most of the hotels in Surat are reasonably priced and are sure not to burn a hole into your pocket. Some hotels are located within the city whereas others are on the edge of the city. You can very well visit the tourist attractions in Surat from the hotels in Surat.
Here are a few select hotels in Surat
High-end hotels in Surat
Holiday Inn Surat
Lords Park Inn
Low-end hotels in Surat
Hotel Sheetal Plaza
Hotel Ashish International
Attractions
Dang Durbar: Dang Durbar, is an annual fair which represents the old tradition of kings and chieftains who would visit the city of Surat to meet in the popular Durbar. It is held in the early months of spring (January/ February), few days before Holi festivals.
Presently, it is the gathering of various tribal people from different parts of the district in their traditional attire and garments. The festival exhibits the arts and crafts of tribal and the festivities displays the culture and tradition of the region. Traditional dandia and garba dances are performed tuned to the popular music of the region called 'ras'. The atmosphere, marked by the sound of shehnai, makes the fair lively and pleasant. Traders from different regions attend this fair to display and sell their products.
Kite Flying Festival: One of the very popular festival in the city is the kite flying festival that have started in the year 1989 in Ahmedabad. The main highlight of this festival is kite flying competition and it is held on Makar Shankranti in the month of January. On this day, the sky is decorated with a plethora of colorful and designed kites. People of all age will participate in this event that continues from morning to the end of the day. During night, the sky is adorned with 'tukkals'- a special kind of illuminated box kites that are strung together in a series.
Though held in a smaller scale than Ahmadabad, Surat kite festival attracts specialists in kite flying from different parts of the district. Participants from France, Malaysia, Korea, Abu Dhabi, U.K, China and Israel and other countries also come here to take part in the event.
Best time to visit
October to March