Rudraprayag is one of the Panch Prayag (five confluences) of Alaknanda River, the point of confluence of rivers Alaknanda and Mandakini. The meeting of the Mandakini and Alaknanda rivers has a unique beauty of its own and it seems as if two sisters were embracing each other. It is believed that to master the mysteries of music, Narad Muni worshipped Lord Shiva, who appeared in his Rudra Avtaar (incarnation) to bless Narad.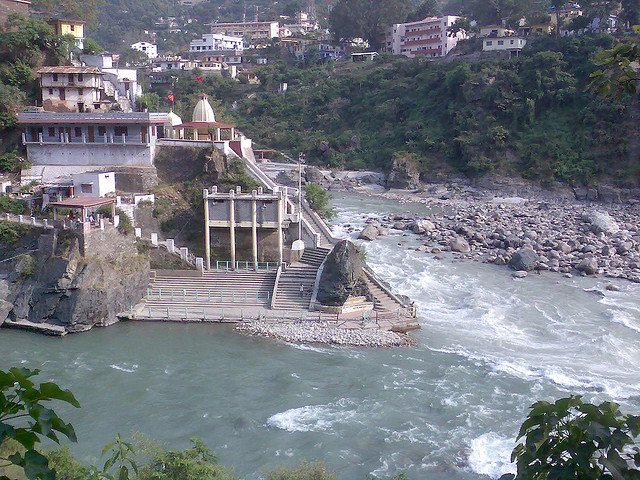 History
Rudraprayag named after Lord Shiva (Rudra), situated at the meeting place of two rivers Alaknanda and Mandakini. The holy confluence of Alaknanda and Mandakini rivers nature beauty attracts to the visitors. It is a night halt place for pilgrims. The presence of two separate routes for Badrinath and Kedranath pilgrimages from Rudraprayag render great importance to the place. The entire region s blessed with immense nature beauty, places of religious importance, takes & glaciers. According to the legend Narad Muni worshipped here for several years. Lord Shiva blessed him with perfection in music.
Accessibility
Air: Nearest airport is Jolly Grant, Dehradun, 159 km.
Rail: Nearest railway station is Rishikesh, 142 km.
Road: Well connected by road to all the important places of Garhwal divison. Regular bus services are available.
Shopping
Shopping in Rudraprayag mainly consists of small souvenirs to take back home as gifts from your tour to Rudraprayag. These include miniature wooden sculptures of Lord Shiva, the main deity of the Rudraprayag. Besides this, a number of small shops have been set up in recent times to cater to the needs and tastes of almost all the tourists planning a holiday in Rudraprayag.
Termperature
Summer 22-35°C, Winter 15-25°C