Mukteshwar is a small town and one of the most-sought tourist destinations, in the Kumaon hills of Uttarakhand. It is rich in scenic beauty, with magnificent views of the Indian Himalayas including India's second-highest peak, Nanda Devi. It is also famous for its beautiful orchards, dense coniferous forests and old colonial bungalows. One of the most famous attractions of this place is the Shiva Temple, known as 'Mukteshwar Dham', after which the entire region was named Mukteshwar.
http://www.flickr.com/photos/sanjoy/271752782/in/photostream/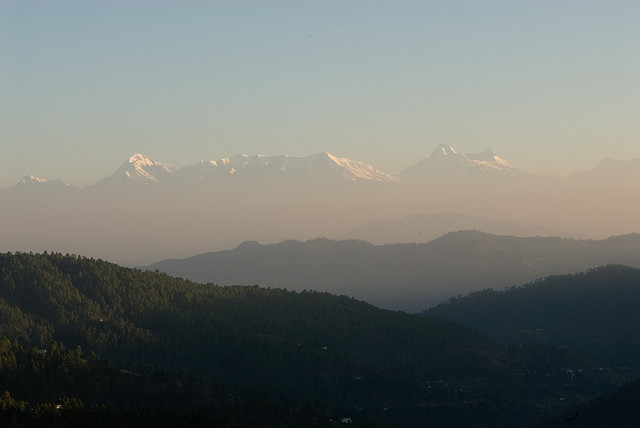 History
Mukteshwar got its name by uniting two Sanskrit words first word is 'Mukti' which means "salvation" and other word 'Ishwar' another name for God almighty as demon once had a battle with Lord Shiva himself in which the demon lost the battle. But even then demon attained immortality. So Mukteshwar is a place where one can attain salvation.
The history of Mukteswar has nothing much to share with the travelers except for a few facts. There is an interesting legend associated with the place.The serene town of Mukteshwar derives its name from the ancient temple of Lord Shiva perched atop a hillock. Legend says that Lord Shiva offered the gift of immortality or Mukti to a demon here. The history of this town laced with fruit orchards, thick coniferous forest was thoughtfully metamorphosed by the colonial rulers as research and education institute (IVRI) in 1893. History has also recorded that Jim Corbett , the world famous hunter turned conservationist had visited the place and could not stop falling in love with its scenic beauty.
Accessibility
Air: Pantnagar airport is the nearest airport, which is located about 100 km from Mukteshwar. Pre-paid taxi services charge about Rs 1700 from the airport to Mukteshwar. Pantnagar is connected to Delhi with daily flights. Delhi is the nearest major international airport, which is connected to most of the Indian cities and cities abroad.
Rail: Nearest Railhead is Kathgodam station, which is 73 km away from Mukteshwar. Kathgodam is well connected with other major cities in India by rail. Taxi cabs cost about Rs 1200 for one way journey from Kathgodam to Mukteshwar.
Road: State owned bus services connect Mukteshwar with other cities in the state. Many private bus service providers operate luxury buses between Delhi and Kathgodam. Buses start from Delhi's ISBT Vivekananda terminal.
Things to do
Trekking
Mukteshwar is famous for trekking trips as it makes for the perfect combination of adventure and fun. Some of the trekking trails are Peora to Mukteswar (8kms), Peora to Almora (16 kms), riverside trek (6 kms) and Binsar to Artola Trek (73 kms). Trekkers can also chart some new trekking paths if they wish to explore the unknown. Don't forget to put on your trekking shoes and make minimum noise while you trek, so as not to disturb the nature.
Nature Walks
Mukteshwar is the ideal destination for those who want to connect with the nature and absorb its soothing beauty. While it provides for some amazing sightseeing, quite walks in the natural environs have an enticing charm of their own. Nature walks are the best way to rejuvenate your mind and feel afresh. One can go for a long walk in the evening. Early morning nature walks can be the very pleasant to delight in the morning freshness and admire the matchless beauty of the mighty Himalayas.
Rappelling
Rappelling in Mukteshwar can be a fabulous experience. A lot of tourists visit Mukteshwar for the purpose of engaging in rock climbing and rappelling. This can also be coupled with forest picnics or camping to double the fun. Take the necessary equipments along and ensure that you are taking proper protection against danger. Seek the help of professional instructors, if you have not done rappelling before.
Heritage Viewing
The Indian Veterinary Research Institute in Mukteshwar is a legacy of the British reign in India. It is one of the premier institutes in India conducting research on livestock. The tourists can also check out the library and museum inside the institute. There is a PWD inspection bungalow in Mukteshwar which is known for its colonial architecture and is landmark in the hilly town. Visitors can put up in the Bungalow for a day or two for a complete experience.
Termperature
Summer 15-30°C, Winter 0-24°C
Best time to visit
September to December