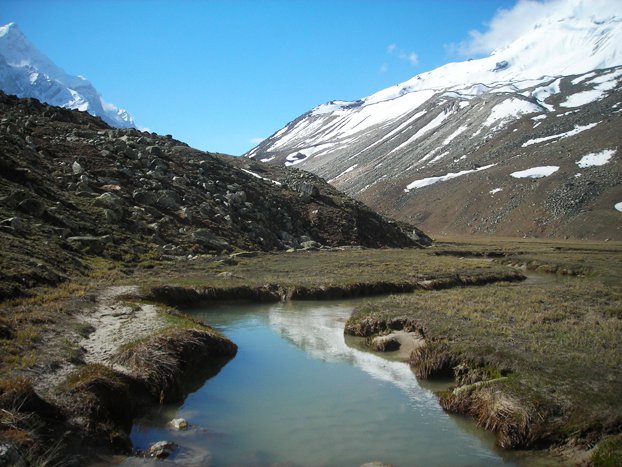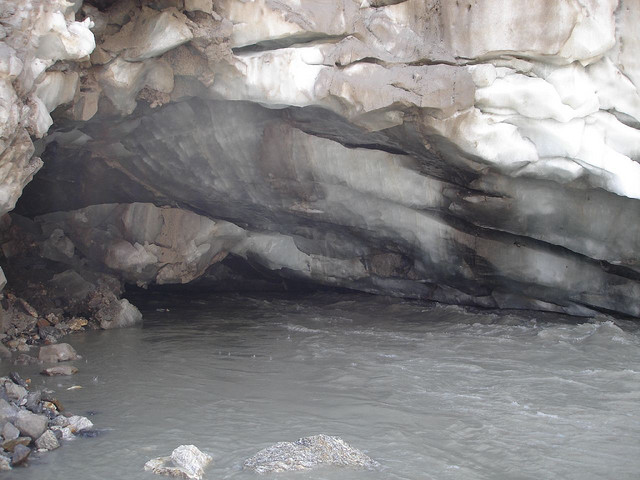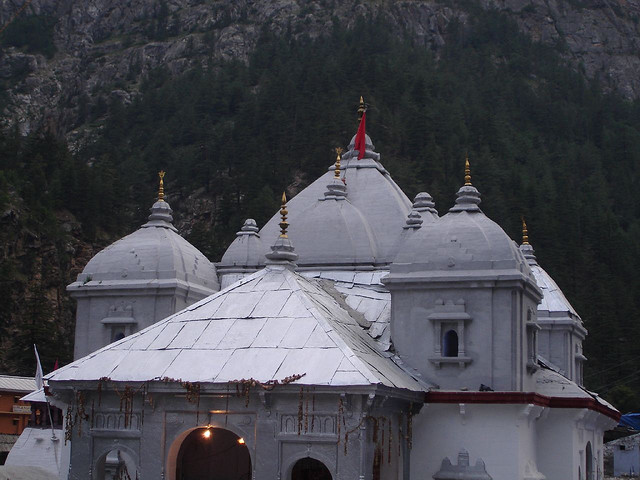 History
According to Hindu mythology, Goddess Ganga took the form of a river to absolve the sins of King Bhagiratha's predecessors, following his severe penance of several centuries.
The picturesque pilgrimage in the hinterlands of the Himalayas is the most sacred spot where Ganga, the stream of life, touched earth for the first time.
According to mythology, Goddess Ganga, the daughter of heaven, manifested herself in the form a river to absolve the sins of king Bhagirath's predecessors, following his severe penance of 5500 years. Lord Shiva received into his matted locks to minimize the impact of her fall. The river itself begins at Gangotri which literally means Ganga Uttari or Ganga descending. She came to be called Bhagirathi at her legendary source.
According to mythology King Sagar after slaying the demons on earth staged an Aswamedh Yagna to proclaim his supremacy. The King's 60,000 sons born of Queen Sumati and one son Asamanjas of Queen Kesani were to accompany the horse. Lord Indra fearing loss of his supremacy stole the horse and tied it to the ashram of ancient sage Kapil who was then deep into meditation. On their search for horse, the 60,000 sons stormed the ashram of Kapil and just before the attack on him the sage opened his eyes and reduced all the 60,000 sons of King Sagar except Asamanjas to ashes. King Sagar's grandson Anshuman was successful in recovering the horse from Kapil and was told that those 60,000 burnt will attain heavenly adobe if Ganga is brought down from heaven & their ashes were sleaned by its water. Then the great task of bringing Ganga to earth started. Anshuman failed and so did his son Dilip but his grandson Bhagirath succeeded.
The intense meditation made Ganga to descend from heaven and in order that the earth is not flooded, it remained suspended in the matted locks of Lord Shiva's hair. Shiva pleased with King Bhagirath, released Ganga in seven streams - the most sacred streams came to be known as Bhagirathi (started from Gangotri). King Sagar's 60,000 sons' ashes were touched with Ganga water and thus they were bestowed with eternal rest in heaven.
According to legends, Lord Shiva rewarded King Bhagirath after his penance and Ganga came down to earth. However, due to her pride, and the fact that the earth would be devastated if Ganga came down in her full force, Lord Shiva caught her in his hairs. It was then proclaimed that Goddess Uma or Parvati, would bathe in the Ganges daily and only then would she descend on the earth. The sacred stone near the temple denotes the place where Ganga first came down to earth.
Accessibility
By Air: Nearest airport is Jolly Grant Airport in Dehradun, which is a domestic airport located at about 226 km away from city center. Nearest International airport is Delhi, which is about 513 km away.
By Rail: Rishikesh is the nearest railway station, which is about 250 km away.
By Road: Gangotri is well connected by state owned bus services. Many buses are available from Gangotri to Uttarakashi (97 km), Yamunotri (232 km), Mussoorie (250 km) and Tehri (167 km).
Accommodation
UP Government Tourist Rest House.
Forest Rest Houses.
Ganga Niketan Hotel, Near Gangotri Temple, Gangotri, District Uttarkashi.
Forest Rest House.
PWD Inspection Bungalow.
There are a few dharamshalas and guesthouses that provide reasonable accommodation.
Location
18 kms downstream from Gaumukh is Gangotri
Termperature
Summer 10-15°C, Winter 0-10°C
Best time to visit
April to November