Faridkot, named after the famous Sufi Saint Baba Sheik Fariduddin Ganjshakar, is a historic city and is an important political and administrative city of the state. It has a rich history and was a princely state before the country's independence and the origins of the place can be found to the Indus Valley Civilization. There are many sites in and around the city which speaks of the place's history.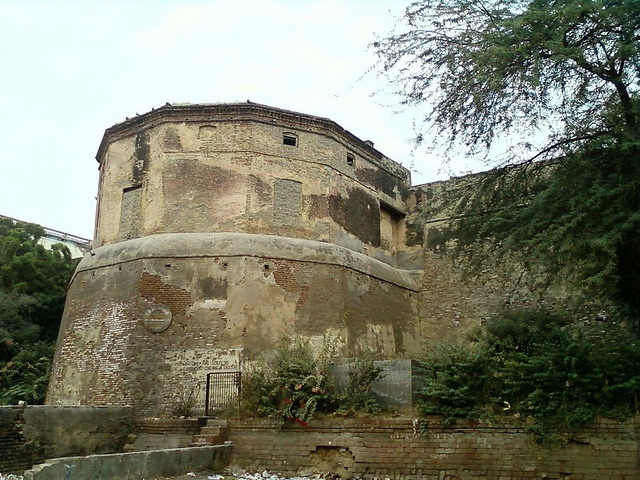 History
The name 'Faridkot' is derived from Baba Farid, the famous religious lover of God whose bani appears in the Guru Granth Sahib. Faridkot was feudlist province under British rule , but now it is a district in Punjab in independent India.
The ancestor of the Faridkot principality, Bhallan was an ardent follower of 6th Sikh Guru Har Gobind. He helped the Guru Har Gobind ji in the battle of Mehraj. He died issueless in 1643. Kapura, who was a nephew of Bhallan, succeeded him. Kapura founded the town of Kotkapura in 1661. Nawab Kapura was the Chaudhry of eighty-four villages. He was a Sikh but did not want to earn the ire of the Mughals and help Guru Gobind Singh Ji and fight with Mughals.
The famous last battle of Muktsar (Khidrane Di Dhaab) now a historic town, happened after Nawab Kapura declined Guru Gobind Singh's request to use his fort to fight Mughal Army. Otherwise the last war between Mughals and Guru Gobind Singh Ji was destined to happen at Kotkapura. Guru ji moved from Kotkapura to Dhilwan Kalan from there to Talwandi sabo via Guru ki Dhab. However, later in the battle of Muktsar in 1705, Nawab Kapura helped Guru Gobind Singh Ji in an underhand manner. Kapura was slain by Isa Khan Manj in 1708. He had three sons named Sukhia, Sema and Mukhia. Mukhia killed Isa Khan and took control of the entire area. Sema was also killed in this battle in 1710. Kapura's elder son Sukhia again came into power in 1720.
A dispute between grandsons of Kapura (sons of Sukhia) led to the division of the state in 1763. The older brother, Sardar Jodh Singh Brar, retained control of Kotkapura, and his younger brother, Sardar Hamir Singh Brar, was given Faridkot.
The state was captured in 1803 by Ranjit Singh, but was one of the Cis-Sutlej states that came under British influence after the 1809 Treaty of Amritsar. During the Sikh wars in 1845, Raja Pahar Singh aided the British, and was rewarded with an increase of territory. The state had an area of and its 642 square miles, and a population of 124,912 in 1901. It was bounded on the west and northeast by the British district of Ferozepore, and on the south by the state of Nabha. The last Ruler of Faridkot was Lt. HH Farzand-i-sadaat Nishan Hazrat-i-kaisar-i-hind Raja Sir Harindar Singh Brar Bans Bahadur.
Accessibility
Air: Faridkot's nearest Airports are Raja Sansi International Airport (125km) and Delhi International Airport (425km).
Rail: Faridkot is well connected to cities like New Delhi, Ferozepur, Bathinda and Jaipur by Train.
Road: It is also connected by road with Chandigarh (218 km), Ludhiana (105 km),Firozepur (32 km),Muktsar (45 km) and Bathinda (65 km).
Termperature
Summer 35-40°C, Winter 10-20°C
Best time to visit
Oct - Mar