Auli is considered among the world's top skiing destinations. The destination frequented by skiing enthusiasts from all over the world. Located within the cradle of snow-capped mountains, Auli offers a panoramic view of many famous Himalayan peaks like Nanda Devi, Kamet, Mana Parvat and Dunagiri. Auli is kind of place where enjoyment and journey, wild attractiveness and slopes of snow field Garhwal Himalayan ranges, nature's beauty in its very best form arrives alive. The deodar and oak forests cover the slopes and lessen the velocity of the chilly winds to the minimal. In the winter, the terrain transforms alone into best skiing slopes.
http://www.flickr.com/photos/chintin/4973405024/in/photostream/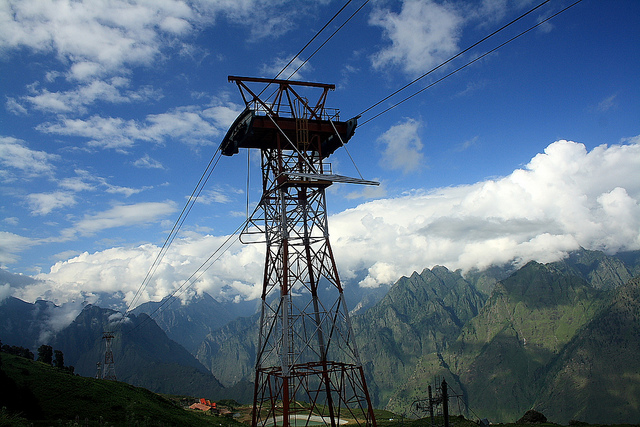 History
In the 8th century AD, Adi Shankaracharya is said to have visited the vast meadows of Auli. He built the temple at Joshimath which continues to draw devotees on their way to Badrinath. For most part of its history, Auli was home to the semi-nomadic tribes of Mongolian stock called the Bhotiyas, who traversed its trails for hundreds of years. Called Thatauli in those days, the town was witness to a flourishing trade with neighbouring Tibet as yaks laden with goods travelled through its mountainous terrain.
Before Auli was developed as a ski resort, its slopes were the training ground for the ski-equipped men of the Indo-Tibetan Border Police Force. The development of Auli as a ski-resort was an initiative by the Government of U.P. Auli is India''s first winter resort and ski destination.
Accessibility
By Air: The nearest airport is Jolly Grant Airport in Dehradun, which is about 279 km from Auli. Nearest International airport is Delhi, which is about 500 km away.

By Rail: The nearest railhead is at Haridwar, which is about 273 km away from Auli.
By Road: Joshimath is the nearest town at a distance of 16 km from Auli. Regular taxis are available from Joshimath to Auli. UPSRTC buses operate frequently between Joshimath and other nearby cities like Rishikesh, Haridwar and Dehradun.
Shopping
Auli is a purely adventure hotspot where passionate brave-hearts fun and frolic with snow all around. But hardly anybody goes for shopping in Auli. In fact there are not much for shopping in Auli. In the snowy wilderness of Auli you would find neither artisans nor shops to sell artifacts.
But is returning from a tour to Auli, without shopping in Auli sounds impossible to you, visit Joshimath. Only 13kms away from Auli, the little township is a popular tourist destination and has bustling markets, which substitute for the lack of opportunity for shopping in Auli. Pick up woolen caps, blankets, shawls from Joshimath for gift items and souvenirs.
Accommodation
Nestled in the snowy Slopes off the Garhwal Himalayas Auli is a purely adventure destination. Skiing is the most popular sport in Auli. There are not many hotels in Auli since the uneven mountainous slopes is not very congenial to constructing glitzy sophisticated hotels.
Hotels in Rishikesh:
Premium Hotels
Ananda In The Himalayas
Himalayan Hideaway
Budget Hotels
Hotel Ganga Kinare
Hotel Ganga View
Hotels in Dehradun :
Premium Hotels
Best Western Hotel Madhuban
Hotel Great Value
Budget Hotels
Hotel MJ Residency
Hotel President
Attractions
Winter Ski Resort
Auli is a famed winter ski resort. In winters, the slopes of Auli are clad with a snow carpet as deep as 3 meters. The skiing season in Auli ranges from January to March every year. Skiing on 10-20 kms of clean stretches of slopes thickly coated with snow in Auli snow is as good as an international skiing experience. Auli offers world class facilities for experienced skiers and beginners can also sign up for one week or two week long skiing courses. Everything from lodging to boarding facilities is easily available for skiers.
Things to do
Skiing
Are you game for ruffling past the snow? If yes, then Auli is just the option for you. Skiing is one of the foremost activities tourist can look forward to when in Auli. With the snow capped mountains and the snow-bedded ground ready for you to take a plunge, all you need to do is fasten yourself to the ski board and fly off. The ski lift system is also available in Auli, which makes its easier for skiers to reach the top. And if you are on a long vacation the best bet would be learn the art completely. You can enroll yourself in the Garhwal Mandal Vikas Nigam (GMVN), which offers a fortnight-long skiing course for the amateurs.
Trekking
For those who would like to explore Auli on foot instead of ski board, indulging in trekking would be an ideal option. There are number of trek options launched from Auli. Tourist can either engage themselves in short treks that last for a few hours or go for the longer ones. Some of the trek options that can be completed in a single day are:
Auli - Gorson (7 km)
Gorson - Tali (6 km)
Tali - Kuari Pass (11 km)
Kuari Pass - Khulara (12 km)
Khulara - Tapovan (9 km)
Pilgrimage
If you have a religious bent of mind, Auli would serve your quest beautifully. This blissful hill station has a number of temples which make it a heaven for pilgrims. For those who didn't know, the deity of Lord Badri Vishal that rests in Badrinath is brought to the temple at Joshimath, during the time when the temple in Badrinath remains closed for 5 - 6 months. Apart from this, there is also a Human temple which is believed to have been the resting ground for Lord Hanuman, when he was on his way to pick the 'Sanjivani' from the Sanjivani Mountain in Himalayas, to save the life of Laxman.
Cable Cars
For those who are scared of skiing and do not want to go for trekking as well, Auli has just the right option for you - cable cars. A ride high up in the sky is sure to leave you absolutely thrilled and delighted. Stretching to about 3 kms, the rope way would help you capture the captive beauty of the snow covered peaks, the alpine forest and the bracing climate.
Termperature
Summer 15 to 30°C, Winter -4 to 24°C
Famous For
Mountain Sports