One of its kind, the Karni Mata temple at Deshnoke is world famous for its, hold your breath, rat worship. Thousands of black, grey as well as the special white rats (kaba) reside within the shrine premises.
The temple is 600 years old and it is widely believed that feeding the rats at this temple and getting touched by them would bring good fortune. It is also believed that these rats would reincarnate as holy men especially the white rats are considered auspicious.
The temple, with silver gates and overhead mesh to protect the rodents from birds, is carved out of stone and marble. The sanctum houses an image of Karni Mata holding the famous trident/ trishul in her hands. Milk, sweets and grains can be offered to the rats from the large bowl which is always crowded with these ever eager rodents.
One of the remarkable sacred spots in entire India itself, Karni Mata temple boast of a unique tradition. Built in the late Mughal style, this temple is dedicated to Karni Mata, a ferocious incarnation of Kali. The deity is presumed to be the depiction of Mahishasura Mardhini. The temple presents exemplary artwork. Its intricately paneled walls, dexterously carved doors, arcades, pergolas and galleries proffer a rare feast to the devotees.
This holy abode of goddess Kali pay much respect to rats so that they are protected from enemies. Their holy status is due to the myth that these rodents are the incarnations of storyteller clan to which Karni Mata belonged. Special fissures in the temple premises are meant to provide easiness to their activities and they flounce about happily in the temple. It is considered lucky if one would come across with a white rodent during the Darshan in the temple.
http://www.flickr.com/photos/4ocima/224393567/in/set-72157594420431756
http://www.flickr.com/photos/snjr22/3509802064/in/photostream/
http://www.flickr.com/photos/cirque-du-pablo/2255319308/in/photostream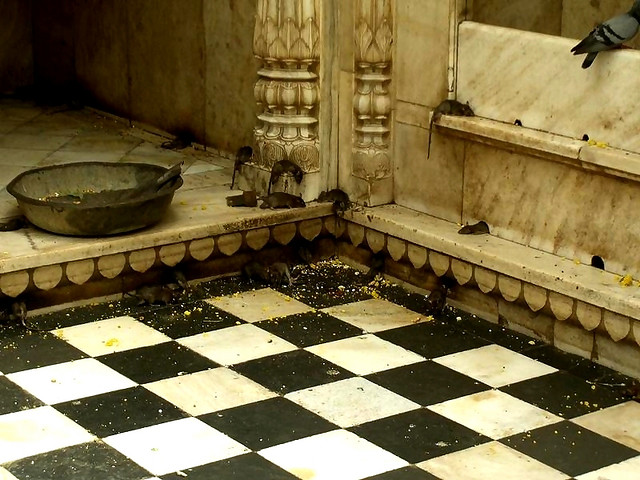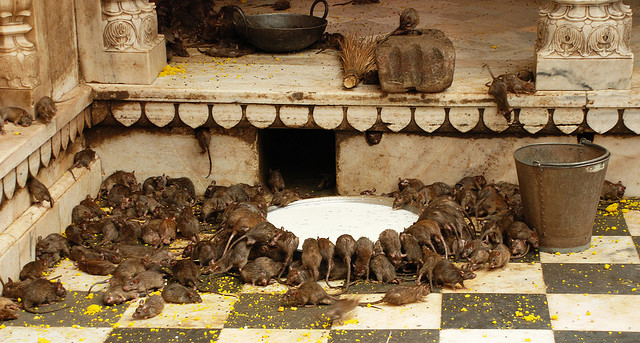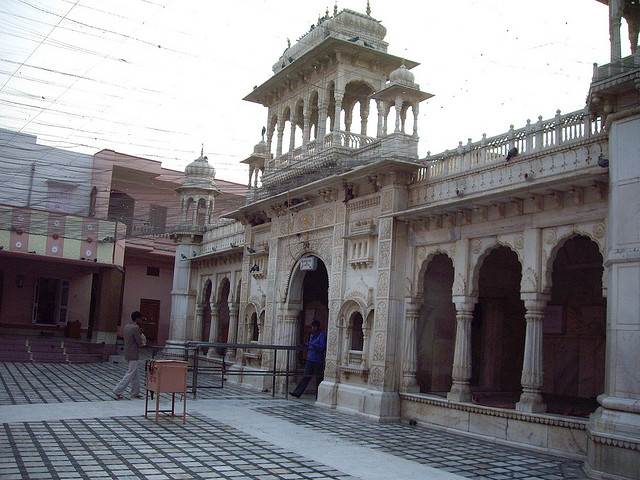 History
Karni Mata was endowed with divine powers. The daughter of Meha Ji Kiniya, Karni Ji incarnated on 28th Sep., 1387 at Suvap Village in Tehsil Phalodi of Jodhpur District.She was marrid to depaji.The present deshnoke was founded by her on Baisakh Sudi Dwitiya Samvat 1476. Karni Ji developed the area into a sanctury and anyone seeking asylum in this area was put to no harm. People accused of crime used to come here and adop sanityto get themselves absolved of their sins. Karni mata witnessed the accession to royal thrones by three consecutive generations of rulers Rao Ridmal, Rao Jodha and Rao Bika. She was instrumental in enabling those three kings to get the reins of power. Rao Bika beseeched her blessings and founded a new empire in 1488A.D.