Bikaner lies within the Western Desert Region of the state of Rajasthan. The historic area lies very close to the Thar Desert. It is situated north to another famous city - Jaisalmer. It also houses one of the largest Camel research and breeding farms in the world. It is renowned for providing best riding camels in the world. It is rich in culture and tradition and is one of the exponents of Rajasthani art and music.
Image Credit:
http://www.flickr.com/photos/amanderson/2415325726/in/photostream/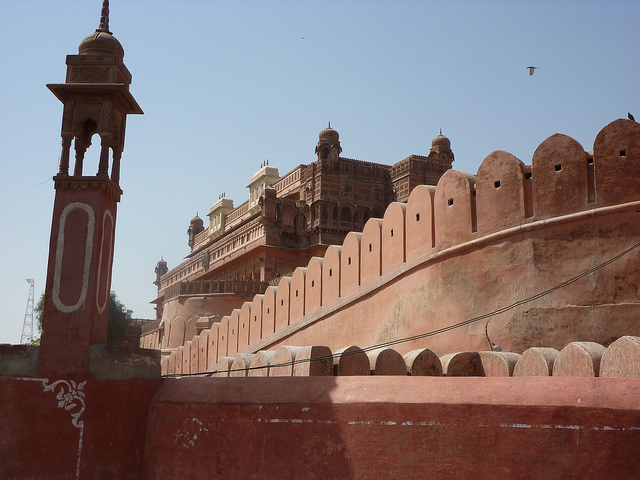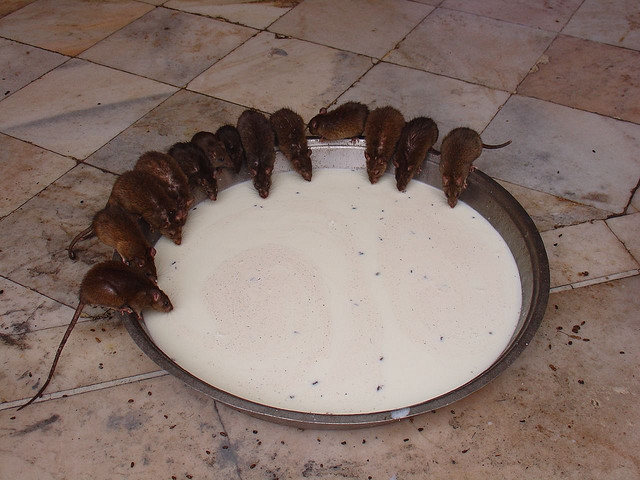 History
Bikaner's history dates back to 1488 AD when a Rajput prince Rao Bika ji a descendent of the founder of Jodhpur (1459 AD)., Rao Jodha Ji established his kingdom here. Bika Ji chose a barren land called "Jungladesh" and shaped it into an impressive city, called Bikaner after the founder's name. Archeological surveys and excavations have established beyond doubt that civilization flourished here even before the Harappa period . Excavated statues, coins and carvings of stones and clay stands as testimony to this fact.
Ever since the foundation of Bikaner till its accession into Indian Union in 1947 A.D. and there after it's integration in Rajasthan state in 30-3-1949 A.D., Bikaner has played a notable role in the history of the country. Bikaner state has produced several able Generals and warriors and distinguished Rulers and just to name of few Raja Rai Singh Ji-One of Akbar's most distinguished Generals. Another famous name is Raja Anup Singh who ascended the throne in AD 1669 a scholar and warrior. His period has been described as "the golden time of Bikaner valor and fame".
In the modern period Bikaner produced the most outstanding Ruler, namely Maharaja Ganga Singh who ruled for 56 years. He was a strong and able ruler who renovated the traditional administration, modernized the army, separated the judiciary from the executive, constructed the famous "Gang Canal" and provided a number of welfare schemes, hospitals. His son and successor Maharaja Sardul Singh, who ascended the throne in A.D. 1943, played a conspicuous role in the merger of the princely states in the Indian Union. His Nationalistic outlook shall ever be remembered by the citizens of Bikaner. His son Dr. Karni Singh made a mark in Indian politics and in the field of sports. Ever since 1952 General Elections he had been elected as member of Parliament continuously for five terms. He attained international fame in shooting arena.
Accessibility
Air: The nearest airport to Bikaner is Jodhpur, which is nearly 250 km away. This is a domestic airport, connecting to metros in India and some few other cities in North. Taxi fare is about Rs 2000 from Jodhpur to Bikaner.
Rail: Bikaner railway station is well connected to the cities of Delhi, Jodhpur, Jaipur, Kalka, Howrah and Bhatinda. Bikaner Express and Bikaner Mail are commonly preferred trains.
Road: Plenty of bus services are available from Bikaner to Delhi, Jodhpur, Agra, Ajmer, Ahmedabad, Jaipur, Jhunjhunu, Jaisalmer, Barmer, Udaipur and Kota. State owned bus tariff is about Rs 1.5 per km and luxury coaches charges Rs 3 per km.
Shopping
Shopping in Bikaner can be a pleasure for those looking for exquisite crafts, which have a feel of this historic city. Bikaner, the historic city of Rajasthan is famous for its leather and wood products made from camel and sheepskin.
Bikaner will be a delectable experience for the sweet-toothed. Snacks like like bhujias, and sweets like rasagolas and other sweets, which you find all over India, have become synonymous with Bikaner.
The main shopping areas in Bikaner are Kot Gate, King Edward Memorial Road and Station Road.Urmil Trust at Junagarh Fort and Khadi Industries Institute on Station Road are places where you can buy souvenirs and handcrafted items.
In Bikaner, you can shop for miniature paintings in Bikaneri style. Another art form typical of Bikaner is the gesso work on buffed camel hides, which are now revised by painting with 24 -carat gold on wood. Though expensive, items made of camel skins and hides are unique to take home.
Kote Gate: The chronic shopaholic never misses the whiff of local market food stuff and the by lanes which are hidden from the world, carving out magnificent masterpieces for throwaway prices. The Kote gate in Bikaner is one such place which is full of surprises for the ardent shopper. Being a part of history has endowed Bikaner with numerous art forms and handicraft artisans who produce creative wonders relentlessly.
It is possible to lay hands of buffed camel hide articles, miniature paintings, Khadi industry articles, as well as wood carvings apart form mouth watering Bhujia and Rosogollahs.
MG Road: The Mahatma Gandhi Road has a special emotional value attached to it, not only because of the great man's name but also due to the fact that this road irrespective of its city identifies the shopping avenues which are available over it. The M.G. Road in Bikaner is no different and is like a magicians pot which throws out surprise galore.
Studded with many small as well as huge vending establishments M G Road boasts of awesome collections of chiffon, georgette as well as the special Bandhani (tie-dye) saris. Also worth a mention are the leather and wood souvenirs which are available at an affordable price and are a must carry memorabilia.
Station Road: Bikaner's dusty streets and rustic by lanes are replete with numerous shops and small time vendors ready to sell their wares for a price. What is required is little bit of bargaining ability and a lot of patience, of course alongwith some money. The Station Road market is one such fabulous place where it is possible to acquire embroidered footwear (jootis), local fabrics, leather goods and wood as well as traditional; artifacts.
It is even possible to get a customized Jooti within 24 hrs. Also try out the local miniature paintings and gold worked wood and leather crafts. For the foodies, the famous Haldiram Bhujiawala original shop can be traced on this street.
Accommodation
Bikaner offers a great many accommodation facilities, depending upon the kind tourists prefer. There are budget hotels, deluxe accommodation and some high range hotels, serving in the region. Some popular ones include :
Budget - Evergreen Hotel, Hotel Kishan Palace, Hotel Deluxe, Hotel Meghsar Castle, Indra Lodge, Hotel Amit.
Deluxe - Hotel Palace View, Hotel Sagar, Bhairon Vilas, Hotel Sagar, Hotel Kalinga.
The hotels in Bikaner, the ancient and colorful city of Rajasthan are equipped with a range of hotel options- from luxury hotels to budget hotels. The Bikaner hotels offer traditional hospitality and are fully equipped with modern amenities to meet the needs of tourists. The government approved paying guest accommodation available in Bikaner is also popular with the tourists.
Some of the prominent hotels in Bikaner are:
Five Star Hotels:
Laxmi Niwas Palace
Three Star Hotels:
Basant Vihar
Heritage Hotels in Bikaner
Gajner palace Hotel
Bhanwar Niwas Hotel
Lallgarh Palace
Karni Bhawan Palace
Heritage Resort
Attractions
Bikaner Camel Festival
Department of Tourism, Art & Culture, Rajasthan organizes the Camel Festival in Bikaner every year. The festival takes place in the month of January. Rajasthan Camel festival is basically dedicated to Camel, the ship of the desert. It is held in the city of Bikaner with the massive and magnificent Junagarh Fort serving as the background. The camels, dancing to the tunes of their owners and trainers attract hoards of tourists to this festival every year.
Camel is regarded to be of much importance in the desert state of Rajasthan. And the worth of the camels is reflected in the way a proud breeder dresses up and displays his camels. A colorful procession of ornamented and decorated Camels marks the opening of the Camel Festival of Bikaner, Rajasthan. With the advancement of the festival celebrations, follow the other attractions of the Camel Festival including the best breed competition, the tug-of-war contest, camel dance, acrobatics, etc.
The efforts and the hard work of the trainer show in the way camels dance to his tunes and directions, displaying amazing footwork. The camels ornamented with bridles, bejeweled necks, jingling anklets and casting long, lanky shadows on the sand mesmerize the onlookers. In the evening, superb artists and folk dancers enchant you with their performance and charisma. Dancing with their skirt whirling in the sky, they present a figure of euphoria. Along with that, the fire dancers balancing burning lamps on their foreheads while dancing, leave you speechless.
Kapil Muni Fair
The largest fair of Bikaner, the Rajasthan Kapil Muni Fair is held on Kartik Poornima. The venue of the fair is Kolayat. It is located approximately 50 km to the southwest of Bikaner. This place was originally known as Kapilayatan, after the sage Kapil. It is believed that Sage Kapil did tapasya (meditation) at this place for the redemption of mankind. Even the sacred Puranas make a mention of Saint Kapil, along with the Kolayat Lake. It is believed that Kapil Muni was a descendent of Lord Brahma.
Located in an arid area, Kolayat has a lake with 52 Ghats. Some of these ghats are reserved for women. The Kolayat Lake has numerous temples on its ghats. One of the ghats is known as the Kapil Muni Ghat and houses a temple dedicated to Kapil Muni, consisting of a marble statue of the Muni. Kolayat is regarded as a great pilgrimage place. People think that a one-day visit to Kolayat holds as much significance as spending ten years at any other holy place.
Although the lake at Kolayat is thronged by devotees throughout the year to seek redemption, it holds a special significance at Kartik Poornima. Hoards of people swarm the place to take a dip in the holy water of the Kolayat Lake at the time of the Kapil Muni Fair of Kolayat near Bikaner. At the time of the Kapil Muni Fair of Bikaner, Rajasthan a cattle fair is also organized. The main animals traded during this fair are buffaloes, camels, horses and cattle. There is also a prize distribution ceremony, where certificates and prizes are given to the best breeders at the fair.
Things to do
Camel Safari: Bikaner is regarded as camel country due the abundance of camel in this region. The camel may look aloof but its the lifeline for the people of the desert whose communication needs depends on this vital beast for their very survival. Most journeys to the hinterlands are still made on camel back, or in camel in carts , and the camel is also used for ploughing the arid fields of the desert.
Since the sun can get very hot in desert, the best times for a camel safari are in the morning and evening, even in the cooler winter months. Such safaris are usually run by professional outfits who hire raikas, the camel keepers who are adapt at finding the best routes and water holes in the desert, and navigate almost by instinct guided, of course, by the position of the stars at night.
Camel safaris can range from just a day to several days, and you can choose an option that best meets your needs and schedules. Most such safaris can traverse a distance of 30-40 kms a day and you may need to plan accordingly.
Termperature
Summer 32-45°C, Winter 5-28°C
Best time to visit
October to March