Govardhan, located on a narrow sandstone hill known as 'Giriraj', is of immense importance to the devout as lord krishna is believed to have held the hill by the same name on the tip of his little finger in order to protect the inhabitants of Braj, from the wrath of Indra.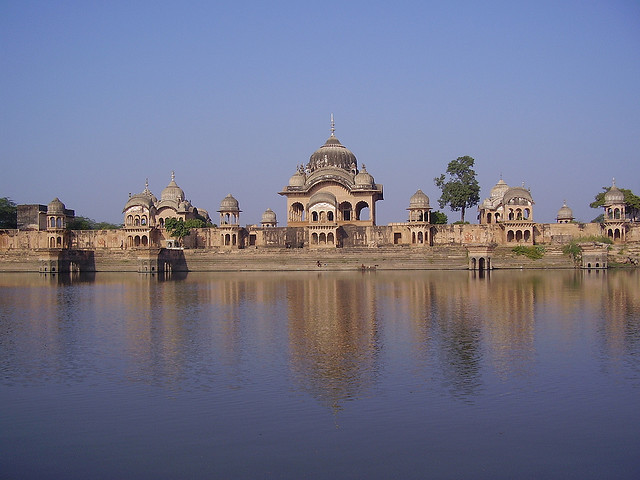 History:
Legend has it that Lord Krishna held the Govardhan or Giriraj hills on his finger tip for 7 days and 7 nights in a stretch to save the people from the being drown in rainwater.
Accessibility:
Air: Nearest airport is Kheria(Agra), 62 kms. Delhi International airport is also one of the nearest airport, which is 165 km away from Govardhan. Delhi airport is well connected with major cities within the country and abroad. Taxis are available from Delhi and it takes about 9 hours to reach Govardhan and fare is about Rs 2,500.
Rail: Nearest railhead is at Mathura, which is 26 km away from Govardhan. Taxi cabs are available from Mathura and it charges about Rs 350. Mathura Railway junction is an important rail head in the Mumbai – Delhi, Chennai – Delhi rail route. Pre-paid taxi services are available from Mathura to near by destinations. Regular train services are available from Mathura to Delhi and also to other cities in India.
Road: Govardhan is well connected with nearby cities like Agra, Faizabad and Allahabad by state owned road transport corporation buses via Mathura. Tourist Deluxe bus services are available from Delhi to Mathura, costing about Rs 500 per head.
Accommodation:
In Govardhan there are not as many hotels available as there are in Vrindavan. Instead there are dharmasalas and simple guest houses, where you can stay at low cost.
Narisi Guest House Govardhan
Opposite Bharatiya State Bank, Dig Atta, Govardhan
Phone:+91 92.1942.8298
Manager: Manu Agerwal
Non AC: 2 beds, Rs. 300 per day + Rs. 100 for extra person above 10yrs.
AC rooms are also available with 2, 3 or 4 beds.
This hotel is brand new, clean, all rooms have Western toilet, about 20 min. walk from Sri Giridhari Gaudiya Math – 10 min by car through Manasi Ganga road.
Hotel Gaurav Govardhan
Mathura Govardhan Road, Govardhan
Ph: 0565-6450.445 or Mr Gaurav (director) Mob: 921.953.3650 / +91 9997641888 / 98.97056.777 / 989.707.7220
Manager: Mr. Sharma
Website: www.gauravhotels. Com
E-mail: gauravhotels@gmail.comThis e-mail address is being protected from spambots. You need JavaScript enabled to view it
AC: Rs. 950 (1 double bed)
non AC: Rs. 650
Pure vegetarian Indian and Chinese cuisine
About 15 min. by rickshaw to Sri Giridhari Gaudiya Math
Teerth Vikash Bhavan
Anyur Road, Govardhan (Distr. Mathura)
Ph. +91 565-281.5716
Manager: Krsna Murari. Mob. +91 98.1120.2205
Non-AC rooms: Rs. 300 - Rs. 400 (1 double bed)
Opposite Sri Govardhan, about 20 min. by rickshaw to Sri Giridhari Gaudiya Math
Modi Bhavan
Danghati, Anyor Parikrama Marg, Govardhan
Ph. +91 565-281.5678
Manager: Raj Kumar Singh. Mob. + 91 94.1251.4299
Non-AC rooms: Rs. 200 - Rs. 300 (1 double bed), some rooms have Western toilet.
Opposite Sri Govardhan, about 15 min. by rickshaw to Sri Giridhari Gaudiya Math