Vrindavan, also known as Vraj (as it lies in the Braj region), is the site of an ancient forest, which is the region where Lord Krishna spent his childhood days. The town hosts hundreds of temples dedicated to the worship of Radha and Krishna and is considered sacred by a number of religious traditions such as Gaudiya Vaishnavism, Vaishnavism, and Hinduism in general. It is nicknamed "City of Widows" after the large population of abandoned widows who seek refuge here. The name 'Vrindaban' is derived from 'Vrinda', another name for the sacred tulsi (basil) plant. A legend has it that the entire place was a tulsi grove at one time.
Image Credit: http://www.flickr.com/photos/peeyush/5382652807/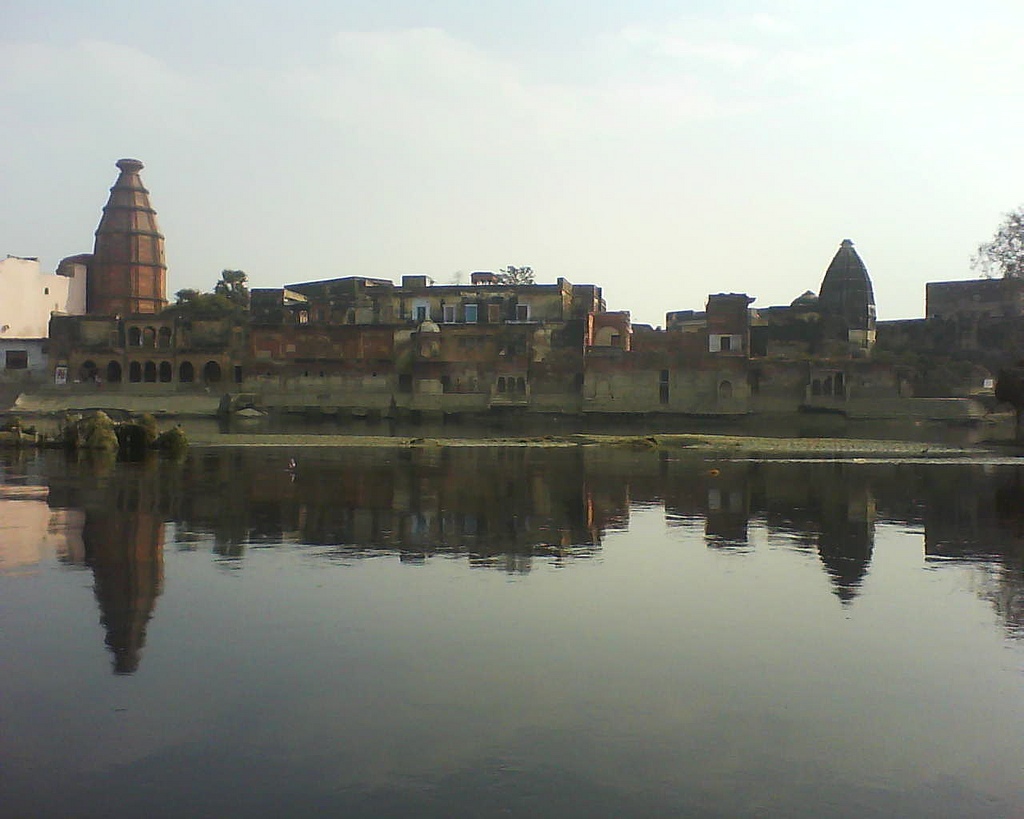 History
Vrindavan has an ancient past, associated with Hindu history, and is an important Hindu pilgrimage site. One of its oldest surviving temples is the Govinda Deo temple, built in 1590, with the town founded earlier in the same century.
It is believed that the essence of Vrindavan was lost over time until the 16th century, when it was rediscovered by Lord Chaitanya Mahaprabhu. In the year 1515, Lord Chaitanya Mahaprabhu visited Vrindavana, with purpose of locating the lost holy places associated with Lord Sri Krishna's transcendent pastimes. Lord Chaitanya wandered through the different sacred forests of Vrindavana in a spiritual trance of divine love. By His divine spiritual power, He was able locate all the important places of Lord Krishna's pastimes in and around Vrindavana.
In the last 250 years, the extensive forests of Vrindavan have been subjected to urbanization, first by local Rajas and in recent decades by apartment developers. The forest cover has been whittled away to only a few remaining spots, and the local wildlife, including peacocks, cows, monkeys and a variety of bird species has been eliminated or are close to it. A few peacocks and monkeys can be seen found but cows are now only found in the gosalas of the Major Ashrams of Vrindavan.
Accessibility
By Air: The nearest airport to Vrindavan is the Indira Gandhi International Airport at Delhi and is at a distance of 150 km from Vrindavan.
By Rail: Vrindavan has a small railway station in which passenger train stops. Closest major railway station to Vrindavan is at Mathura. It is about 14 km from Vrindavan.
By Road: State road transport corporation buses connect Vrindavan with neighboring cities including Mathura, Agra and Haridwar. There are few bus services from Delhi also.
Shopping
Stroll along leisurely in the many narrow laned markets in Vrindavan where a row of shops selling silver ornaments, textiles, and handicraft products are showcased. These narrow lanes and Bazaars emit an old world charm which is characteristic of places like Mathura, Vrindavan, Agra and Haridwar.
Loi Bazaar is another place where you should visit while Shopping in Vrindavan. This is a treasure trove for those wanting to drool at antiques and wooden works from this region. Devotional items like the dresses of the idol or incense stick are also sold here. Brass items are reasonably cheap in both Mathura and Vrindavan.
Shopping in Vridavan is a cheerful experience. One would get a wide array of shops in an around the city. What ever be the purpose of the journey, shopping get a top priority in the itinerary of each visitor.
If you are in search of devotional items you can opt Ganga Prasada Rasbihari Lal & Sons or the Hare Krishna shop in Loi Bazar. Loi Bazar also houses other shops that sell handicrafts, fruits, incenses, good quality clothes, and so on. Most of the shops in Loi Bazaar are not so cheap, but seem to be reasonable.
From exclusive devotionals artifacts to gorgeous clothing, from silver to diamonds the shops in Vrindavan serves all type of goods according to the needs of the customers. If you are not particular in buying anything just roam in through the various shops and it is definite that you would get some thing that commemorates a trip in the blue god's abode.
Marble Work: Vrindavan is famous for marble and alabaster products. Some objects are embossed with semi-precious stones or synthetic gems.
Glass Bangles: Heading through the network of narrow streets that start from Vishram Ghat leads to a row of bangle shops in the Radha Dhiraj Bazaar. Mathura is noted for lovely glass beads, stringing glass and wooden beads in necklaces together with Rudraksha (sacred seeds associated with Lord Shiva) and Tulsi (basil) in a variety of interesting combinations.
Milk Based-Sweets: Mathura, the land of cows, is famed for its milk-based sweetmeats. A variety of mouth-watering savouries, especially 'peda' are a well-known specialty of the town.
Accommodation
There are not many options for accommodation in Vrindavan barring some hotels and rest houses. The place does have around 200 dharamshalas where one can stay, but the services are very simple or nonexistent. There are many ashrams also that provide accommodation to the devotees.
Vrindavan does not have high quality hotels. However, it has nearly 200 dharamsalas (simple accommodation for pilgrims) that are clean and affordable. ISKCON Guesthouse and MVT are the main and best accommodation places provided by ISKCON and there are appearing new accommodations of hotel type all over Vrindavan every year.
Sri Vrinda Dham
Gandhi Marga, Vrindavan
Ph: 0565-244.2975
12 AC rooms Rs. 500 each (1 double bed)
12 Non-AC rooms Rs. 250-300 each (1double bed), incl. hot water
1 big hall for 15 people with mattresses, 2 toilets and 1 bathroom: Rs. 1500.
Location: near Hari Nikunja, about 15 min. by rickshaw from Gopinath Bhavan
For assistance you can contact Sukananda prabhu: Mob. 92.5804.7460/ 98.3711.5227
Hotel Shubham Holidays (New Hotel)
Gandhi Marg, Vrindavan.
Ph: +91-565-2456501, 2456502 645.3299
http://www.shubhamhotels.in
Manager: Mr. Iswariji
AC rooms Rs. 1000 (1 double bed) / AC rooms with 3 + 4 beds are also available
Pure vegetarian restaurant (no eggs, onion, garlic)
Location: near Hari Nikunja, about 15 min. by rickshaw in Gopinath Bhavan
Hotel the Shubham (Old building)
Vidyapeeth Crossing Gandhi Nagar, Vrindavan, Uttar Pradesh 281121
Ph: +91-565-2456025, 2443011 / 245.6025 / 645.3288 Website: http://www.shubhamhotels.in
Manager: Ashok and Ravi Kumar
AC rooms: Rs. 1000 (1 double bed) / non-AC rooms also available
Pure vegetarian restaurant (no eggs, onion, garlic)
Location: near Hari Nikunja, about 15 min. by rickshaw in Gopinath Bhavan
Thakur ji Ashram
Tel. +91 0565 244.2935 / +91 565 329.8844
2 Rooms with 4 beds: Rs.700 + AC & hot water
8 Rooms with 3 beds: Rs. 600 + AC hot water
Location: near Hari Nikunja, about 15 min. by rickshaw from Gopinath Bhavan
Giriraj Kripa Atithi Bhavan
Raman-reti Road, Vrindavan
98.37050036 / 0565-2443301
Manager: Murari Sharma
AC rooms: Rs. 400 (1 double bed) / AC rooms: Rs. 700 (2 double beds)
Location: near Hari Nikunja, about 15 min. by rickshaw from Gopinath Bhavan
For assistance you can contact Sukananda prabhu: Mob. 92.5804.7460/ 98.3711.5227
Radhe Syam Asram, Parikrama Marg, near ISKCON
Ph: 0565-254.0283 / 0565/254.0197
Manager: Ajay
AC rooms, 4 beds, kitchen and fridge + balcony Rs. 600 / AC rooms, 2 beds + fridge – Rs. 400
There is an underground parking lot and a pure vegetarian restaurant.
Location: Parikrama Road front side ISKCON, next to Lalita Asrama
Savitri Sewa Sadan
Madhuban Colony, Sunrakh Road, Vrindavan
Ph: 0565-254.0880 / Mob: 931.908.7338
Manager Dharmapal Singh & Manoj Jain
AC rooms: Rs. 400 (1 double bed) / AC rooms Rs. 700 (2 double beds)
Pure vegetarian meals available
Location: behind ISKCON Krsna Balaram Mandir, about 20 min. by rickshaw
Maheshwari Kunj Dharmashala
(Near Rangji Temple) Vrindavan
Ph: 0565-244.3516 / Mob: 931.9537.645
Manager: K.C. Biyani
3 AC rooms Rs. 400 for 4 people
10 Rooms non-AC + attached bathroom + 2 beds Rs 150
7 Common rooms, non-attached + beds Rs. 75
Location: 12-15 min. walking from Gopinath Bhavan.
Attractions
Boating
Boating through the sparkling waters of Yamuna is an inevitable part of one's pilgrimage in Vrindavan. The popular belief is that who ever utters the word Radha in the holy premises of Yamuna, would be absolved from all his sins. Perhaps this might be the reason for the gatherings near the holy banks of Yamuna. How ever a ride in the Yamuna River is full of awesome visions enriched with a devout feeling, which is sure to satisfy the picnicker and the pious alike.
The entire surroundings of Yamuna offer a divine appeal where one can feel the holiness of this legendary river. It is definite that when you venture your ride on the tranquil waters of Yamuna, you might have heard so many popular songs about the divine love of Radha and Krishna. Boating through Yamuna would be a unique experience to all which proffers some in depth feeling that could not be explained.
Termperature
Summer 32 to 45°C, Winter 15 to 28°C
Best time to visit
October to March