Varkala is a coastal town, lies on the outskirts of Thiruvananthapuram. It is the only place in southern Kerala where cliffs are found adjacent to the Arabian Sea. These tertiary sedimentary formation cliffs are a unique geological feature on the otherwise flat Kerala coast, and is known among geologists as Varkala Formation and a geological monument as declared by the Geological Survey of India. There are numerous water spouts and spas on the sides of these cliffs.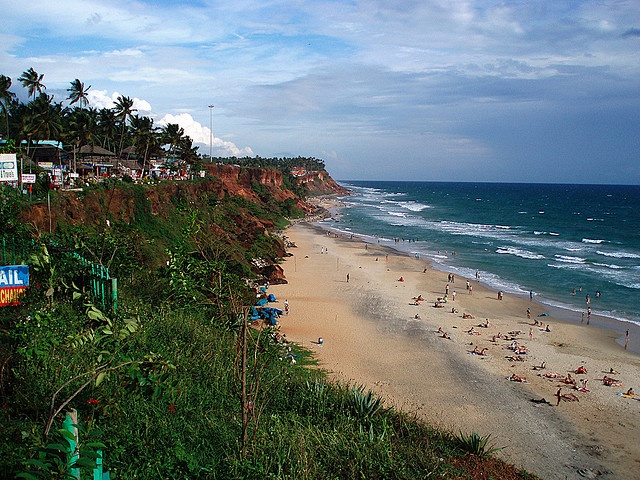 History
It is believed that a Pandyan King was instructed by Lord Brahma to build a temple at this very place to redeem him of his sins. But several other myths abound on the birth of Varkala. Another legend goes like this - when a group of pilgrims approached Saint Narada and told him that they had sinned, Narada threw his valkalam ( a loin cloth made from the bark of a tree) and it landed at this scenic village and hence, the place came to be known as Varkala. Narada told the pilgrims to pray for their redemption at Papanasam, which literally means redemption from sins.
Accessibility
By Air: The closest airport from Varkala lies at Trivandrum, which is around 50 km away.
By Rail: Varkala is 41 km north of Thiruvananthapuram by train and just 24 km south of Kollam.

By Road: There are regular buses to/from Thiruvananthapuram and Kollam that stop at Temple Junction.
Shopping
Shopping can be a pleasurable experience in Varkala. Traditional handicrafts of Kerala are available here such as horn carved products, products made of shells and oysters, spices, tea, coffee etc.
There are no shopping malls in Varkala but you can look forward to buying traditional handicrafts and artifacts here. The area is dotted with many little shops that sell handicrafts from all over Kerela. Look out for items made of coir while shopping in Varkala. Other popular items to pick up from here are coconut shell items, horn carved products, tea, coffee and aromatic spices.
Accommodation
In Varkala there is accommodation for the luxury as well as the budget traveller. The Taj Garden Retreat is a good option in the upper end category. For mid range and budget travellers, there are many budget hotels and wonderful home stays that are very comfortable and provide all basic amenities. Le Mangalath Ayurvedic Beach Resort and Hindustan Beach Resort are good mid range hotels while Raj Park Beach Resort and Preeth Beach Resort are good hotels to check out for the budget traveller.
With the exception of one four-star hotel and a tourist bungalow run by Kerala Tourism Development Corporation (KTDC), facilities for tourists are few.
Attractions
Arattu Festival
The Arattu festival at the Janadharnaswamy Temple is a huge festival celebrated here every year during Meenam (March-April). It is a ten day festival celebrated with lots of colour, grandeur and fascinating elephant processions. A must see if you''re visiting at that time of year.
Varkala Formations
Famous to Varkala are the prominent Varkala Formations, which are cliff shape arrangements adjacent to the Arabian Sea. This is the only place in Southern Kerala that exhibits such a unique geographical feature. The Geological Survey of India has rightly named it a geological monument of this age. These formations are a treat to the eyes and one will stand in awe of the beauty embodied in this sight.
District
Thiruvananthapuram
Termperature
Summer 22-40°C, Winter 12-33°C
Best time to visit
December to February
Famous For
Varkala is known for its magnificent waters and sunny seashore.