Udupi is an important Vaishnavite coastal town and is known for its Krishna temple. The name Udupi was derived from the Tulu name "Odipi" associated with a temple at Malpe devoted to Lord Vadabhandeshwara. Udupi is also believed to have been derived from the Sanskrit words "Udu" meaning stars and "Pa" meaning Lord or King. Udupi is also renowned for its delectable cuisine and Udupi restaurants present all over India.
Legend says that the moon and his wives made their prayer at the Chandramouleeshwara temple at Udupi, creating a linga that can be seen even today. According to this story, therefore, Udupi means the land of the "lord of the stars," the moon.
Udupi is known for the Krishna Mutt (Temple of Lord Krishna). The Krishna Mutt was founded by the Shri Madhvacharya , a Vaishnavite saint in the 13th century.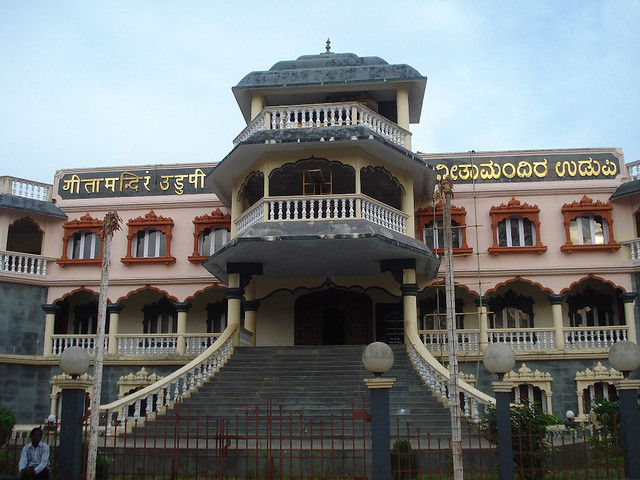 History
Udupi is the birth place of Sri Madhvacharya, who set up the Astha Mathas, one of the most important pilgrimage sites in the state. It is popularly believed that the name of Udupi originated from its Tulu name Odipu. According to other sources, the name Udupi is a result of merging the Sanskrit words Udu (stars) and Pa (Lord).
Accessibility
By Air: Major airport nearby is Mangalore Bajpe airport, which is nearly 60 km away. Mangalore airport is connected to many cities India.
By Rail: Udupi railway station lies on the Konkan Railway line connecting Mangalore to Mumbai. It is well connected with all major cities in Konkan line, and also with other cities in India via Mangalore rail terminal.
By Road: Udupi is well connected with other neighboring cities by Karnataka Road Transport Corporation buses. Regular bus services are available from Mangalore to Udupi.
Shopping
Although Udupi is a temple town but it offers excellent opportunities for shoppers as well. Udupi has a number of supermarkets that include Sampoorna in carstreet, Little Pai near Gitanjali cinema, Diana Stores in K. M. Marg and Court Road Junction. Pantaloon Retail India Ltd has opened it hypermarket Big Bazaar in the heart of the city near Taluk Office. In this hypermarket you will find everything from A to Z of daily use. Udupi is also famous for jewellery all over the world.
Accommodation
Enjoy a comfortable stay while on a Tour to Udupi at the hotels in Udupi, offering a remarkable blend of tradition and modernity. Some of the major hotels in Udupi are Karavali Hotels, Hotel Durga International, Hotel Rukmini Residency, Mother Palace, etc.
Attractions
Makara Sankranti Festival
Udupi's main festival, Makara Sankranti comes in the Hindu month of Makara usually falls in the month of January. During Makara Sankranti a grand chariot festival is celebrated in which people carry images of Lord Krishna, Chandamouleeswara and Ananteshwara in procession. An another chariot festival is celebrated on the 7th day, when the Aaraattu is carried out in the Madhva Sarovar tank. The seven day Makara Sankranti festival also involves a float festival.

Paryaya Festival
The Paryaya Festival is held once in two years when the management of the Krishna temple is handed over to the next Matha. Each of the Mathas is headed by a Swami who takes the charge of the temple during his tenure. The Paryaya festival is a colourful festival attracting thousands of devotees from all over the country.
Termperature
Summer 22 to 40°C, Winter 10 to 32°C
Best time to visit
September to October
Famous For
The town of Udupi is an important pilgrimage centre and is known for its Krishna temple.