It is located on an island separated from mainland India by the Pamban channel and is less than 40 kilometers from the Jaffna Peninsula, Sri Lanka. Together with Kashi, it is considered to be one of the holiest places in India to Hindus, and part of the Char Dham pilgrimages. Hence, it is a bustling pilgrim centre.
The religious island of Rameshwaram is situated on the tip of the Indian peninsula. It is believed that it is here that Lord Rama and his army of monkeys built a bridge called the Rama Setu across the sea to rescue Sita. This is also believed to be the place where Lord Rama worshipped Lord Shiva to cleanse away the sin of killing Ravana. Rameshwaram is known as the Benares of the South. It is believed by many that in order to attain Moksha a visit to Rameshwaram is necessary. Rameshwaram is closely connected with many incidents from the epic Ramayana.
Rameshwaram is an island- of Lord Rama's temple at Tamil Nadu is a terrific destination. Along with being a major pilgrimage for the Hindus, Rameshwaram is a happening holiday spot too.
Rameshwaram is significant for the Hindus as a pilgrimage to Benaras is incomplete without a Pilgrimage to Rameshwaram. The presiding deity is the Linga Of Sri Ranganatha, which happens to be one of the twelve Jyotirlingas of India. Rameshwaram is also popularly referred to as the 'Benaras of the south'. In order to attain Moksha it is believed that the visit to Rameshwaram is mandatory.
It is situated in the Gulf of Mannar at the very tip of the Indian peninsula. According to legend, this is the place from where Lord Rama built a bridge Ram Setu(also known as Adam's Bridge) across the sea to Lanka to rescue his consort Sita from her abductor Ravana. This is also the place where Lord Rama worshipped Lord Shiva to be absolved of the sin of killing Ravana, who is believed to have been the greatest worshipper of Lord Shiva - reason why Ravana is also known as Ravaneeswara (Ravana God) in many parts of Southern India. Both the Vaishnavites and Shaivites visit this pilgrimage centre which is known as the Varanasi of the south.
Ex-president of India, Dr. Abdul Kalam, hails from a fishing hamlet called Dhanushkodi situated on the island.
Rameswaram is an island on the tip of Indian Peninsula and is connected to the mainland at Mandapam by rail. The town is in the Ramanathpuram district. It also known as the 'Varanasi of the south'. The city is a major pilgrimage center for Hindus, both Shaivites and Vaishnavaites. It is here Lord Rama offered thanks to Siva. The main attraction of the town is the Ramanathaswamy Temple,which is one of the most important temples in southern India. The temple happens to be one of the twelve Jyotirlingas. It is also connected by one of India's engineering wonders, the Indira Gandhi Bridge. It took 14 years to build and was opened by Rajiv Gandhi late in 1988. Travelers will not have to face any problems as English is widely understood and spoken.
Rameshwaram has become a great tourist destination due to the presence of few of the most known architectural wonders of South India. Tourist throng to this city to witness the magnificent Ramanathaswamy Temple and Kothandaraswamy temple. Another place that attracts tourist is the Adam's bridge that is said to be created by Lord Rama and his Army to cross to Lanka. Its a chain of small islands that almost connect India to Sri Lanka. Tourist can also have a great time shopping as Rameshwaram is full of different and exquisite items. You can find a variety of ornamental items made up of palm leafs and sea shells. To appreciate the real beauty of these marvels, you have to see them all in front of your eyes.
Image Credit:
http://www.flickr.com/photos/richu/3300604237/
http://www.flickr.com/photos/dopey_boy/1348633344/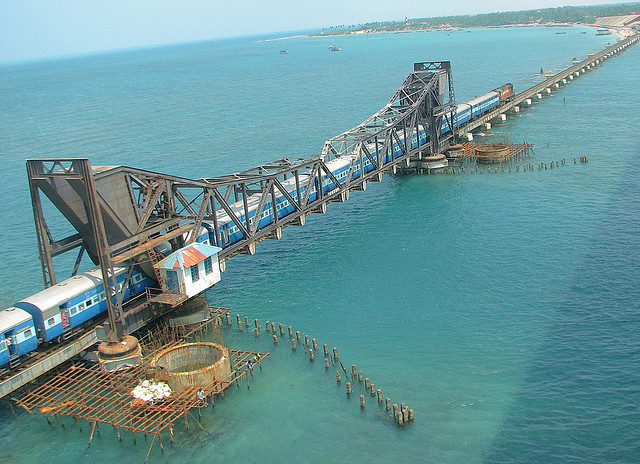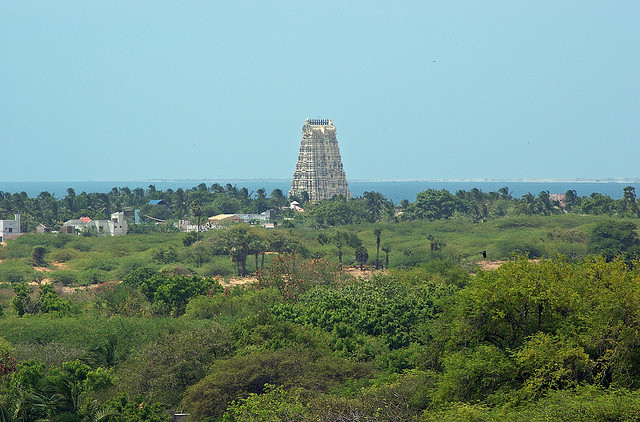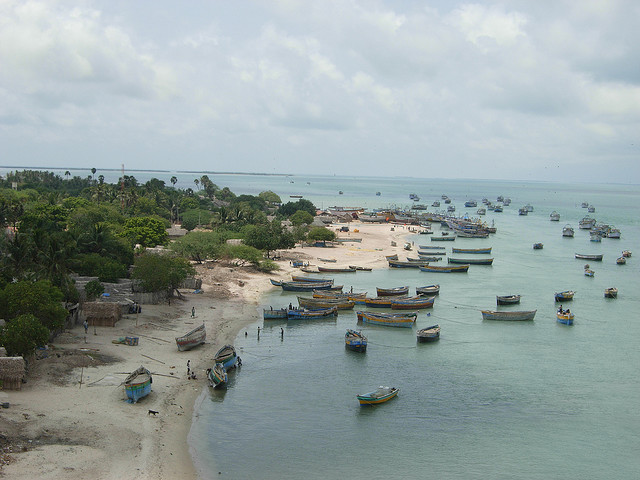 History
According to the Hindu mythology i.e. the story of Ramayana Lord Rama performed thanksgiving rituals to Lord Rama after the battle at Sri Lanka and his triumph over the demon king Ravana. Owing to this Rameshwaram attracts Vaishnavites (worshippers of Lord Vishnu) and Saivites (worshippers of Lord Shiva) alike. Sri Lanka is at a distance of 24 kilometers from Rameshwaram. In fact the entire area of Rameshwaram is associated with various incidents from the Ramayana. Rameshwaram happens to one of the most visited pilgrim sites in India.
Accessibility
By Air: Madurai is the nearest airport to Rameshwaram, which is located at a distance of 163 km away from Rameshwaram.
By Rail: Rameshwaram (Mandapan station just 2 km away) is well connected by rail with many south Indian cities including Chennai, Coimbatore, Madurai, Thanjavur and Trichy.
By Road: Tamil Nadu Road Transport Corporation buses connect Rameshwaram with all cities in Tamil Nadu, including Kanyakumari, Madurai, Trichy and Thanajvur.
Accommodation
For the tourists accommodation is not an issue at Rameshwaram. There are several hotels, lodges, cottages and hostel that provide ample services and facilities for a comfortable stay. The pilgrims may opt for the dormitory service at the temple.
Termperature
Summer 30-35°C, Winter 17-27°C
Best time to visit
October to March
Famous For
Seat of one of the 12 Jyotirlingas of India, where Lord Rama woshipped.