Neemrana is an ancient historical town, situated at 122 km from Delhi on the Delhi-Jaipur highway. It is the site of 14th century Hill-Fort ruled by Chauhans till 1947. The main attraction of this place is the fort which is perched on a plateau, surrounded by a horse-shoe formation of the Aravalli Mountains.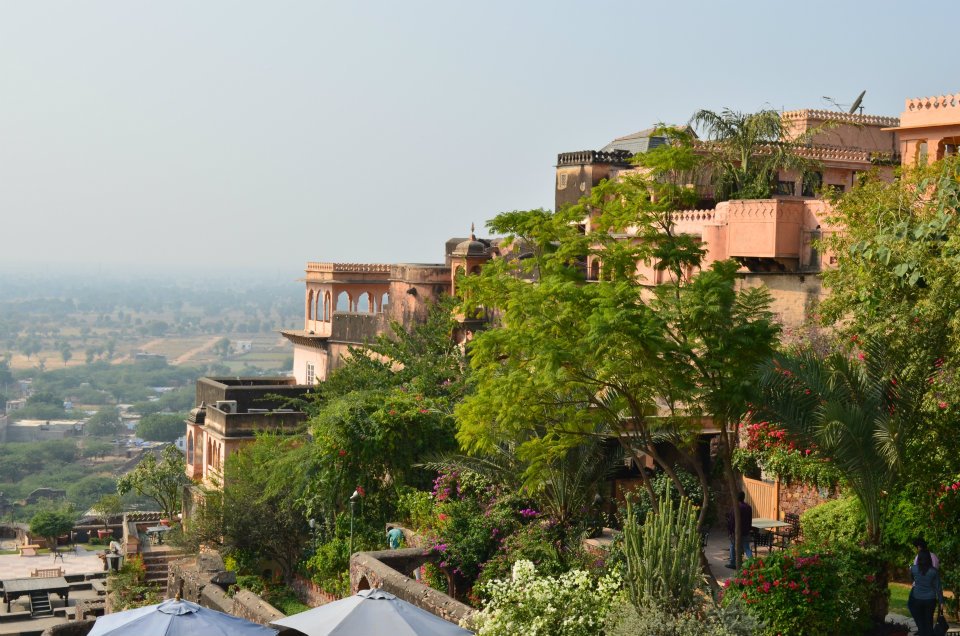 History
The historic facts about Neemrana take us to the ancient times when it was under the patronage of Maharaja Devi Singhji. Besides, Neemrana was also the third capital of the descendents of Prithviraj Chauhan III. The chief landmark of this town, the Neemrana Fort, was built by Maharaja Devi Singhji and this particular place has derived its name from the gallant local chieftain Nimola Meo. There is an interesting incident behind the name of the fort. While fighting with the Chauhans he was overthrown and he made a humble plea for naming his lost kingdom after his name. This fort is an architectural marvel of Rajasthan and one of the oldest too. The present fort is a leading heritage resort that is used for the purpose of luxury tourist accommodation, wedding and business purposes.
Accessibility
Air: Neemrana can be easily reached from Delhi as only 120 kilometers separate the place from the capital of India. Delhi is connected with all the major destinations of the world by a large number of international flights. Well known international carriers like KLM, British airways, Lufthansa, and Virgin airlines operate flights to and from Delhi. Delhi is also connected to all the major cities of India, and a large number of domestic carriers offer cheap flights to and from Delhi. Tourists can avail of excellent transport facilities from the airport to Neemrana and other destinations in Rajasthan. Luxury buses and air-conditioned cars are available from the airport itself. The airport has a travel desk that will assist you in every way possible. Hotel bookings for Neemrana Fort and other cities in Rajasthan are also done from here.
Rail: New Delhi is the rail head closest to Neemrana. New Delhi is connected to all parts of India through a vast railway network comprising a large number of fast, super fast, passenger, and luxury trains. One of the best ways to arrive at Alwar, the station nearest to Neemrana, is by the Fairy Queen, which is drawn by the oldest running locomotive in the world.
Road: Neemrana is located at a distance of 120 kilometers from Delhi, on the Delhi-Jaipur Highway (National Highway 8). The stretch is very well maintained and it usually takes about two hours to reach Neemrana.
Shopping
At the Neemrana shop you will find a wide variety of lifestyle and gift items including candles, cutlery, crockery, linen, fashion accessories and more. Items used in the Neemrana Hotel are also available for purchase to take home the heritage experience. There''s plenty to shop for but it is pretty over priced.
Accommodation
The Neemrana Fort Palace is the star accommodation here and is credited with setting off a trend in converting heritage buildings into hotels.
Things to do
Flying Fox Zipping
Flying Fox is India's first zip tour – a unique and exhilarating aerial journey between hill forts and ridge tops, during which you fly down a series of ultra-strong cables or zip lines, attached by a harness and pulley.
Flying Fox Neemrana is India's first Zip Tour and operates from the Neemrana Fort Palace, in the village of Neemrana. The Zip Tour is located at an outcrop of the Aravali hill range and was inaugurated in January 2009 by Sri Banerjee, Secretary of Tourism of India and Sir Richard Stagg, British High Commissioner to India.
Best time to visit
September to March