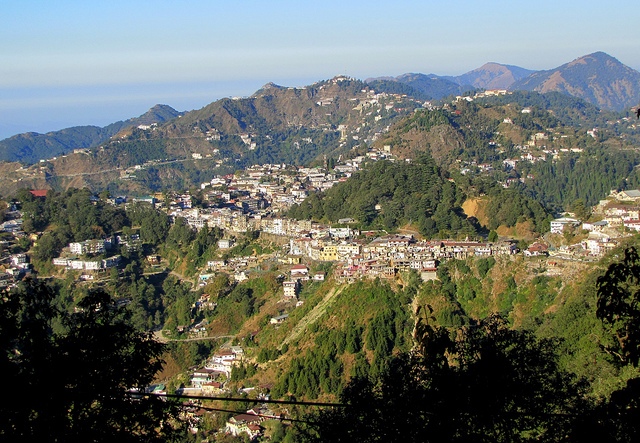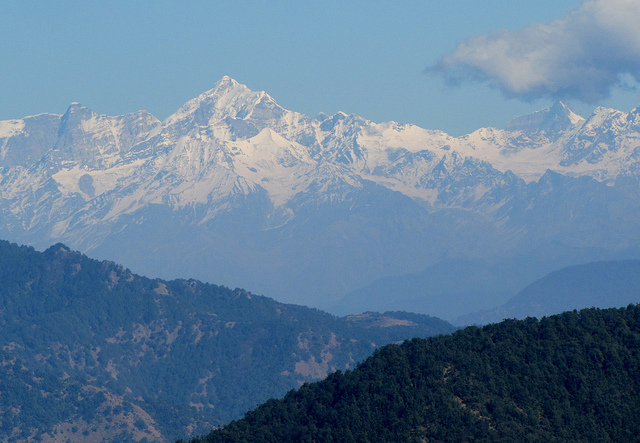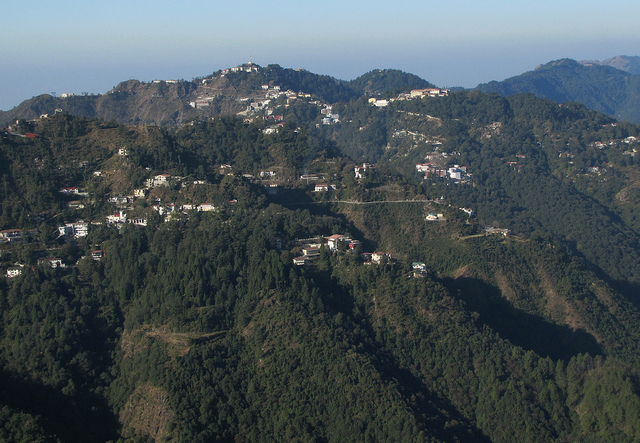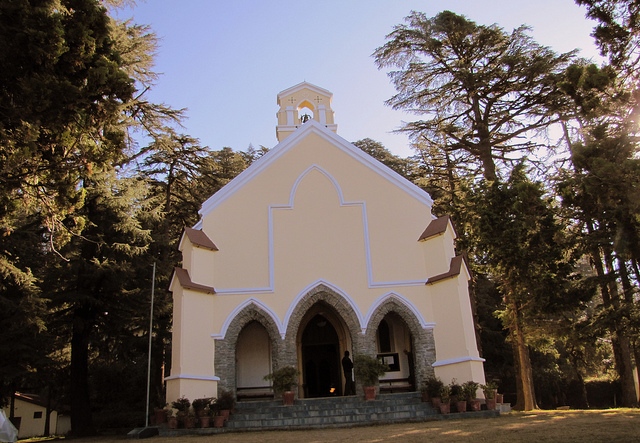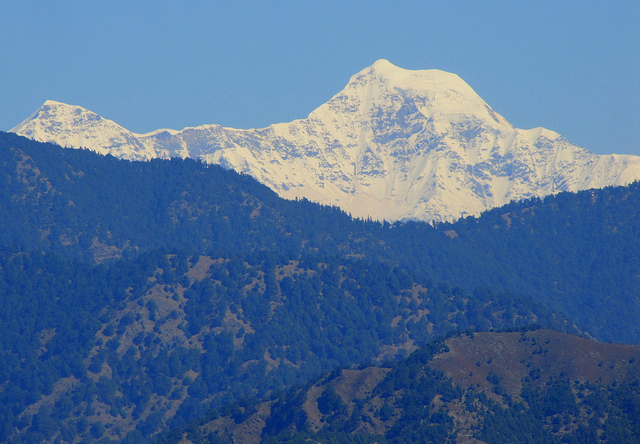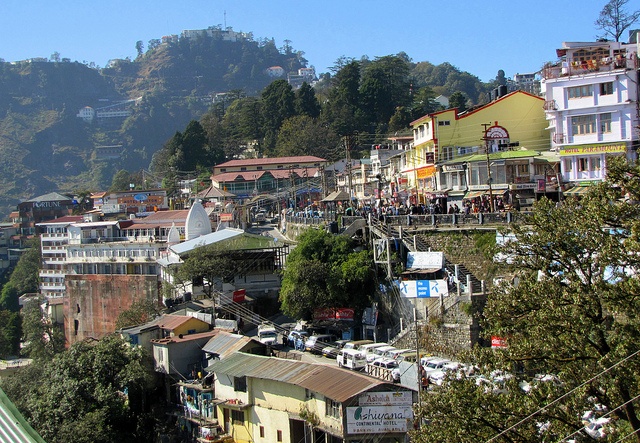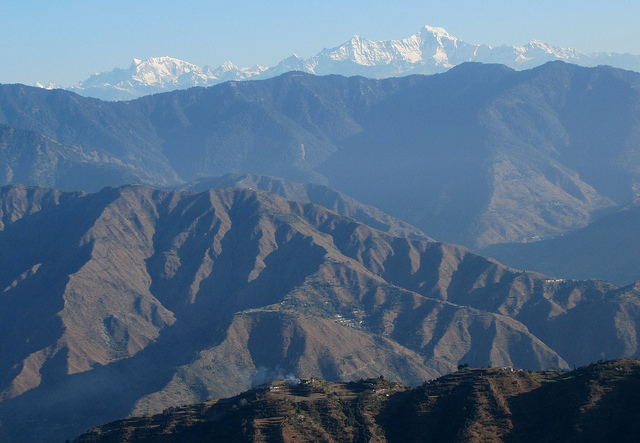 History
Mussoorie was discovered in the 18th century by a British Captain Young and it soon became a popular summer retreat for the British.
The history of Mussoorie dates back to 1825 when Captain Young, an adventurous British military officer, together with a Mr. Shore, the resident Superintendent of Revenues at Dehradun explored the present site and jointly constructed a shooting lodge. This laid the foundation of this holiday resort which now has few rivals. In 1827 a sanitorium was built at Landour, which later became a large cantonment , Colonel Everest built a home here in 1832, and by 1901 its population was 6461, rising to 15,000 in the summer season. Earlier, Mussoorie was approachable by road from Saharanpur, 58 miles (93 km) away. Accessability became easier in 1900 with the railway coming to Dehradun, thus shortening the road trip to 21 miles (34 km).
The name Mussoorie is often attributed to a derivation of 'mansoor', a shrub which is indigenous to the area. The town is in fact often referred to as 'Mansoori' by locals.
The main promenade in Mussoorie is called, as in other hill stations, the Mall. In Mussoorie, the Mall stretches from Picture Palace at its eastern end to the Public Library (shortened to 'Library') at its western end. During the British Raj, signs on the Mall expressly stated: "Indians and Dogs Not Allowed"; racist signs of this type were commonplace in hill stations, which were founded 'by and for' the British. Motilal Nehru, the father of Jawahar Lal Nehru, deliberately broke this rule every day whenever he was in Mussoorie, and would pay the fine. The Nehru family, including Nehru's daughter Indira (later Indira Gandhi) were frequent visitors to Mussoorie in the 1920s, 1930s and 1940s. They also spent much time in nearby Dehradun, where Nehru's sister Vijayalakshmi Pandit ultimately settled full-time.
In April 1959, after fleeing Chinese occupation of Tibet, the Dalai Lama established the Tibetan Government of Exile in Mussoorie. The Government of Tibet in exile eventually moved to Dharamsala in Himachal Pradesh. The first Tibetan school was established in Mussoorie in 1960. Tibetans settled mainly in Happy Valley in Mussoorie. Today, some 5,000 Tibetans live in Mussoorie.
Now, Mussoorie suffers from over-development of hotels and tourist lodges, given its relative proximity to Delhi, Ambala and Chandigarh, and has serious problems of garbage collection, water scarcity and parking shortages, especially during the summer tourist season. Landour, Jharipani and Barlowganj have fewer such problems.
Accessibility
Air: Nearest airport is Jollygrant, which is 60 km away from Mussoorie and is situated in Dehradun. Jollygrant airport, Dehradun is connected to Delhi airport. Taxi services are available from airport to Mussoorie and it costs about Rs 1500. Delhi is the nearest international airport, which is 270 km away. Delhi is well connected to all major cities in India and many cities abroad.
Rail: Mussoorie has no railway station of its own. So one can get down at Dehradun railway station, nearly 60 km away and from there take bus or taxi to reach Mussoorie. Taxi services are available from railhead to Mussoorie and it costs about Rs 1500. Dehradun railway station is well connected to other major cities in India with super fast trains.
Road: Mussoorie is well connected with excellent bus services of state public bus services Uttaranchal State Transport Corporation. From Dehradoon and from other major cities in India private bus services are available to Mussoorie and fare is about Rs 3 to 4 per kilometer. Mussoorie is connected with Delhi (270 km), Nainital (355 km), Dehradun (60 km) and Garwal (135 km) by deluxe tourist bus services.
Shopping
Mussoorie, also called the 'Queen of Hill stations' in India, is one of the most visited hill stations and has thus developed accordingly. Mussoorie has a well stocked market place where you can shop around for just about anything you need.
The Mall road or the Mall is the hub of tourists in Mussoorie which has shops selling all kinds of products, besides a host of interesting eating joints. At all times during the year, this thriving market place at Mall road is seen crowded with shoppers.
Here you can find retail outlets of most of the famous brands - for clothes and apparels, electronics and so on. Besides, a little ahead is another busy commercial center of Kulri. Here too you can look for anything you want.
Through out these markets in Mussoorie you will frequently encounter Tibetans selling imported products at very reasonable prices. You can also find with them, fabric wall hangings and woolen clothes, Tibetan metal ware, lots of wooden items like walking sticks, trays, bowls, cane baskets, jewellery etc., all at descent prices.
Landour Bazaar: Landour Bazaar is located on a steep slope about 4 km up the hill from the Mall, and is a cantonment area. This is totally a silence zone, thanks to the handwritten signs nailed on the trees. A pollution-free zone, and with fresh pure air to breathe, recovery from any stress or disease is superbly fast here. During old times, the Britishers set up a rejuvenation center to enjoy the nature at its best.
Captain Young, who once upon a time discovered Mussoorie, used to live in this area. His house (Mullingar Estate) still stands, marking the proof of his existence, but in a bad shape.
Library Bazaar: A Victorian-style Library, built in the mid-19th century, stands proud towards the end of the Mall. This Library permits access only to members and it may not be possible to gain entry inside. Remnants of the town's past are present in the form of a Band Stand, which used to play music all night. The entire day was spent in socializing away to glory, and all lived a life of content and leisure.
One can shop to your heart's content in this area, with lots of shops arranged in a circle around the town. This bazaar is also referred to as Gandhi Chowk symbolic of the statue of Mahatma Gandhi, which stands in one corner of the bazaar.
Sisters Bazaar: Sisters Bazaar is named after the Nuns who served as nurses in the British dormitory present in this area. Contrary to the term "bazaar‿, this area is more of a residential colony with old cottages and a few shops spread across. It is a divine area, lined up with pines, oaks and deodars.
Do not forget to visit the famous confectionery shop of Sisters Bazaar — the Prakash Brothers Store. Other famous attractions are the houses owned by personalities, namely, Dev Anand, Tom Alter and Victor Banerjee. Especially impressive is the house owned by Victor Banerjee, known as The Parsonage, which has a rich history attached to it.
The Mall: The Mall is the heart of Mussoorie. A walk through the mall throws glimpses of the colonial period with the benches and lampposts lined up and is a beautiful experience. Being in the center of the city, one has to pass the Mall enroute to any place in the city.
The 1980s style video game parlors, skating rinks, the Methodist Church are all attractions in this area. The skating rinks are popular among children and adult alike, and are charged at Rs 80 per hour. Fans of Ruskin Bond seeking his autograph should not miss the opportunity to visit the Cambridge Bookstore, where he is often seen.
Things to do
Boating
If you are one of the water enthusiasts coming to Mussoorie, do not forget to explore the joys of boating in the hill resort. Mussoorie Lake, one of the most popular picnic spots in the area, offers you boating facility, with marvelous view of surrounding valleys forming the backdrop. Then, you can also go for boating in Lake Mist, a newly developed picnic spot that is situated about 5 km before the Kempty falls, on the Mussoorie-Kempty road.
Nature Walks
If you go to Mussoorie and do not indulge in nature walks, consider your trip incomplete. From the Mall area of the hill station, you will find diversions to several interesting walks, bringing you right into the lap of nature. Some of the most popular options are:
Along the road below Savoy Hotel, from the Library head to Happy Valley
From Valley view to Clouds End
Towards Kapurthala Chateau and Waverly Convent, on to Company Bagh
In the hillsides of Landour
The Barlowganj area
Paragliding
Want to soar high in the sky and look at earth from miles above it? If yes, then on your next trip to Mussoorie, do make sure to indulge in paragliding. Mussoorie Lake, apart from boating and picnics, offers you the opportunity to go paragliding as well (if the weather and air permit).
Roller Skating
The youngsters will love to explore the numerous skating rinks in Mussoorie. The resort Jaypee Residency Manor houses an open air skating rink. Then, there is 'The Rink' in Kulri Bazaar and 'Disco Skating Rink' behind the Tourist Office in Mussoorie.
Trekking
Mussoorie serves as the base for a number of interesting treks, to the nearby areas. For instance, you can trek up to the Gangotri, Yamunotri, the Black Peak, Har-ki-Doon and other treks in the Garhwal Himalayas. Then, there is the option of explore the trekking trails in the nearby Himachal Pradesh as well. The closest place from Mussoorie, for indulging in trekking expeditions, is Barlowgunj, approximately two and a half kilometers away.
Mussoorie is the ideal place for adventure lovers and trekkers. Being surrounded by hills, there is a lot of scope for trekking in Mussoorie. You can comb the hills out through adventurous treks to various spots like Aglar river which is a trek from Lal Tibba, Park Estate, Bhadraj forest, Nag Tibba, to name a few.
The Himalayan Adventure Institute, along with various other activities like rock climbing, nature camps and river crossings, arranges the treks for those interested. Tourist bungalows or cottages can be arranged for the trekkers depending on the route taken. Try to avoid Rangan Gaon as the trek to this area could be dangerous.
Trout Fishing
If you are willing to drive to a few kilometers from Mussoorie, in the search of adventure, then Aglar River and Yamuna River would provide you with ample opportunities for trout fishing. However, you will have to take permits from the Divisional Forest Officer of Mussoorie beforehand.
Wildlife Sighting
The areas in and around Mussoorie are home to a rich and varied wildlife. If you are a nature lover, do not forget to visit Van Chetna Kendra, situated amidst pine forest and flowering shrubs, and have a look at the Ghurar, Kakar, Himalayan Peacock, Monal etc. Benog Mountain Quail Sanctuary is another place that you must visit on a trip to Mussoorie. Apart from the usual birds and animals, it also boasts of extinct bird species like Mountain Quail.
Termperature
Summer 14-30°C, Winter 0-24°C
Best time to visit
March to May and from September to November.