Kudremukh is a Kannada word which literally means "Horse face". This hill town derived its name from a mountain range in the region that looks like the face of a horse. Kudremukh lies in the Chikmagalur district at an altitude of 1894 meters or 6214 feet above the sea level and overlooks the Arabian Sea coast. In 1916 the British Government had declared the Kudremukh region as a reserve forest.
Kudremukh is believed to have the largest reserve of tropical wet evergreen forests in Karnataka. The dense forests covering the hills are linked to each other by valleys, grassy slopes, streams and rives, making it very rich in flora and fauna.
Kudremukh is also the mining town where the government- run Kudremukh Iron Ore Company Limited operates. The iron company has given this region the benefits of a modern township while still maintaining its scenic beauty.
Kudremukh Peak is 6,250 feet high, the hill is a short way up. On a clear day the coastline of the Arabian sea is visible to naked eye. There is a small waterfall at the highest point which is ice cold. In summer the peak is closed. There are 13 trekking routes with in the park.
Renowned for the Kudremukh National Park, Kudremukh is the largest reserve of a tropical wet evergreen forest in Karnataka. Kudremukh literally means Horse face, so named because of the unique shape of the Kudremukh Peak. It is a perfect destination for trekking, marked by emerald green forests interspersed with rivers, grassy slopes, and rare orchids.
Kurinajal is another hill which is almost the same height as Kudremukh as you can climb. En route the hill don't forget to visit the Hanuman Gundi and Sutanabbe Falls surrounded by dense hills and jungles. At the basin of the falls there is a small but deep pond, if you know swimming you can swim there. The whole area is within Kudremukh National Park so nobody ia allowed to stay overnight. The movement within the park is regulated by forest authorities, you can enter with only prior permission.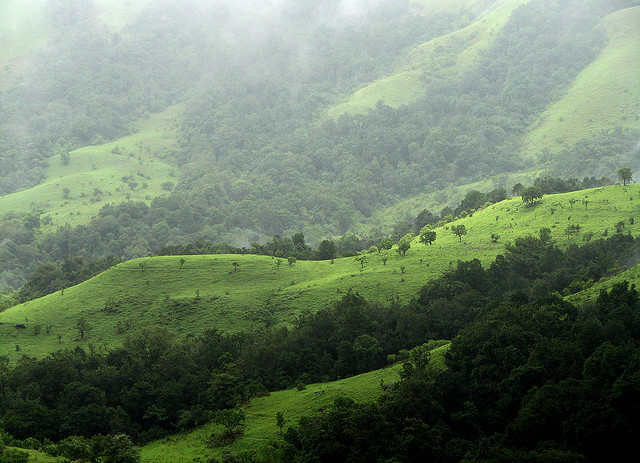 History
Way back in 1916, the British Government declared Kudremukh as a Reserved Forest to stop deforestation. In 1987, the Government of Karnataka declared these Reserved Forests as a National Park.
Accessibility
Air: Mangalore is the nearest domestic Airport, which is 130 km away and Bangalore is the nearest international Airport, which is 350 km away. Cab costs about Rs 2500 from Mangalore and Rs 6000 from Bangalore. Mangalore air terminal is connected to Bangalore and Chennai. Bangalore airport is well connected to almost all airports in India. International flights to major foreign cities are also operated from Bangalore.
Rail: Nearest major Railway Station is Mangalore, which is connected by rail to many cities in India.
Road: Kudremukh is well connected by KSRTC bus services. Private and public transport buses connect frequently to Karkala (50 km), Bangalore (350 km) and Mangalore (130 km). A/C deluxe and luxury buses are available from Bangalore and Mangalore to Kudremukh, which cost about Rs 4 per km.
Accommodation
Enjoy a comfortable stay while on a Tour to Kudremukh at the hotels in Kudremukh, offering a remarkable blend of tradition and modernity. Some of the major hotels in Kudremukh are Hotel Chandan, Naveen Lodge, Silent Valley Resort, Seethanadi Nature Camp, etc.
Horticulture Department Guest Houses.
Forest Guest House.
PWD Guest Houses, Chikmagalur.
Naveen Lodge.
Indira Gandhi Road, Chikmagalur.
Planters Court, Moodigere Road.
Quality Inn, Indira Gandhi Road, Chikmagalur.
Woodlands, Indira Gandhi Road, Chikmagalur.
District
Chikmagalur district
Termperature
Summer 30-35°C, Winter 17-20°C
Best time to visit
December - February