Kodachadri is a pleasant hill resort located at a distance of about 115 kilometers from Shimoga and 36 kilometers from Hosanagara, State of Karnataka. This picturesque hill is located such that it overlooks the vast Western Ghats.
Kodachadri of Karnataka is reputed for its splendid sunrises and sunsets. The peak of Kodachadri (at a height of 1343 meters above sea level) may be reached after a five-hour trek. On the western part, the hill descends almost steeply for about 1220 meters until it joins the forest of Udupi district. The well known temple town of Kollur is 12 kilometers away. These hills (4411 ft) comprise one of the biggest forest zones in Karnataka and a section of this region constitutes the Mookambika Nature Reserve. Kollur is the perfect base from which to explore the hills. The Mookambika Nature Camp is situated 4 kilometers to the south of Kollur. The Linganmakki Dam, within close proximity of Kodachadri, is also a must see for visitors to this place.
The best time to visit the hill station of Kodachadri at Karnataka is in the period within October to May.
Kodachadri is at a distance of about 400 kilometers away from Bangalore. It is very near to Shimoga which is situated 120 kilometers away. From Bangalore you may take the National Highway No. 4 upto Nelamangala and then change track to to National Highway No.48 till Hassan State Highways will take you to Shimoga via Chickmagalur, Tarikere and Bhadravati. More to the west from Shimoga is Kodachadri, almost three hours away.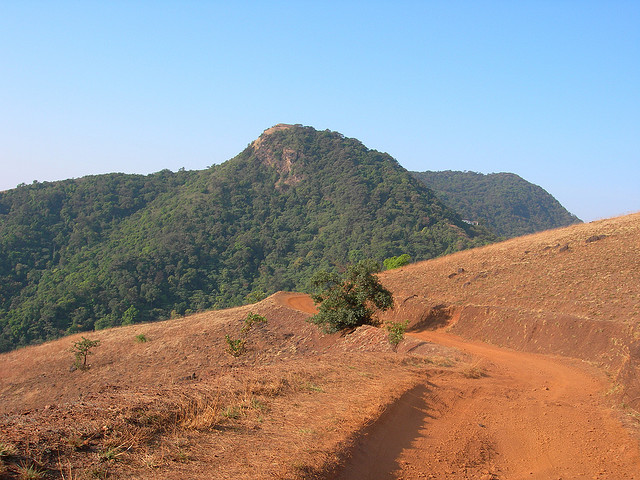 History
Kodachadri seems to have attracted the attention of humankind since long time. Probably prehistoric men also trekked in this area and several monolithic structures or menhirs (big rocks with a length more than 12 feet) are found near Nagara- Nilsakal, at about 20 k.m from this place.[1] Ancient mother goddess temple is there near the top of the peak and legend says that the goddess slayed Mookasura several thousand years ago. This belief can be compared with ancient practice of worshipping Mother Goddess during prehistoric time all over the world. At present, Kodachadri is popular among locals and Keralites since at least 500 years or more. Sage Shankaracharya is said to have visited this place and established Kollur temple. Original goddess is situated at the top of Kodachadri. Piligrims from Kerala,Tamilnadu and Karnataka state visit Kollur and some of them Kodachadri also, remembering the visit of Sage Shankaracharya.
Accessibility
Air: The nearest Airport is Mangalore
Rail: The nearest railhead is Shimoga
Road:
Accommodation
The stay at a nearby bigger place. Kollur (15 km) has several Guest House and lodges as well as homestay accommodation and this is a good option. Nearest Town Kundapura has several lodges with A/C and Non/Ac rooms. The district centre Shimoga (80 km) is also a choice but the journey takes around four hours. To watch the sun set at Kodachadri, one has to stay at Kodachadri peak and natural option is Bhat's house. He will charge nominal amount for food and room and basic shelter is provided. There is one Travellers' Bungallow at Kodachadri with very very basic facilities and for reservation, contact Officer in charge, PWD, Hosanagar, Shimoga district. One or two Homestay facility are also available near Main Road.
Things to do
Trekking
The mountainous terrain, untouched by human intervention and development, and the dense forests totally un-violated by the modern technologies, make Kodachadri a trekker's dream destination. It takes five hours to trek to Kodachadri peak. Kollur is a popular base for trekkers to begin their exploration of the hills. The trekking route from Nagodi, the biking route from Nittur village, the route via the Arishinagundi falls, which is accessed for the climb down, and the route via Hidlumane falls are the most interesting of them.