An offbeat destination, Kemmannagundi is a secluded hill station situated at a height of 1434 meters in the Chikkamagalaru district. Kemmannagundi was the chosen summer haven of King Krishna Rajendra Wodeyar IV, the Maharaja of Mysore. He built his summer palace here in 1932 to escape from the British who kept snatching away the city of Mysore from his family. The region was developed under the patronage of the monarch who maintained the natural surroundings, built good roads, developed ornamental and landscaped gardens etc. The King owned Kemmannagundi for almost 10 years after which he donated the land to the government of Karnataka.
The name Kemmanagundi is derived from 3 Kannada words- "Kempu" (red), "Mannu" (soil), and "Gundi" (place), put together meaning 'a place with red soil'. Also called "Krishna Rajendra Giridhama Hill Station" and also the "Queen of Hills", Kemmannagundi is known for its many waterfalls, treks, beautiful rolling pastures, dense forest, high cliff caves, sprawling coffee estates and herb infused waters known to cure many ailments.
Kemmannagundi also known as KR Hills is located in Tarikere of Chikmagalur district in Baba Budan range. It is located at a distance of 255 Kms from Bangalore. It is named after Krishnaraja Wadiyar IV of the Wadiyar dynasty. This was his favourite summer retreat. It is located at a height of 4,705 feet above sea level.
The view from the hills is really stunning and is home to numerous tea and coffee plantations. It is a ideal place for trekking which makes a relaxing gateway from big cities. There is a high iron content in the soil which makes the colour of flowers very vibrant. The name 'Kemmannagundi ' is derived from kempu mannu, or red soil.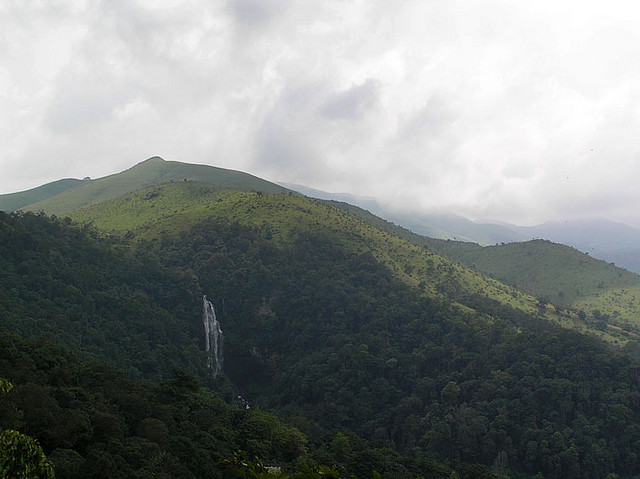 History
The puranas say Kemmannagundi was called 'Chandra Drona Parvatha'. Water, gushing down through innumerable herbs and medicinal plants, is believed to cure many diseases, including the common cold and skin ailments.
This hill resort in the Baba Budan Hills was once the summer retreat of the Maharaja of Mysore, the Wodeyar King Krishnaraje Wodeyar IV, after whom the hill station is also named the K.R. Hills.
Accessibility
Air: Mangalore is the nearest domestic Airport, which is 190 km away and Bangalore is the nearest international Airport, which is 295 km away. Taxi cab costs about Rs 4000 from Mangalore and Rs 6000 from Bangalore. Mangalore air terminal is connected to Bangalore and Chennai. Bangalore airport is well connected to almost all airports in India. International flights to major foreign cities are also operated from Bangalore
Rail: Nearest Railway Station is Tarekere, which is connected by rail to Mangalore and Bangalore. Tarekere is about 15 km from Kemmanagundi and taxi will cost about Rs 300 from railway station to Kemmangundi.
Road: Kemmanagundi is well connected by bus services. Private and public transport buses connect frequently to Chikmaglur (55 km), Bangalore (295 km) and Mangalore (190 km). A/C deluxe and luxury buses are available from Bangalore and Mangalore to Kemmanagundi, which cost about Rs 4 per km.
Accommodation
Kemmannagundi provides accommodation to suit various budgets. Dattatri Bhavan, Vana Darshinki, Narayana Kuteera, Budan Giri lodge, Virupaksha lodge, Dhoopada Giri lodge, Kallahatti lodge, etc., are some of the places tourists can enjoy staying.
The Horticulture Department''s Guest House is the most popular place to stay. You can also stay at neighbouring Chikmaglur and Shimoga, which have a range of budget and deluxe hotels.
Things to do
Trekking: Trekking is always challenging, exciting and enjoyable in places like Kemmanagundi, where steep climbs and descends are inevitable to have a good trek or nature walk.
One can trek the route to Hebbe falls, unspoiled region for grant views and untouched mostly by development. Local guides leading the trekkers are mostly affordable here, and their guidance help many tourists as many of the trekking routes are undulated terrains and can be wet and slippery.
Trekking is not so easy here, one need to wear sturdy clothes and trekking shoes. Only adventurous people can engage here to enjoy the challenges in trekking trains of Kemmanagundi. One can trek down to Hebbe falls and up to the Z point, to their charm to face the adventurous actions required to reach there.
District
Chikkamagalaru district
Best time to visit
September to February