Karauli is considered one of the holiest cities in Rajasthan with a collection of more than almost 300 temples. The city founded in 1348 AD was earlier known as Kalyanpuri, after the local deity Kalyanji. It is famous for its pale red-stones Karauli boasts presence of some very memorable monuments like the famous temples of Kaila Devi, Madan Mohanji and many other historic structures.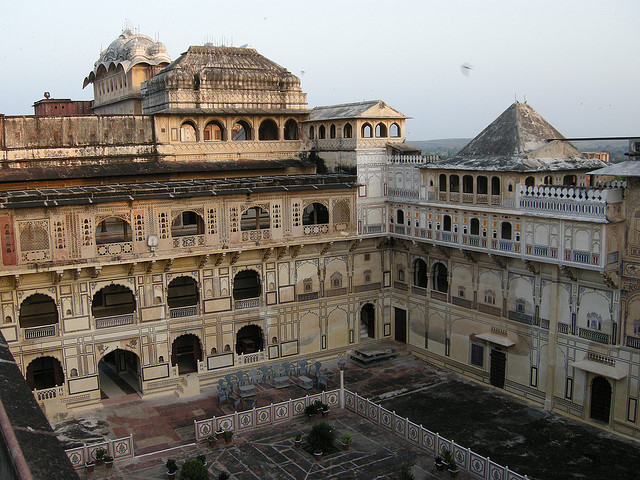 Accessibility
Air: Sanganer Airport located at Jaipur is nearly 160 km from the heart of the city, and taxi charges about Rs 3200 from Airport to the city. Jaipur airport is connected to metro cities Mumbai and Delhi. Foreign travelers can take connection flights from Delhi and Mumbai.
Rail: Nearest main railway stations is Gangapur, which is 81 km away from Karauli. Gangapur is a major station connecting to all railheads in India. Cab charges about Rs 1500 from Gangapur to Karauli.
Road: There are daily bus services from Karauli to Gangapur (81 km) and Jaipur (160 km) Many private bus agencies provide tourist bus services from Karauli to other important cities.
Shopping
If the tiring schedules of visiting and admiring the beauties of monuments at Karauli tire the legs and fatigue the bodies then the best antidote is a walk down the local Bazaar (Market) at Karauli. The market provides access to some of the best handicraft articles which include many showpieces as well as decorative.
The colourful bangles are considered a specialty of the region and the Bangle market is almost always flooded with women folks seeking this exclusive shining piece of glass. Intricately woven clothes and other decorative are also available in the market. The market rules are simple, if you like something quote a price and buy it if the deal is struck. However be careful of the inflated prices before you plunge into the bargaining game.
Attractions
Karauli Cattle Fair: The land of Rajasthan has been conquered by the human with a lot of assistance of our domesticated friends. The camels, buffaloes, horses and cattle have played a major role in the survival of the Rajasthani community. The importance of these animals is still visible through the cattle fairs that are organized throughout the state.
The Karauli Cattle Fair is a grand affair. One can witness a huge market full of the bargaining voices trading the wares in form of the best and the healthiest camels, horses, buffaloes etc. The Fair is generally organized before the scorching summer heat fries the region. The cattle thus traded are expected to serve the owner during the forthcoming hardships.
Termperature
Summer 31-46°C, Winter 8-28°C
Best time to visit
Oct - Mar