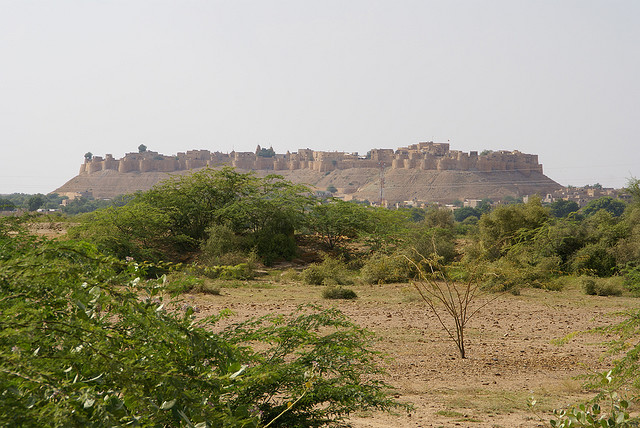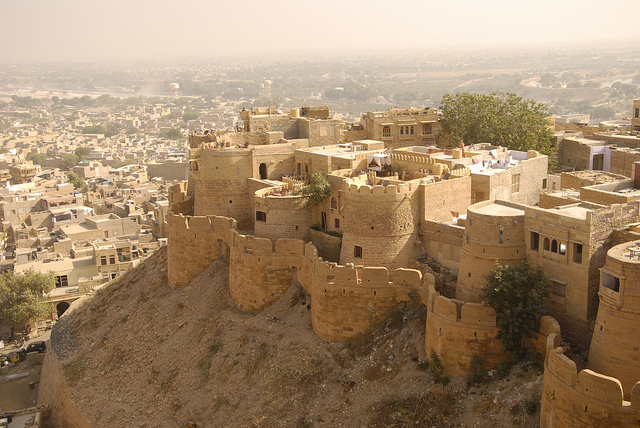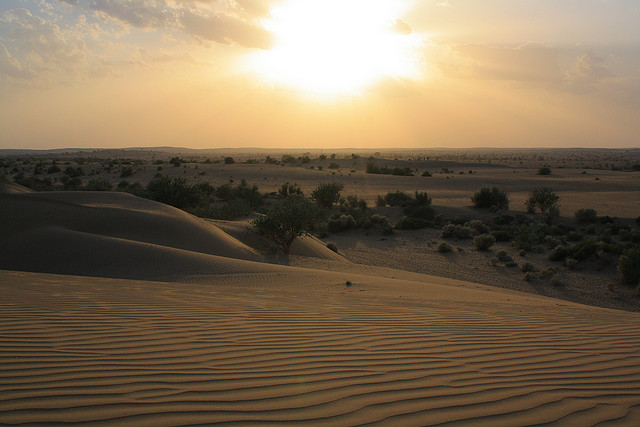 History
Established in 1156 AD by a Bhatti Rajput ruler Jaisala, the history of Jaisalmer is replete with many legends. According to one, Lord Krishna had predicted that a descendant of the Yadav clan would establish a formidable kingdom atop the Trikuta Hill in Jaisalmer. True to his words, Rawal Jaisal established his kingdom on this very hill.
Jaislamer also had its share of battles and intrigue. It is said that after Alu - ud -din Khilji laid siege to the Jaisalmer Fort for nine consecutive wars, the royal ladies committed Jauhar, while the men donned saffron robes and rode out to meet certain death. Later various marriages cemented the alliance between the rulers of Jaisalmer and the Mughals.
Jaisalmer rulers allowed fine arts to flourish under their rule, as a result of which, we can see splendid havelis and beautifully carved temples, in honor of both Hindu as well as Jain.deities. It also became an important centre of trade and commerce until the Mumbai port came into existence. The city came under the Indian government in 1947.
Accessibility
Air: Nearest airport is Jodhpur, which is at a distance of 285 km from Jaisalmer. Jodhpur is connected to Delhi and Jaipur by air. Pre-paid taxi service is available from Jodhpur to Jaisalmer, which costs about Rs 4000. Delhi is the nearest major international airport, which is connected well with all major cities in India and many important cities in abroad.
Rail: Jaisalmer railway station is an important railway station in Western railway zone. It is connected to Jodhpur and other cities in India. This train takes about 6 hours for journey and cost about Rs 120
Road: There are many semi deluxe and deluxe buses to Jodhpur at regular intervals. Deluxe A/C buses are also available from Jaisalmer to Jaipur, Ajmer and Bikaner. Rajasthan state buses connect Jaisalmer with neighboring cities.
Shopping
Shopping in Jaisalmer will be a fascinating experience. Jaisalmer affords you the pleasure of strolling through the narrow lanes of its markets, which still retain a medieval charm.
Jaisalmer is famous for embroidery, rajasthani mirror work, rugs, blankets, antiques and old stonework. The colorful handcrafted items and curios with a touch of Jaisalmer make good souvenirs to carry home. Puppets and joothies (handmade leather shoes) are popular items. While shopping in Jaisalmer you will also find beautiful fabrics, woven jackets, camel leather items and wooden boxes. The intricately designed ornaments of Jaisalmer are irresistible. You can also find a colorful range of the popular bandhini (tie and dye) fabrics. Perhaps nowhere else in the world would you find colorfully embroidered covers for the camel back, which can be a unique collector's item. Jaisalmer has various showrooms and emporia, which are worth visiting. Some of the places that you can visit for handicrafts and fabrics are Jaisalmer Embroidery House and the Kahdi Gramudyog Bhavan.
Accommodation
Hotels in Jaisalmer offer a royal stay, transporting you to the bygone days of a glorious past. The heritage hotels in Jaisalmer provide a royal ambience making your stay in Jaisalmer a memorable one. Jaisalmer hotels have a range of accommodation to suit the budget of all kinds of travelers.
The hotels in Jaisalmer provide the best of facilities with traditional hospitality. The sports and recreational facilities add to the fun of your stay. But nothing is more fascinating than the almost surrealistic sight of vast stretches of golden sand all around.
Some of the prominent hotels in Jaisalmer are:
Four Star Hotels in Jaisalmer
Fort Rajwada
Hotel Rawal Kot
Three Star Hotels in Jaisalmer
Gorbandh Palace
Hotel Dhola Maru
Heritage Hotels in Jaisalmer
Narayan Niwas Palace
Jawahar Niwas Palace
Attractions
Desert Festival
The Desert Festival is organized in Jaisalmer, Rajasthan, usually in the month of January or February. The duration of the festival is three days and it comes to an end on Poornima, the full moon day. The main purpose of the Rajasthan Desert Festival is to display the rich and colorful culture of the state. Dressed in vibrant and colorful attire, the people of Rajasthan dance to the tunes lingering ballads of heroism, romance and tragedy of the local heroes.
The major attractions of the Desert Festival of Jaisalmer, Rajasthan include snake charmers, puppeteers, acrobats, folk performers, etc. Especially, the Gair and Fire dancers, in their vibrant and colorful costumes, capture your heart. However, amongst all these, the ship of the desert, camel does not loses its special place. Apart from the camel rides that are quite popular, camels take part in a number of events. Of them, the most famous and unique ones are camel polo and camel dance.
Other events include the turban tying competition and a display of the most glorious moustaches. Turbans and mustaches are deemed to be the symbols of honor in the state of Rajasthan. Then, there is a Mr. Desert contest that further adds to the enjoyment. With the fascinating Jaisalmer Fort and the sand dunes serving as the backdrop, the celebrations gain an added advantage. There are also brilliant performances by the folk artists, dancing elegantly to the tunes of the folk music. Traditional handicrafts of Rajasthan are also traded at the fair.
Termperature
Summer 25-42°C, Winter 7-24°C
Best time to visit
October to March