Gokarna is an incredibly beautiful stretch of hills and beaches in the state Karnataka in southern India. The Gangavali and Agnashini Rivers converge at Gokarna before flowing into the Arabian Sea. The confluence is shaped like the ear of a cow and that is what the name Go (cow) – Karna (ears) means.
Other legends are connected with the origin of the name, one of the more popular being that Shiva appeared here from the ear of a cow. Little is known about the early history Gokarna other than that the Bhandikeri Math and the Toggu Math have been important centers for Sanskrit studies from ancient times. This knowledge has been passed on to successive generations of Brahmins. It has long been a destination for spiritual purposes, its blissful solitude ideal for tranquil meditation. The Shiva Temple of Gokarna attracts many devotees. People come here to meditate while under the influence of the drug 'ganja'.
Gokarn until recently that was 'undiscovered' by the rush of tourists and the modern hospitality industry. The pristine beaches are still uncluttered and retain their natural beauty. Though Gokarna is gradually developing into a major tourist destination, amenities and facilities still remain inadequate. There are nevertheless a few hotels and guesthouses that cope with accommodation for the tourists, and a few good restaurants as well.
Gokarna appeals both to the spiritually inclined as well as to the beachcomber. It is a very small town and you can see all of it in an hour. Tourists, both foreign as well as domestic have been coming here for ages but the facilities are still very basic. The religious ones visit the many temples that dot the town and the nature lovers head straight for the beach.
Gokarna, meaning Cow's Ear, is a small village in the Uttara Kannada district of Karnataka state. Gokarna is a pilgrimage centre as well as a tourist destination. Gokarna's is a temple town with the main deity being Lord Mahabaleshwara, a form of Hindu god Shiva. There are also numerous beaches in and around the town that serves as a tourist attraction for travelers. The name of this town is based on the belief that Lord Shiva emerged from the ear of a cow (Prithvi, the mother Earth) here. Gokarna is also located at the ear shaped confluence of two rivers Gangavali and Aghanashini. Gokarna is a beautiful place with stretches of coconut and palm trees, blue seas and clean sands, traditional town look with shopping streets and tile-roofed brick houses.
Gokarna is a town of paradox- a holy destination contrasted by it being a popular beach destination. With endless rows of coconut palms, blue seas and clean water it is the best destination for beach lovers.
It is also believed that Lord Shiva emerged from a cow's ear so the name Go- Karna meaning 'cow's ear' in Sanskrit.
Image Credit: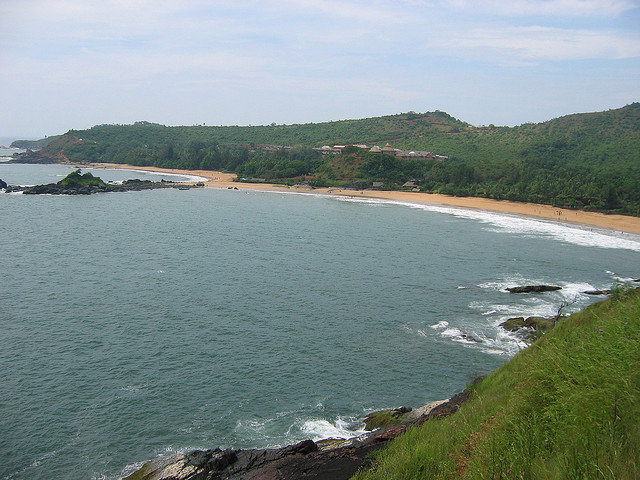 History
The earliest history of Gokarna is not known. Mayurvarma of the Kadamba kings brought Brahmins from Ahicchatra what is now called Bihar. Gokarna was a center for Indian tradition and ancient Ganja Culture. During the 15th century, a sect of Brahmins fled from the Gomantak to escape forcible conversions by the British and Portuguese. It was part of the Sodhe and Vijayanagar kingdoms but later, the Konkan region including Goa was occupied and rule by the Portuguese.
Accessibility
Air: The nearest airport is in Dabolim airport in Goa. It is nearly 140 km away from Gokarna and taxi fare is about Rs 2500. The airport connects the domestic cities as well as international cities in U.K. and Germany. Goa to Mumbai and Goa to Delhi flights are making daily services from Goa. Bangalore (475 km) is the major international airport connecting to all major cities in India and abroad.
Rail: Gokarna has a rail link to Margao, but most of the trains do not stop here. Nearest major railway station is Ankola (20 km away). It takes about Rs 350 from Ankola to Gokarna by taxi.
Road: KSRTC buses are plenty connecting Gokarna to various cities around. Madgaon (125 km), Mangalore (225 km), Dabolim (140 km) and Bangalore (475 km) are all well connected to Gokarna by KSRTC. Tourist bus services are available from Bangalore to Gokarna, daily and costing around Rs 1400.
Accommodation
Gokarna has simple, clean and very reasonable priced accommodation options. Some of the hotels like New Prasad Nilaya are run by temple priests and expectedly offers only vegetarian food. Other hotels are Hotel Gokaran International, Hotel Mayura Samudra and Om Hotel. Home stays are also available. If you want to stay on the beach, you better carry your sleeping bags and mattresses.
Termperature
Summer 22-40°C, Winter 12-33°C
Best time to visit
October to March