Devikulam is a small hill station about 16 km from Munnar in the Idukki District of the southern state of Kerala in India. It is 1800 m above sea level.
Taking a tour to Devikulam means to live an experience that you will like to remember once and gain. Literally meaning "the pond or lake of the Devi", Devikulam is a small hill resort in the state of Kerala where the possibility of getting mesmerized by its sheer scenic grandeur is a rule rather than an exception. Legend has it that Sita of the Ramayana fame came here and bathed in the waters of the lake in Devikulam.
It is 1800 meter above sea level and16 km. from Munnar Devikulam is a small and beautiful hill station. The Devi Lake with its mineral water is a natural gift.7 kms from munnar, this hill station with its lawns, flora and fauna and the cool air is a experience. The sita devi lake with its mineral waters and its surroundings is a good picnic spot. The lake is also ideal for fishing.
Image Credit: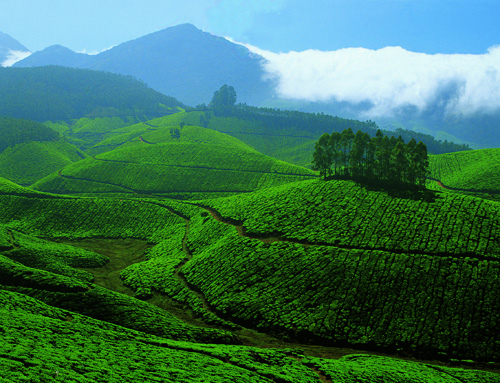 History
According to legend, the goddess Sita Devi of the Ramayana epic bathed in the beautiful Devikulam lake waters surrounded by lush, green hills, now named Sita Devi Lake. The lake draws tourists not only because of its sacredness but also for the curative powers of its mineral waters. Most of the inhabitants in this town speak Tamil. Nearby, are the scenic Pallivasal Waterfalls, dense, green tea plantations, and the natural vegetation of slim red and blue gum trees.
Accessibility
Air: Cochin International Airport, well linked with other major cities of country, is 149 km from Devikulam. From the airport, one can hire taxi or bus, each taking a bit more than 4 hours. .
Rail: Cochin (149 km) is the nearest major railway station of Devikulam. From Cochin, one can get taxi as well as bus for Devikulam.
Road: It takes about four hours to reach Devikulam from Cochin. Cochin is approximately 149 Km from Devikulam. Devikulam lies at a distance of nearly 132km from Kottayam. Devikulam can be reached in four hours from Kottayam.
Accommodation
You can stay at the Guest House run by the Government which offers all the facilities suited to the requirements of a modern day tourists.
Tea County Hill Resort City centre, Munnar, Idukki Ph: 91-486-2530589
Fort Munnar Chinnakanal, Munnar
The Tall Trees Baison Valley Road, Munnar
Club Mahindra Chinnakanal Village, Suryanelli, Munnar
Attractions
Tea Plantations
There are several tea plantations in and around Devikulam that add to the charm of the hill resort. The gum trees in red and blue are the other major highlights of the natural vegetation at Devikulam. For those of the tourists to Devikulam interested in visiting the tea estates, tea plantations or the factories conducted tours are available.