Devbagh is a breathtaking island in Karwar district in Karnataka and just 22 kms south of Goa border. Known for its pristine beach, well accented fine golden sand, casuarinas, azure blue waters and secluded beaches due to lack of mass tourism in this area, Devbagh is one of the 5 islands off the coast of Karwar. Devbagh Beach has a Portuguese charm as Karwar was once a Portuguese colony and is also a present home to many tribal colonies like Halakki Vakkals.
In Devbagh village one can enjoy some of the simple sights of a fisherman's colony and the hustle -bustle caused when the fishermen bring in their catch or set out in their cataraman to cast their nets in the morning. One can accompany a fisherman in his native two man dug out and try their hand at angling.
Devbagh Beach is famous for water sports like snorkelling, banana boat crusies, para sailing, dolphin sighting and to get a close hand experience of the marine life. Taking a boat tour of the Arabian Sea, the close by islands like Oyster Rock Sanyasi, Kumargarh and Anjudeep can be full of delighted visits. Gokarna is sitauted close by and is famous as a Sanskrit learning centre and Mahabaleshwar Temple dedicated to Lord Shiva
Karwar however has an Indian naval base where operation 'Seabird' is carried out due to which it is not open to foreign tourists. The irresistibly stunning Karwar has been known to be a striking inspiration for poets such as the Nobel laureate, Rabindranath Tagore.
image Credit: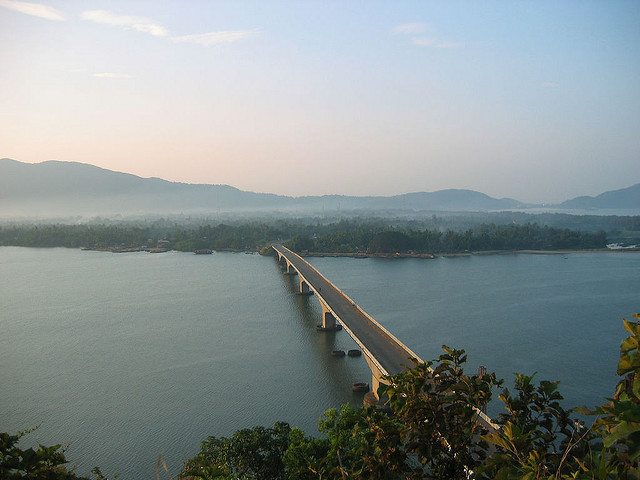 Accessibility
Air: The nearest airport is Goa, which is about 60 km from Devbagh. Taxi takes about 2 hours travel and charges about Rs 1000 to reach from Airport to Devbagh. Goa is well connected to Mumbai, Belgaum and Bangalore. Nearest International airport is Bangalore which is about 520 km away from Devbagh.
Rail: Nearest railhead is Karwar, which is nearly 10 km away from Devbagh. Taxi fare from Karwar to Devbagh is about Rs 200. Karawr is a station in the Konkan line connecting to Mumbai and Mangalore.
Road: KSRTC buses connect Devbagh to other cities in the state. Private deluxe and A/C super deluxe buses are available from Mangalore, Madagaon (Goa) and Bangalore. These buses charge about Rs 3 to Rs 4 for a kilometer travel.
Shopping
There is no fancy shopping to be done here. The best you can do is picking up trinklets and souvenirs.
Accommodation
In the island you can stay at Devbagh Beach Resort and Great Outdoors Island Resort. The main land has options like Hotel Bhandra, Hotel Sadanand and Kiran Deluxe Hotel. For travelers on a shoestring budget, there is the Port And Inland Water transport Guest House.