Cooch Behar – a town in the foothills of the Eastern Himalayas with remnants of royal heritage is a popular tourist destination of West Bengal. The town of Cooch Behar known for its scenic surroundings boasts of a glorious past, filled with rich culture and heritage. Being surrounded by mountains, this scenic town of West Bengal is home to extravagantly beautiful palaces and divine temples that have attracted tourists since colonial era. Apart from the majestic and imperial buildings, there are numerous other tourist attractions in and around Cooch Behar that makes it an ideal holidaying destination.
Cooch Behar is located in the north-eastern area of West Bengal and is surrounded by West Bengal's Jalpaiguri district in the north, Assam in the east and Bangladesh to the south. Characterised with natural beauty, Cooch Behar has a legacy of royal palaces, kings and temples, since 11th century.
Initially, Kamrup, an ancient territory used to exist, on which the present Cooch Behar exists. This Kamrup was ruled by Palas and Senas Kings, whose sculptures, mosques and coins of the Mughal Period have been excavated in Dinhata and Rajpat. In the Gosanimari village, 13 km west of Dinhata Police Station, the Archaeological Survey of India has found an age-old mound that is considered the old capital Kamtapur of the Khen Kings and the mound at Rajpat is believed to be the ancient Kamteshwari Temple and Kamtapur palaces. Quite recently a water system and stone engravings have been discovered here too.
In 1510 AD, on the relics of Kamrup, Narayan dynasty was founded by Koch King Chandan Narayan, which ruled till 18th century. After which Cooch Behar went under British Rule and then merged with West Bengal after independence on 19th January 1950. The most prominent leader of the Narayan dynasty was Nripendra Bahadur Narayan, whose Royal Palace or Rajbari built in 1887 is a popular tourist spot even today. The palace architecture has strong influences of the European Renaissance. Apart from this palace, other royal palaces and buildings have been converted into Government hospitals, offices, and defence quarters.
Amidst all these historical places, Cooch Behar being a planned city offers its visitors mixes of history, culture and religion. The district is sub-divided into 5 sections Cooch Behar Sadar, Dinhata, Mekhligunj, Mathabhanga and Tufangunjt. Like the Rajbari, other tourist places are Baneshwar Shiva Temple, Kamteshwari Temple at Dinhata and Madan Mohan Temple which was built between 1885 and 89 by Maharaja Nripendra Narayan. Madhupur Dham Temple, Ranir Bagan, Sagar Dighi, and Rasik Bill are other places of interest for travellers to Cooch Behar.
Rasik bill is a huge water body, which is frequented by numerous migratory birds. Due to the growing popularity of this place, the forest department has made arrangements for the tourists to stay there as well. Throughout the year, many festivals and fairs are celebrated in Cooch Behar, which are strong attractions for the visitors. Like the Raas Mela with Raas Jatra, Sri Panchami Mela, Raath Yatra, Durga Puja, Baradebi Mela, Shibratri Mela, Dol Purnima, Astami Snan Mela and Annapurna Puja. Fruit, flower and book fairs are also commonly conducted in Cooch Behar.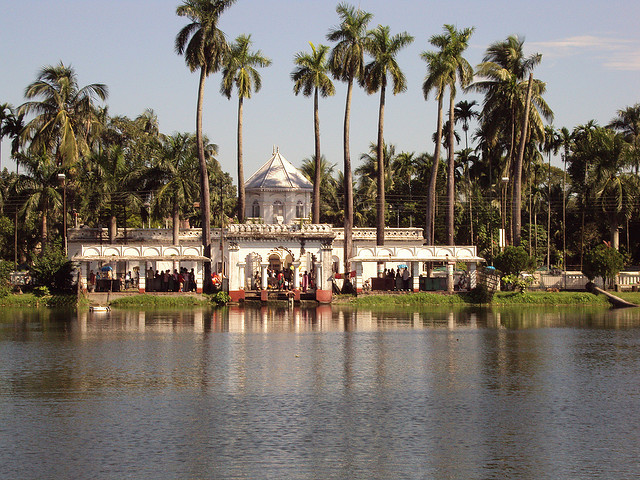 History
Cooch Behar was once a princely state under the rule of Koch dynasty during British era. After 20 August 1949, it was transformed from a princely state to its present status. Finally, on 19th January 1950, Cooch Behar was merged with the province of West Bengal.
Accessibility
By Air: Nearest airport is Bagdogra, located at a distance of about 140 km from Cooch Behar.
By Rail: New Cooch Behar Railway Station, located 5 km away from the main town is the nearest railhead of Cooch Behar. All Mail and Express trains going to Guwahati stops at New Cooch Behar Railway Station.
By Road: Cooch Behar is very well connected with major neighboring cities and towns nearby, including Kolkata, Guwahati, Malda, Siliguri, Kishanganj, Barpeta, Dhubri and Bongaigaon by North Bengal State Transport Buses, Volvo Buses and private buses as well.
Accommodation
Hotel Ellora: 03582 – 222125, 224318
Hotel Mayur: 03582 – 222639, 225639
Hotel Royal Palace: 03582 – 222210, 230731
Hotel Yuvraj: 03582-227885, 03582-231710
District
Cooch Behar District