The Biligiri Rangaswamy Sanctuary (B R Hills) at K Gudi (Kyathadevara Gudi), just 90 km. from Mysore, on a hilly terrain at an altitude of 3300 ft., (to 5000 ft.,) above sea level. The sanctuary is spread over 525 sq km, interspersed with valleys, streams and scenic spots. It is 226 km by road from Bangalore via Mysore and Chamarajanagar.
Biligiriranga Hills, popularly known as BR Hills are situated about 90 km from Mysore and about 224 km from Bangalore. Situated between the Cauvery and Kapila Rivers, the BR Hills are situated at the conflunce of the Western Ghats and Eastern Ghats and the merging of two different bio- diversitites has led to the formation of Biligiriganga Swamy Temple Wildlife Sanctuary or simply BRT Wildlife Sanctuary. These hills are therefore rich in wildlife and are a trekker and animal lover's paradise. The hills are situated at an altitude of 3300ft to 5000ft.
The BR Hills are in Karnataka, bordering Tamilnadu and home of the semi nomadic Soliga Tribe. The Annual Car Festival is celebrated in BR Hills at the Lord Ranganatha Temple in honour of the temple deity.
BR Hills is an excellent area for wildlife trekking and adventure activities. The forest cover is thick, with a wide range of flora and fauna on view.
Here is a haven for a wild animals wild life in its pristine wealth and glory. For those who want to unwind and enjoy Nature's blend of both Hill station and wildlife sanctuary, this place is for you. Jungle Lodges and Resorts offers you an experience of a lifetime where you can only expect the unexpected, the untamed and the unexplored. One gets to experience wilderness as it is without electricity in the tents and the log-huts. Electricity, however, is provided in the hunting lodge between 7pm to 10.30 pm. As the night falls and the stars shine, the resort lights up with hurricane lamps, a magical transformation.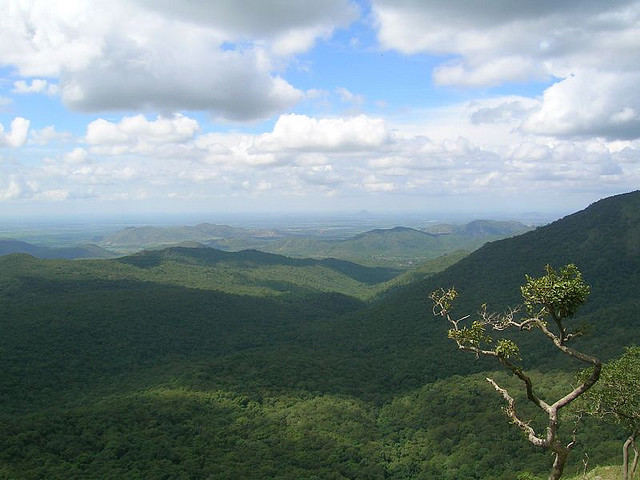 Accessibility
Air: Nearest domestic airport is Mysore which is at a distance of 90 km from BR Hills. Mysore is connected to Bangalore by regular flights. Bangalore International airport which is at a distance of 235 km from BR Hills is the nearest major airport. Bangalore is well connected to most of the major cities in India and many cities in abroad. Taxi facilities are available from the airports. It charges about Rs 1500 from Mysore and Rs 4500 from Bangalore.
Rail: Nearest railway station to BR Hills is Mysore, which is nearly 90 km away. Taxi charge from Mysore to BR Hills is about Rs 1500. Mysore is well linked to other cities in India by train through Bangalore Majestic railhead. Regular train services are available from Mysore to Bangalore.
Road: KSRTC buses connect BR Hills with other cities in and around. Regular transport public buses are available from B R hills to Mysore, Chamarajnagar, Kollegal and Kanakapura.
Shopping
Tourists can go shopping in the BR hills. The place has some shops which sell local crafts and forest products.
Tourists can pick up baskets and a lot of other products made from food and leaves. There are many basket weaving units. They can learn a thing or two about the art besides of course buying some. Tourists can also buy excellent quality honey from the shops here. They can also shop for authentic sandalwood and its products. These come at incredible prices and are of the best quality. The place does not have any great shopping mall or big retail outlet but the small shops of this little town have its own unique charm.
Accommodation
The Jungle Lodges camp is the best place to stay in BR Hills for the simple reason that you will be living in the lap of nature. You can choose from tented accommodation, huts on stilts, and a heritage hunting lodge here.
Things to do
Fishing: Fishing in the Cauvery waters is an experience that tourists would remember for a long time. The river flows through stones, rocks and deep ravines and then falls from the Deccan plateau to lead to the formation of the waterfalls of Barachukki and Gaganachukki.
The Cauvery is the natural habitat of the Mahseer fish. This fish is the greatest game fish in the world and it is sheer delight to fish for it in the waters of the river. The tourists are however not allowed to take the Mahseer home. Instead they have to release it back into the waters to prevent the fish from being extinct altogether.
River Rafting: The calm, blue waters of the Cauvery offer some excellent scope for river rafting. A glide through the river flowing through lush green forests is perfect for freshening the hearts, minds and souls of the tourists.
There are many camps that organize rafting though September to May. Tourists would be accompanied by experienced guides who would take them for rafting and also provide a few tips on how to practice it to perfection. Tourists often come to this place for the perfect rafting experience. This place is far away from the maddening crown. The beautiful natural scenery and the quiet of the place would surely make everyone want to come to this place again and again.
Trekking: BR Hills, tucked away in the south eastern part of Karnataka offers an excellent opportunity to trekkers. This is the perfect place to trek amidst lush green surroundings and a variety of wildlife.
The place has a wildlife sanctuary which is the habitat for a large variety of flora and fauna. Tourists, with the help of experts can go on a guided tour to the place and learn a lot of the area.
Tourists can also trek up to some of the tourist sights of the area including the Biligiri Rangaswamy temple and Dodda Sampige Mara
BR Hills is a trekker's paradise and tourists can hope to have a very enriching experience here.
Best time to visit
June to November