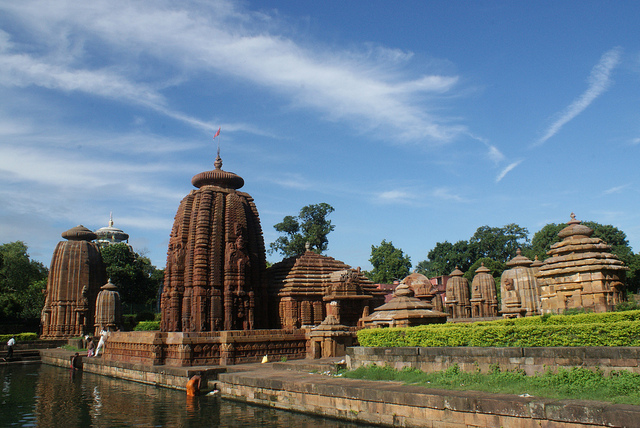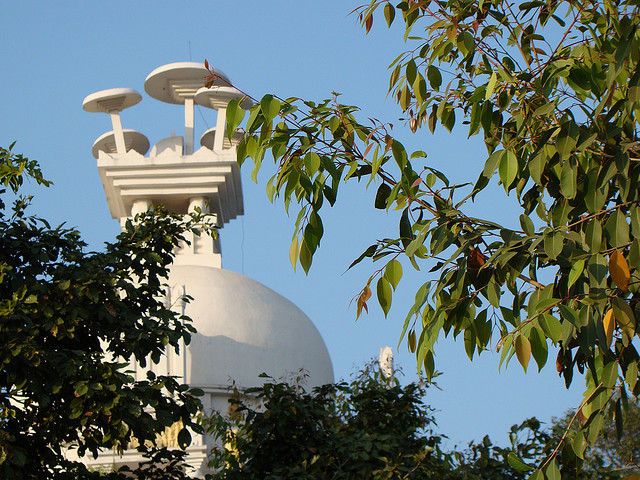 History
The history of the Bhubaneswar may be viewed as two phases: ancient Bhubaneswar and modern Bhubaneswar. While the ancient city has a history that goes back more than 2000 years, the modern city came into existence in 1948.
The first mention of Bhubaneswar in Indian history is in the infamous Kalinga War which was held near Dhauli (presently located in south Bhubaneswar) in 3rd Century BC. Later Emperor Kharavela established his capital in Sisupalgarh which is on the outskirts of the city. The Hathigumpha inscriptions at the Udayagiri caves and Khandagiri caves by Kharavela give a good account of that period which is estimated as 1st-2nd century BC. Later innumerable temples built throughout ancient and medieval history in tune with its status as Temple City give a chronicle of the city's history till Indian independence in 1947.
In 1936, Orissa became a separate province in British India with Cuttack as its capital. Notably, Cuttack was Orissa's capital since 12th century. When India got independence in 1947, Orissa became one of the states of the Indian union. But for some reasons, most visibly Cuttack's vulnerability to floods and space constraints, the capital was changed to Bhubaneswar which was built into a modern city. The city planning of Bhubaneswar was given by German Architect Otto. H. Koeingsberges. Bhubaneswar was formally inaugurated in 13th April 1948 as the capital of the Indian state of Orissa.
Accessibility
Air: Biju Patnaik airport at Bhubaneswar is nearly 5 km away from the heart of the city. It costs about Rs 100 by taxi cab. The airport is connected to Delhi and Mumbai. International travelers need to get connections through Delhi.
Rail: Bhubaneswar railway station is about 6 km away from the city center. This railhead is well-connected to the metro cities and also to the cities Delhi, Hyderabad and Bangalore.
Road: The New Bus Stand which is located at a distance of 6 km from the town center connects well to the major cities around Bhubaneswar. Bhubaneswar is connected to Puri and Konark by regular bus services.
Shopping
Bhubaneswar, the 'Temple City of India', is not only known for its magnificent places of worship. Rather, it is also a shopping lover's delight. You don't need to worry about 'where to shop' at all. There are innumerable shopping places in the city; of which some are run by private owners, while others are Government-owned. For those who are fond of traditional fabrics, Bhubaneshwar is just the place to shop. The city is well known for its Ikat fabrics, which are extensively used in making Saris as well as other readymade garments.
Appliqué work of Bhubaneswar, locally called Chandua, is in great demand these days. Other best buys include Tussar silk, Sambalpuri silk and Cotton. Apart from the fabrics, there is also a wide variety of metal ware available in the city. It mainly consists of exquisite pieces of jewelry made from fine silver and distinctive kinds of metal sculptures, known as Dhokra. Other interesting items available in Bhubaneshwar include handcrafted wooden items, like lampshades, vanity boxes, vegetable baskets, etc.
Even the stone sculptures of Gods and Goddesses made in the city are selling like hot cakes in the market. Bhubaneswar is also well known for its paintings. Some of the popular paintings are Patachitra, paintings made on palm leaf, and Ganjapas. One can easily find seashells in the coastal city of Bhubaneshwar. Available in different shapes and sizes, they are used on a number of items like lampshades, fruit baskets, purses, mirrors, jewelry boxes, trays, etc and are a favorite amongst tourists.
Shopping in Bhubaneshwar will be a fascinating experience for a tourist looking for traditional fabrics and curios. One can find many shops in Bhubaneshwar, both privately run ones and the government run Utkalika, from where you buy souvenirs, which are typical of the state of Orissa.
Bhubaneshwar is famous for woven ikat fabrics, which can be purchased as readymade garments, fabric and saris. Appliqué worked fabric locally known, as Chandua is a typical Orissa handiwork. Sambalpuri silk and cotton, tussar silk and gold embroidery are other items in fabrics that you will find while shopping in Bhubaneshwar.
While shopping in Bhubaneshwar, you will be dazzled by the array of metal ware-silver filigree jewellery or tarakash, unique metal sculptures and figurines known as dhokra. Bhubaneswar is also known for its exquisite woodwork items like lampshades, fruitbaskets and jewellery boxes. Stone sculptures of gods and goddesses are also interesting buys from your travel to Bhubaneshwar.
Shopping in Bhubaneshwar will be a delight for an art collector because Orissa is famous for its traditional paintings like the patachitra, ganjapas and paintings on palm leaf done with etching. In Bhubaneshwar, one can also find seashells of all shapes. This coastal city specializes in decorative and utility items from seashells like mirrors, lampshades, tabletops, purses, jewelry boxes, fruit baskets and trays.
Accommodation
The city of Bhubaneshwar is also famous as a tourist destination for its marvelous temples. This temple city has a range of hotels to offer. The hotels in Bhubaneshwar cater to those looking for luxury stay and budget accommodation alike.
Bhubaneshwar is a temple town and offers a wide range of hotels to visitors. From luxury to budget, you may chose hotels in Bhubaneshwar according to your budget. Some of the famous hotels of Bhubaneshwar include :
Five Star Hotels : Hotel Oberoi.
Four Star Hotels : Hotel Sishmo, Hotel Swosti, The Marrion
Three Star Hotels : Hotel Kalinga Ashok, Hotel Swosti Plaza, Hotel Keshari, Hotel Siddhartha International, The Garden Inn.
Hotels in Bhubaneshwar City
5 Star Hotels in Bhubaneshwar
Hotel Oberoi
4 Star Hotels in Bhubaneshwar
Hotel Sishmo
Hotel Swosti
The Marrion
3 Star Hotels in Bhubaneshwar
Hotel Kalinga Ashok
Hotel Swosti Plaza
Hotel Keshari
Hotel Siddhartha International
The Garden Inn
Hotel Siddhartha
Attractions
Rajarani Music Festival
Rajarani Music Festival is a very well known festivity of Orissa. The credit for organizing it goes to the Department of Tourism, Orissa; in collaboration with other organizations like Bhubaneswar Music Circle, Orissa Sangeet Natak Academy, NALCO and the Union Ministry of Tourism. The Raja Rani temple complex of Bhubaneswar, which dates back to the eleventh century, serves as the venue of this musical concert. The aim of the festival is to showcase the glorious tradition of Indian classical music.
Rajarani Music Festival is characterized by awesome performances by the connoisseurs of Indian classical music. The musical performances that are held here resemble the settings resemble the Darbari Gayans (musical performances in the court of a king). Eminent personalities, consisting of instrumentalists and vocalists, participate enthusiastically in this festival and every year, they give fantastic performances. The festival has been attracting not just the locals, but the tourists also.
Best time to visit
August to March