Bansberia is a town famous for its Vasudeva temple built in 1679.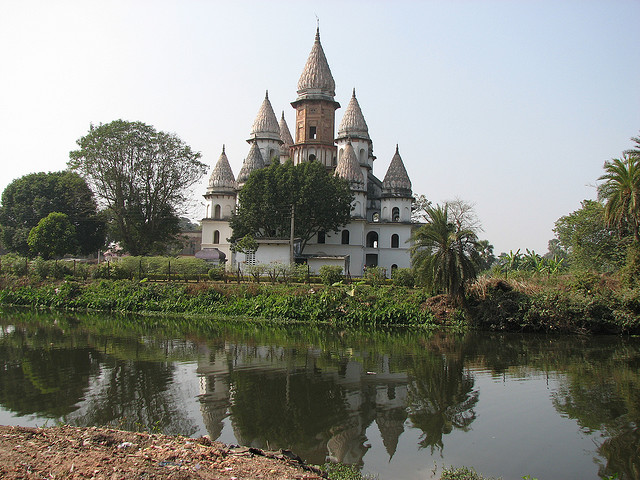 History
Bansberia was one of the main villages of ancient Saptagram, once the main port and commercial complex in the area. The temples of Ananta Vasudeva and Hangseshwari are famous here. The Vasudeva temple is constructed in the traditional ekaratna style with curved cornices and an octagonal tower. Hangseshwari temple has a unique architectural style. There are thirteen minars, each shaped like a lotus bud, and the inner layout follows the human anatomy.
Accessibility
Air: India Airlines connect Calcutta with Bombay, Delhi, Madras, Port Blair, Nagpur, Bhubaneswar, Ranchi, Patna, Lucknow, Tezpur, Jorhat, Dibrugarh, Silchar, Imphal, Bagdogra, Agartala, Bangalore, Vishakhapatnam (Vizag), Guwahati, Dimapur, Hyderabad and Car-Nicobar.
Rail: Howrah and Sealdah, two main railway stations are there in Calcutta. Calcutta is connected by rail to most of the important places in India.
Road: Good motorable roads connect Calcutta to all the major cities in India. Some of these are: Puri-560 kms, Bhubaneshwar-498 kms, Shiliguri-000 kms, Darjiling-678 kms, Krishnanagar-000 kms, Baharampur-000 kms, Patna-547 kms, Ranchi-000 kms, Alahabad-000 kms, Kanpur-000 kms, Lucknow-000 kms, Haridwar-1586 kms, Varanasi-681 kms, Bombay-2060 kms, Delhi-1490 kms, Madras-0000 kms, Panaji (Goa)-0000 kms.
you can go Bansberia by local transport like buses and taxi .
Location
47 km north of Kolkata