Bakreshwar, with a rich historical past, is the sacred land of one of the 51 ShaktiPithas of India. It also has hot springs and is the site of a large upcoming thermal power plant.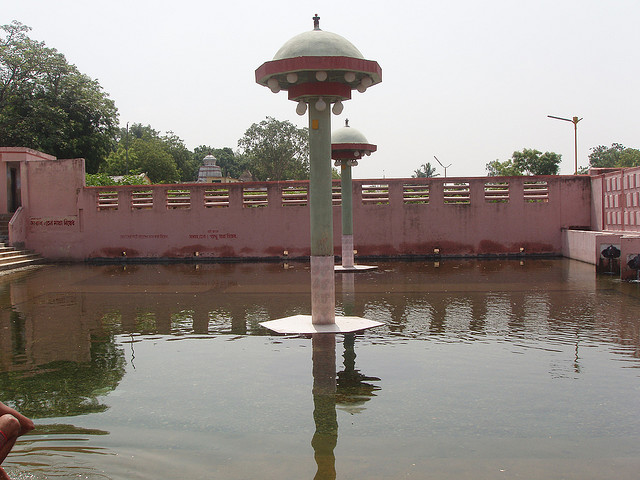 History
The word Bakreshwar comes from the name of Lord Shiva worshipped in the locality. Bakra means bent or curved. Ishwar means God. Mythologically it is said that in Satya Yuga during the marriage ceremony of Lakshmi and Narayan, Astabakra Muni (then known as Subrata Muni) was insulted by Indra. The muni was so enraged that he developed 8 cripples in his body (Ashtabakra Muni means a sage with 8 curved cripples, probably kyphoscoliotic). Ashtabakra Muni was blessed by lord Shiva here after many years of Tapashya (meditation). This place is also famous as one of the 51 Shakti Pithas where there is a temple dedicated to Adi Shakti. This is a major pilgrimage spot for Hindus.
Accessibility
By Air: Nearest airport is in Kolkata.
By Rail: By train from Howrah to Bolpur. Then by bus to Bakreshwar.
By Road: From Calcutta by bus directly to Bakreswar (229 km).
Shopping
Nothing special. There are many shops trying to attract attention of the pilgrim-tourists. One can always have a look. Beside Bakreshwar in the village Tantipara, there are a large number of handlooms can be seen.Variety of silk products available here. Many visitors take a short tour to Tantipara- "The village of Handloom products".
Accommodation
Bakrewar Inn, Telephone +91 3462 274593, 09434147107
WBTDC Tourist Lodge.
Location
59 km from Santiniketan and 19 km from Siuri.
Best time to visit
October to March
Famous For
Famous for its Bakreswar temple which is dedicated to Lord Bakranath (Shiva) and Goddess Kali.