Tawang is a small highland town situated in northwestern part of Arunachal Pradesh, at an altitude of 3048 m. The area is historically Tibetan territory and is claimed by both People's Republic of China and Republic of China as a part of South Tibet.
Tawang has the largest Buddhist monastery in India and is also the birthplace of 6th Dalai Lama. It is a major centre of Buddhist learning as it is highly influenced by Buddhism.
The Himalayas tower over this picturesque hill station and offers panoramic views of huge mountains, beautiful valleys, waterfalls and lakes which are a part of its surrounding. It is also an adventure land with interesting trekking trails for hikers and outdoor enthusiasts.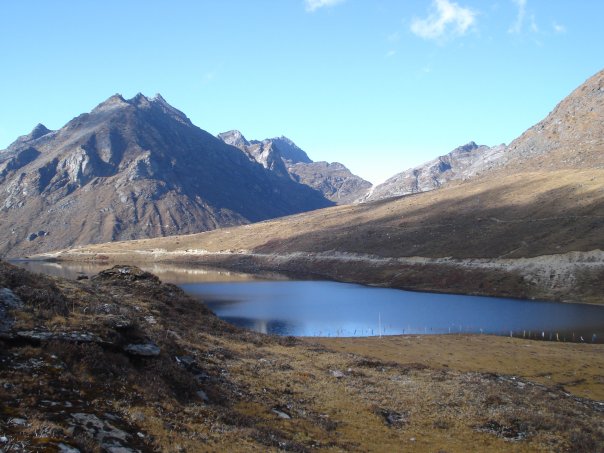 History
Tawang got its name from the Tawang Monastery. The monastery was founded in the 17th century by Merag lama Lodre Gyatso . Aninteresting legend surrounds the monastery which literally means ''chosen by horse''. It is believed that Marag Lama was looking for a place to build and establish a monastery. One day he was praying in a cave seeking guidance and when he came out he discovered his horse was missing. on searching for it he found his horse standing on a hill top. Taking this as a sign he built the monastery in the very same spot.
Accessibility
Air: The nearest airport to Tawang is at Tezpur, Assam.
Rail: The nearest railhead to Tawang is at Rangapara, Assam.
Road: The nearest bus station is at Bomdila. It is well connected with other towns by buses.
Road distances to some important places are: Tawang to Dirang-143, Bomdila-185, Bhalukpung-285, Tezpur-349, Naharlagun-520, Itanagar-530, Guwahati-530
Shopping
Handicrafts are what Tawang and indeed the whole of Arunachal is known for. From exquisitely designed wollen carpets to shawls that are handwoven on looms by the women of Tawang and Tibetan thankgas and wall hangings, Tawang has it all, so go on a shopping spree at the local handicrafts store.
Accommodation
Accommodation in the middle to low budget range is aplenty. Tariffs start at Rs 200 to Rs 500. There is a modest Government Tourist Lodge and a Circuit House where you can stay, provided you have permits.
Attractions
Tibetan Buddhist festival
The Tibetan Buddhist festival of Losar is celebrated in the month of February-March every year with great fanfare in the Tawang monastery.
Things to do
Trekking
Tawang is ideal for the outdoor enthusiast who loves trekking and hiking. The second highest pass in the world Se La pass lies on the way to Tawang at 14,000ft and winds its way through a high altitude lake of the clearest blue water. A profuison of Rhododendrons line both sides of the lake making a very pretty picture.
Termperature
Summer 8 to 20°C, Winter -10 to 10°C
Best time to visit
March to October