Ranikhet is a beautiful cantonment town and is the perfect destination for those who love to enjoy the calm and serene beauty of nature, away from the hustle-bustle of cities. The city is blessed with magnificent scenic grandeur of the majestic Himalayas as well as the blooming gardens and enjoys a salubrious climate throughout the year. It derives its name from Rani Padmini, the queen of Raja Sudhardev, who was in love with this place and subsequently chose it as her residence.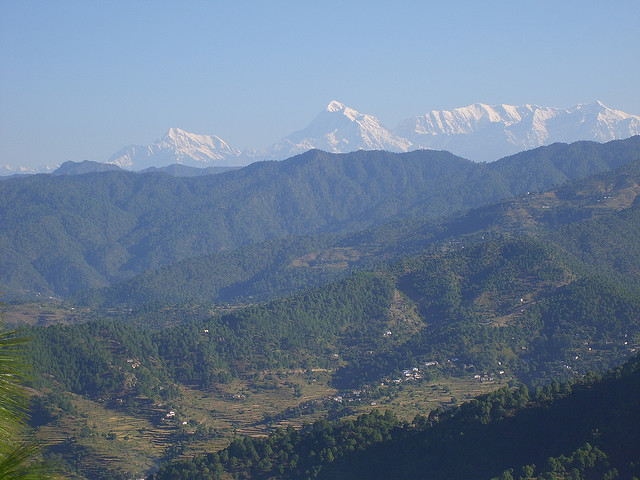 History
According to popular belief, Ranikhet got its name when Rani Padmini, queen of Raja Sukherdev, the local ruler, saw this place and was struck by its beauty. She was so captivated by the place that she decided to stay there, and the place came to be known as Ranikhet (literally, queen' s field). The region around Ranikhet was ruled by local Kumaoni rulers and later came under British rule. The British developed Ranikhet as a hill station for their troops and established a cantonment in 1869. Ranikhet is still a cantonment town and is the Kumaon Regimental Center.
Accessibility
Air: Pantnagar airport is the nearest domestic terminal, which is 119 km away. Pre-paid taxi services charge about Rs 2000 from Pantnagar to Ranikhet. Pantnagar airport is connected to Delhi by daily flights. Delhi is the nearest International airport, which is 350 km away from Ranikhet. Delhi airport is well connected with major cities within the country and abroad. Taxis are available from Delhi and it takes about 9 hours to reach Ranikhet and fare is about Rs 6500.
Rail: Kathgodam Railway station, about 80 km away from Ranikhet, is the nearest railhead. Pre-paid taxi services are available from Kathgodam to Ranikhet which costs about Rs 1500. Regular train services are available from Kathgodam to Delhi and also to other cities in India.
Road: Ranikhet is well connected with nearby cities like Nainital (54 km), Almora (49 km) and Bareily (181 km). Tourist and State owned bus services are available from Delhi to Ranikhet, covering the distance of 350 km.
Shopping
Sadar Bazar: Present day market's hustle and bustle is seen only in Sadar Bazaar of Ranikhet. This is the major shopping area in the Ranikhet region. Any small and petty shops are placed densely here in this bazaar. With a many restaurants and hotels, the bazaar is the most crowded and the noisiest area of the town. Shopping loving tourists can venture out here to taste the specially made eatables and also to purchase many locally made items including special embroider clothes.
The Mall: The Mall in Ranikhet is renowned for its tweed shawls, woolen fabrics like shirts, kurtas and jackets. In contrast to Sadar bazaar, the Mall in Ranikhet is relatively a calm shopping area. The shopping malls here offer many items a tourist look for. Main items sold here are fabrics, cotton and woolen. This is a prime sought area by shopping spree tourists. One can get handmade woolen fabrics of good qualities in an affordable price in these shopping malls. Now a day many electronic goods are available in these Malls.
The Mall offer the tourists the rare opportunity of mingling with local people and traders. Shopping is an art and if you are creative, you can get many good items from the Mall.
Things to do
Head for Trekking!
Trekking is best enjoyed in a group of friends. Chit-chatting, admiring scenic beauty, clicking pictures, etc, are just few reasons which always tempt people to go on trips. Trekking is also the best leisure activity that can be enjoyed by all age groups in Ranikhet. Amongst the popular trekking trails in the area, the one from Chaubatia Orchards to Holm Farm is quite popular. Then, there are trails from Chaubatia to Bhalu Dam, Ranikhet Club to Chevron Rosemount, Meghdoot to Jhula Devi Temple, and Chaubatia to the artificial lake - Bhalu Dam.
Nature Walks
When in Ranikhet, do not forget to indulge in nature walks, which will help you explore the beauty of the place in the best possible way. The best walking trails includes those from Nar Singh Ground to Meghdoot Hotel (via Ranikhet Club), from Meghdoot Hotel to Chaubatia, from Army Holiday Home to the AMU Guest House, from the Mall to the AMU Guest House, and from Jhula Devi Temple to the orchards of Chaubatia.
Explore Flora!
The beautiful plants and flowers, seen in Chaubattia orchards, make another good reason to visit this place. Originally known for growing apples, pears, peaches, apricots, plums, cherries, sweet chestnuts, quince, currants, gooseberries, figs, mulberries, strawberries and blackberries, these orchards now house the region's first Horticulture Research Institute. Here, you can see a variety of amazing flowers, in different colors.
Try Fishing!
Bhalu Dam on Kosi River, a few kilometers from Chaubattia, is the place where anglers can enjoy fishing. But before this, you have to take prior permission from the Chief Wildlife Warden Dehradun.
Go Golfing!
Upat is just a few kilometers from Ranikhet, and offers great opportunity for golfing at high altitude. This 9-hole golf course is among the highest in the world. From here, it's always a pleasure to savor the spectacular view of snow peaks. However, you have to take permission for admission as well as playing, from the army, beforehand.
Termperature
Summer 15-30°C. Winter 0-24°C