Pithoragarh is positioned in the centre of the western half of Soar Valley which bears a resemblance to the Kashmir valley on a small scale. It is known as the gateway to the Himalaya's from the north, as pilgrims trek through this town to the Kailas Lake in Mansarovar and Om Parvat. It is rich in natural beauty and it offers best view of the Himalaya.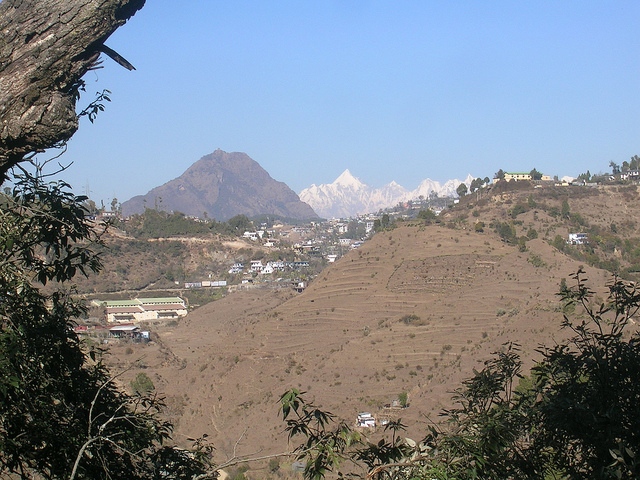 History
Pithoragarh's history can be traced to the time of the Puranas when it flourished though no documents from that era have been recovered. What is known is that Pithoragarh used to be an important stop en route to Kailasa Parbat. The first recorded document is from the time of the great Rajput King Prithviraj Chauhan who named the place as Rai Pithora. Under the Chand and Katyuri dynasties its name was adapted to "Prithigarh". Several kings and dynasties ruled Pithoragarh and perhaps one of the last was the Chand dynasty that built a fort to show their might and strength. This fort today houses the girls hostel Pithoragarh was taken over by the British administration, and they have left their impressions in the churches, cantonment area etc., that exist in Pithoragarh even today.
Accessibility
Air: Nearest Airport is at Naini Saini some 5 Km away from Pithoragarh town. Nearest commencing airport is Pant Nagar in Udham Singh Nagar district.
Rail: Tanakpur in Champawat district connected with Pithoragarh by 151 Km long motor route via Champawat and Lohaghat. Kathgodam in Nainital district connected with Pithoragarh by 212 Kilometers long motor route via Bhowali, Almora, Daniya and Rameshwar.
Road: Pithoragarh is mostly connected with all the major cities and regular transport service. There are buses to Almora, Nainital, Haldwani, Delhi and Tankapur.
Shopping
Pithoragarh is a beautiful hill station that has its share of traditional handicrafts and other local products you can shop for. Here you can look for traditional woven woolen shawls and blankets, apart from other woolen products. The designs and colors of apparels you find here are strikingly different and unique in themselves. Also, you can shop around for traditional gems and jewels found here.
Another specialty of Pithoragarh is its horticulture produce. Pithoragarh produces very sweet and juicy fruits like Orange and Malta, besides other citrus fruits. Also found here is by far the sweetest, though gigantic, cucumber. It is juicy as watermelons. You can buy and carry back home some of these.
Important Shopping Centers In Pithoragarh
Simalgair
Naya Bazar
Dharamshala
Siltham
Cinema Line
Purana Bazar
Termperature
Summer 15-30°C, Winter 0-24°C
Best time to visit
March to June and mid-September to October