Mahabalipuram or Mamallapuram as it was formerly known, is an enigma for historians.
The temple city of Mahabalipuram (also Mamallapuram) is situated just 60 km off Chennai on the Bay of Bengal coast in the south Indian state of Tamil Nadu. It extends from latitude 12°37' in the North to longitude 80°14' in the East. The city is well connected through a network of roads from Chennai and other important cities of South India. Many of the Resorts Mahabalipuram are strategically located close to the tourist spots.
Known for its Shore Temples, Mahabalipuram is 58 km from Chennai, on the Bay of Bengal. The rock cut art and architecture (Mahabalipuram Group of Monuments) attracts a number for tourists to this sea side town. These monuments are recognised as a World Heritage Site by UNESCO.
It is believed that a very cruel king Mahabali ruled the place and in a fierce battle the King Mahabali was killed by Lord Vishnu and the place was named after the cruel King Mahabali.
Mahabalipuram that was formerly known as Mamallapuram is one of the most frequented tourism destinations in Tamilnadu, a province in India. The place is just 55 Kilometers off Chennai, the capital city of Tamilnadu and forms a major excursion destination around it. In fact, Mahabalipuram along with Chennai and Kanchipuram forms the famous 'Golden Tourism Triangle' ashore Coromandel Coast.
Mahabalipuram is a 7th century port city of the Pallavas, a Dravidic dynasty that once ruled over the major portion of peninsular India. Typical of Orientals, there are lots of theories behind its naming. Some say that it has been named after the demon king Mahabali who was renowned for his generosity. Some maintain that it has been named after the Pallava king Mamalla. Mahabalipuram has various historic monuments built mostly between the 7th and the 9th century. The majority of these temples and monuments have been built by one or another Pallava kings. Kings of later dynasties too have done some additions and restoration works.
The most famous and magnificent monument here is the Shore Temple. This temple looks absolutely mesmerizing when lit by moonlight. Although the religious activities in this temple have been discontinued way back in the late 19th century, the temple attracts a lot of tourists everyday. Due to the architectural and heritage value attached to it, The UNESCO has crowned this historical city as a 'World Heritage Site'.
Most of the monuments here are rock-cut and monolithic. These temples are very different from the later-Dravidian era temples that were built in the reign of the famous Chola kings Raj Raja and Rajendra Chola. The temples of Mahabalipuram will thus offer a contrast amidst the high raised 'Gopurams' that are so typical in the south Indian temples. The temples of Mahabalipuram represent the early phases of Dravidian architecture wherein Buddhist elements of design can be clearly seen.
Cave temples, monolithic rathas (chariots), sculpted relief and structural temples are something that is found in the ruins of Mahabalipuram. The pillars are of the early Dravidian order where as the sculptures are predominantly Pallava in their architecture. The majestic Mahabalipuram invokes a certain kind of mystery, with its sculptural extravaganza depicting strong artistic temperament of the Pallava rulers who are considered by many as the conceivers and the driving force behind the Dravidian art movement.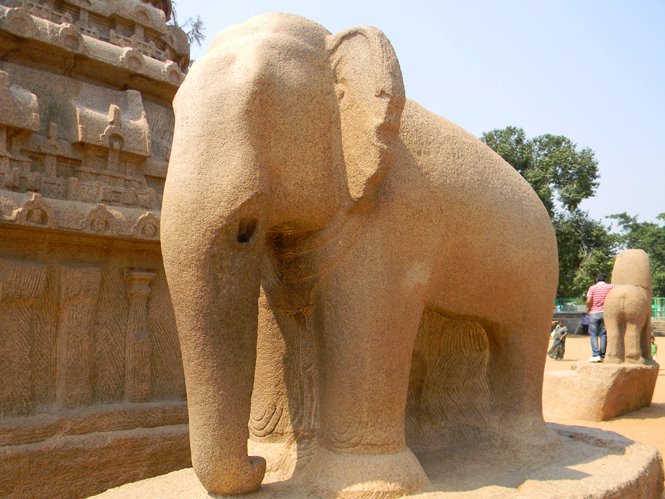 History
Mahabalipuram is one of history's intriguing enigmas. The ancient Mamallapuram, as Mahabalipuram was formerly known, was flourishing port town of the Pallava rulers of south India who chiseled in stone a fabulous "open-air museum" of sculpture under the vault of a burning sky. Apart from this, nothing is known of the place. What was the purpose behind this whole exercise, and, more important, why all the royal patronage this place enjoyed suddenly disappeared, no one actually has any answer. Staying at Mahabalipuram Resorts is an unique way of experiencing its history.
Experts say that there were seven pagodas or temples on the shores of Mahabalipuram. All but one were pillaged by the rapacious sea, though there is little underwater evidence to substantiate their existence.
Most of the temples and rock carvings of this place were built during the reigns of Narsinha Varman I (AD 630-668) and Narsinha Varman II (AD 700-728). Though the initial kings of Pallava dynasty were followers of Jainism, the conversion of Mahendra Varman (AD 600-630) to Shaivism led most of the monuments to be related with Shiva or Vishnu.
Accessibility
Air: The nearest airport is Chennai International airport, which is located at 58 km away from Mahabalipuram. Chennai airport is having two terminals, domestic and International. Chennai is well connected to all major cities in India and many cities in abroad including Colombo, Middle East countries, Singapore and Gulf countries. Taxi fare from airport to Mahabalipuram is about Rs 1200.
Rail: The nearest rail head is Chengalpattu, which is 29 km away from Mahabalipuram city. Chennai is the major railway station nearby which is connected to all major cities in India by rail. Chengalpattu is connected to Chennai. The taxi fare from Chengalpattu to Mahabalipuram is about Rs 600 and Chennai to Mahabalipuram is Rs 1200.
Road: Mahabalipuram is well connected with many cities in and around including Chennai by Tamil Nadu public transport bus services. Many private tourist buses operate between Mahabalipuram and Chennai Central.
Shopping
Mahabalipuram is a favorite shopping haunt for South Indian artifacts, both wooden and granite based.
The stone artifacts made by the locals are a collector's delight Mamallapuram Shopping Guide.
Although a popular beach destination, shopping in Mahabalipuram will be an interesting experience as it offers exquisite souvenirs and other memorabilia.
Mahabalipuram is famous for its stone and wooden sculptures. Soapstpones, granite and wood are used to carve out gods and goddesses and unique scenes captures from everyday life. Jewellery and decorative items made of seashells are also good buys to carry home as souvenirs from this seaside town. .
The main shopping areas in Mahabalipuram are on Mount Road. The most reliable places to buy handicrafts are the government emporiums.
The shopping is excellent in Mahabalipuram. Handmade crafts made by people in the region are the specialty. These handmade crafts many times come in the form of stone statues carved to look like the enormous originals that are in the area. These statues are normally carved out of granite which enhances their beauty. Many people are more than glad to travel to this region to acquire such fine artistic pieces made by quality artisans. Soapstone images, wood carvings, jewelry, and items made from local seashells are also popular items that are sold in the local shops.
Accommodation
Mahabalipuram is one of the pristine beaches in India, on the coastline of TamilNadu. Hotels in Mahabalipuram welcome the tourists who flock to this seaside town to enjoy the beaches and see the magnificent monuments and temples.
The hotels overlooking the beaches offer spectacular view. Watching the sunrise or sunset from your window will be a memorable experience. If you are a foodie, then you will enjoy the delectable range of cuisine, especially the seafood.
Some of the prominent hotels in Mababalipuram are:
Temple Bay Ashok Beach Resort
Fisherman's Cove
Attractions
Open Air Dance Festival: The Open Air Dance Festival in Mahabalipuram is an annual four week festival. It is held right by Arjuna's Penance. The beautiful backdrop adds to the charm of experiencing skilled dancers perform such traditional dances as Bharat Natyam, Kuchipudi, Kathak, Mohiniattam, Odissi and Kathakali. The use of this open air stage started about 13 centuries ago. Today, the best folk dancers from all over India come to perform during the festival. Other dancers come to see them dance, as do numerous tourists. The effect of skilled dancers combined with the aesthetically pleasing location ad to the special experience that is known as the Open Air Dance Festival
Termperature
Summer 22-37°C, Winter 19-32°C
Best time to visit
Throughout the year
Famous For
Known for its sandy-sunny beaches and shore Temple