Churachandpur, also known as "Lamka" locally, is the most multi-ethnic and cosmopolitan advanced tribal hill town in Manipur. The place is inhabited by about 15 different tribes and ten communities that co-exist peacefully here. It is truly an island of peace, tranquility, prosperity and progress. The vibrant handicrafts its markets display are its major attraction.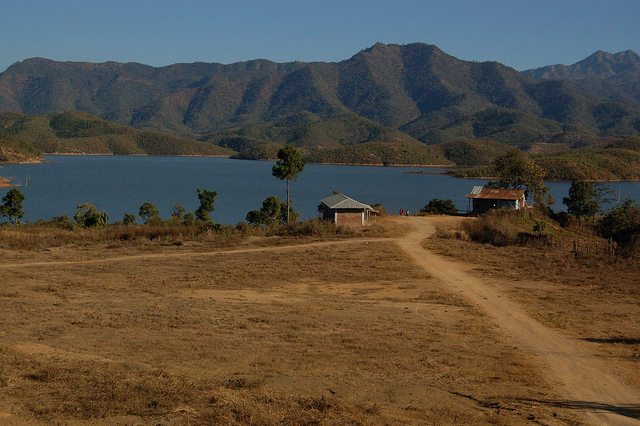 Accessibility
Air
Imphal Airport, lies 8 km from Imphal city toward south. Imphal connects the place with Guwahati, Delhi, and Calcutta. Indian Airlines connects Imphal with Delhi via Guwahati on a daily basis.
Rail
Dimapur, 215 km from Imphal, is the nearest railhead for Manipur.
Road
Imphal is connected by road with Dimapur by National Highway 39 and Silchar by National Highway 53.
Shopping
Bamboo or wooden art objects are available at several shops, including New Bazaar and Old Bazaar. A wide variety of tribal shawls is also available.
The Handicraft Market: Churachandpur's handicraft market displays several unique handmade items. These items are made in bright colours by the locals. You will find various types of exquisite items made by locales at Churachandpur. The item are beautifully made in vibrant colours.
Accommodation
Quality accommodation for tourists visiting Churachandpur is available in and around the state capital Imphal.
Being the district headquarters of South Manipur the hotels in Churachandpur enjoy an extra level of importance. The mixture of advancement and tribal tradition of the town makes it an ideal tourist spot and the hotels in Churachandpur are well equipped to support this recurring tourist inflow. There are not many hotels in Churachandpur but the ones that are there are of good quality and are also very reasonably priced.
The most popular hotels in Churachandpur include:
Hotel Eden
Thongam Babita Broadway Hotel
Hotel Rajdoot
Hotel International.
Circuit House
Green House Hotel
These hotels in Churachandpur are comfortable and as far as the tariff of the hotels are concerned they can be termed as cheap. However, the low tariff rates of these hotels do not affect the quality and the services that these hotels provide. Most of these hotels in Churachandpur also have dining facilities. Their guests, therefore, do not have to worry about anything.
District
Churachandpur district
Best time to visit
October to March