Almora is a quaint town full of life, with a prosperous cultural inheritance and history and believed to be the 'Artistic Capital' of the Kumaon region of Uttarakhand. It is a fine blend of mountain beauty; ancient cultural influences, sanctified spots, thickly wooded forests, scenic valleys, quaint cottages, crystal lakes and gushing rivers and thus call the 'Switzerland of India'.
Image Credit: http://www.flickr.com/photos/rickbradley/3927500943/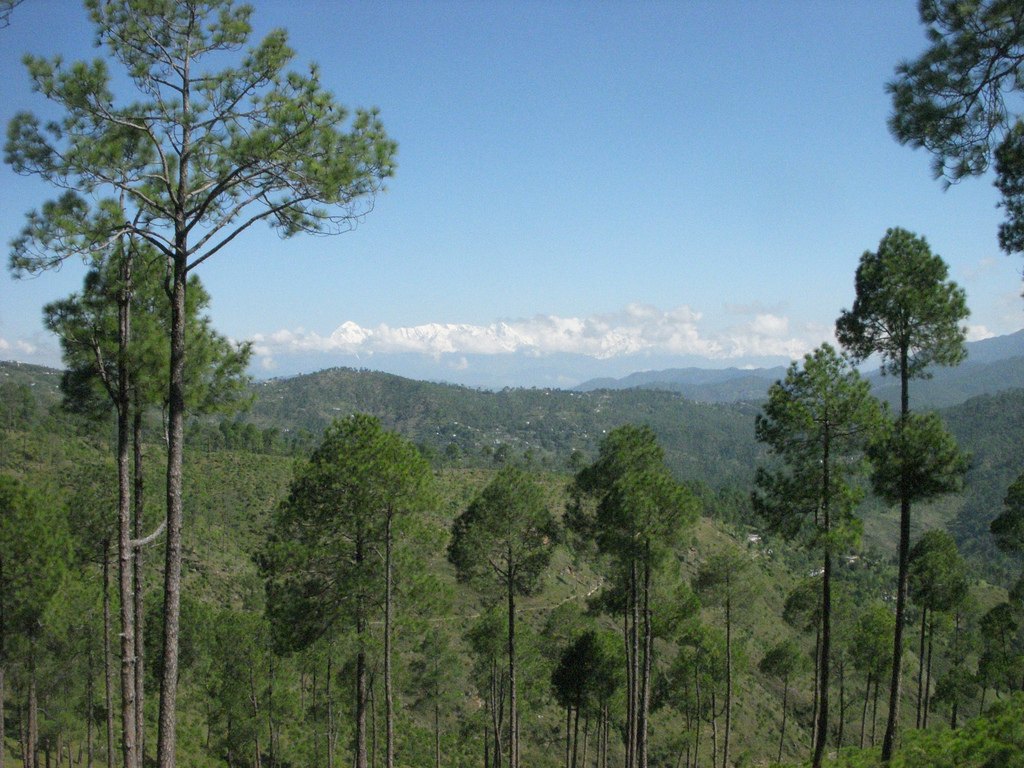 History
History of Almora can be traced back to ancient times of Mahabharata. However, the earliest historical account of the place is provided by a Chinese pilgrim of seventh century. The pilgrim wrote in great detail about a kingdom called 'Brahmaputra'.
The ancient town of Almora, before its establishment was under the possession of Katyuri king Baichaldeo. He donated major part of this land to a Gujrati Brahmin Sri Chand Tiwari [1] Later on when Chand kingdom was founded in Baramandal, the town of Almora was founded at this centrally located place in 1568 [2] by Kalyan Chand.[citation needed] In the days of the Chand Kings it was called Rajapur. The name 'Rajpur' is also mentioned over a number of ancient copper plates.
In 1744 during the raid by Ali Muhammad Khan Rohilla, Almora was taken over from Chand dynasty. However, unable to bear the hardships of living in the hills, the Rohillas chiefs, placed by Ali Mohammad Khan Rohilla, returned Almora for a heavy bribe of three lakh rupees.
Ali Mohammad, dissatisfied with the conduct of his commanders, attacked Almora again in 1745. However, this time the Rohillas were defeated. They never came back again.
In 1790, Almora was conquered by the Gurkhas who ruled it for the next 24 years until it was taken over by the British in 1815. Today, Almora is a primary center for trade and other activities – social, cultural, political- and is a district place of Uttarakhand State in India.
Accessibility
By Air: Nearest airport is Pantnagar, which is about 125 km away from the heart of Almora.
By Rail: Nearest railway station is at Kathgodam. Kathgodam railway station to Almora city is about 91 km, which can be covered by nearly 3 hours.
By Road: Regular bus services are available from Delhi to Almora, the distance covered is about 200 km. Luxury bus services are also available. State owned buses connects Almora to other cities in and around.
Shopping
If you thought that Almora is all about serenity and fun then you were right. But there is one more facet of this town of Uttaranchal that makes a vacation in this place very interesting – Shopping. Almora has many shopping centers among which the most important is the Old Bazaar, nearly 200 years old. Shoppers should hunt for Kumaoni style jewellery and copperware from the coppersmith himself. Pashmina shawls and wool blankets that have a rich traditional influence should not be missed. Among the most interesting buys are the Angora clothes made from the fur of Angora rabbits.
Almora has a quite a few shopping centers and a large stretch of covered bazaars. Famous amongst these is an almost 200 year old Lal Bazaar where shopping around is an absolute delight. Then there's old Amora down the cantonment area which was the capital of Kumaoni Chand Rajas. Traffic is prohibited here so you won't be disturbed by any sort of hassling congestion.
Entering into the lanes of Thana, Johri and Lala Bazaars will give you a glimpse of what the craftsmen here are upto with their traditional skills. If you have a buck to spare, you must not give away this opportunity to shop for Kumaoni-style Jewels at the silversmith and copperware from the coppersmith.
Also you will find here, beautifully woven Pashmina Shawls and sheep wool bankets that speak volumes about the traditional design and weaving skills of this region. Other interesting things you can shop for include Angora cloth which is made from the fur of Angora rabbits. On your way back home, you must pick up some boxes lip smacking singora and bal mithai which are amongst the specialties of this region.
Lal Bazaar: Shopping in Almora is a fantastic experience and Lal Bazaar offers you with wide variety of shopping facilities. From sweets to bronze and brass ware items, one can get any items from here. As an enthusiastic visitor, one should not forget to taste the sweets here which are quite famous.
The place is famous for Rabbit wool cloths, very soft, fine and very warm, made out of the wool of special breed of Rabbit. Warm clothes made from this wool are famous all over the world. In Lal Bazaar one can get good bargains at comparatively low prices. There are woolen garments, decorative items, brass items and other kind of metal utensils, which are quite popular among the visitors.
Accommodation
Kalmatia Sangram, Deodar Resort, Snow View Resort, Gullu Deva Tourist Resort.
Things to do
Visit Temples & Churches
Chitai Temple is a famous temple, about 8kms from Almora, dedicated to Gollu Deva - the revered Kumaon Deity. Then there is one Katarmal Sun Temple, which was built over 800 years ago by the Katyuri rulers. This temple complex has nearly 50 stone temples. If you're visiting Almora in spring, then invest some time in Mahashivratri Mela which is worth experiencing. About 6 kms from Almora is Kasar Devi Temple which is just about serenity and peace. Methodist Church is a stone-built church that was built in 1897, and is worth exploring.
Discover the Heritage!
Gobind Vallabh Pant Public Museum, near the Bus Stand, is a treat for art lovers as here you can cherish a rare collection of art and crafts, 'Apen' folk-paintings, etc. This museum also has letters from Sardar Vallabh Bhai Patel to GB Pant and pamphlets used for protest marches during the struggle for independence.
Laze Around!
Bright End Corner is the famous place where you can enjoy the lovely views of the sunrise and sunset. It is a great place to sit back and take in the views of neighboring mountains. You can take a stroll on the Mall, or walk around just to relax your feet and soul. If you wish to, then spend some bucks to get the souvenirs for friends and relatives at home.

Indulge in Trekking!
Trekking could be the best activity if you have to do nothing else. You can take the steep 3kms trek up from Ranikhet Road. Here you will discover the Govind Ballabh Pant Institute of Himalayan Environment and Development. From here, Katarmal is another 1-km trek. Across the valley, you can observe the 900-year-old Bara Aditya Temple, which is the only Surya Temple in Kumaon. The serious trekkers can try Almora - Jageshwar trek. This low-altitude trek takes you through beautiful terraced fields and forests into charming Kumaoni villages. The trek is 41 km long and can be covered in fours days.
Location
365 km from Delhi, at a height of 5,400 ft on a ridge atop Kashaya Hill and around 50 km from Ranikhet.
Termperature
Summer 12 to 28°C, Winter -2 to 15°C
Best time to visit
April to June, September to November