Kashi Vishwanath Temple or Golden Temple as it is also known, is one of the most important Hindu temples in India. The temple stands on the western bank of the holy river Ganges, and is one of the twelve Jyotirlingas, the holiest of Shiva temples. Its gold towers gained it the name of Golden temple.
The temple is widely recognized as one of the most important places of worship in Hindu religion and most of the leading Hindu saints, including Adi Sankaracharya, Ramakrishna Paramhansa, Swami Vivekananda, Goswami Tulsidas, Swami Dayananda Saraswati and Gurunanak have visited the site.
A visit to the temple and a bath in the river Ganges is one of many methods believed to lead one on a path to Moksha (liberation).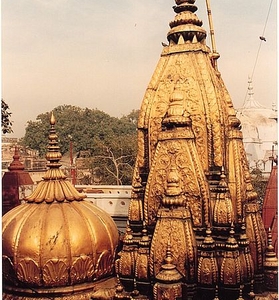 History
A Shiva temple has been mentioned in the Puranas including the Kashi Khanda (section) of Skanda Purana. In 490 AD, the Kashi Vishwanath Temple was built. In 11th century AD, Hari Chandra constructed a temple. Muhammad Ghori destroyed it along with other temples of Varanasi during his raid in 1194. Reconstruction of the temple started soon after. This was demolished by Qutb-ud-din Aibak. After Aibak's death the temple was again rebuilt by many Hindu emperors. In 1351 it was destroyed again by Firuz Shah Tughlaq. The temple was rebuilt in 1585 by Todar Mal, the revenue minister of Akbar's court. Aurangzeb ordered its demolition in 1669 and constructed Gyanvapi Mosque, which still exists alongside the temple. Traces of the old temple can be seen behind the mosque. It is said that the Shiv-Linga jumped into the well and the original Shiv-linga now resides there. The current temple was built by Ahilya Bai Holkar, the Hindu Maratha queen of Malwa kingdom, in 1780. The gold that covers the spires of the temple was a gift from the Sikh ruler of Punjab, Maharaja Ranjit Singh.