Sanchi is a small town on the outskirts of Bhopal, situated around 48 km from the capital city. The town comes under the district of Vidisha. Sanchi is the living example of visions and beliefs of Emperor Ashoka. The town is scattered with numerous Buddhist structures like pillars and stupas. Although the city is world known for these Buddhist sites, but Sanchi does not have great significance or consequences in Buddhist history. Though it is now considered as a pilgrimage town due to the monasteries that are present here. Emperor Ashoka came here and married the daughter of a local merchant. Sanchi thus became his center and he carried out the construction of many buildings. The Ashoka Pillar and the Great Sanchi stupa are the most exquisite works of those time. The Stupas were the earliest forms of Buddhist architecture that were the inspiration for many other buildings.
An austere village located at a 46-kilometer drive from Bhopal, Sanchi in Madhya Pradesh is located 46 kilometers away from Bhopal. Known as a World Heritage Site, Sanchi has a strong Buddhist heritage. Tourism in Madhya Pradesh receives a momentum with a tour to Sanchi that also reveals testimony of Gupta architecture besides the Buddhists ruins.
Sanchi, on one hand, nourished Buddhist principles, on the other hand, served as a moot in the flourishing of the religious discourse across India.
Along with the historical buildings, don't forget to visit the archaeological museum. It showcases the renowned image of Four Lions that once sat atop the Ashoka Pillar. Although a visit to the town is comfortable through out the year, the best time is between the months of October and March.
Sanchi is known for its Stupas, monasteries, temples and pillars dating from the 3rd century B.C. to the 12th century A.D. The most famous of these monuments, the Sanchi Stupa 1, was originally built by the Mauryan Emperor Ashoka, the then governor of Ujjayini, whose wife Devi was the daughter of a merchant from adjacent Vidisha. Their son Mahindra and daughter Sanghamitra were born in Ujjayini and sent to Sri Lanka, where they converted the King, the Queen and their people to Buddhism.
Image Credit: http://www.flickr.com/photos/pokle/140129753/
http://www.flickr.com/photos/lenchik/116887771/in/set-72157604258472441
http://www.flickr.com/photos/lenchik/116893530/in/set-72157604258472441
http://www.flickr.com/photos/nagarjun/6370318563/in/photostream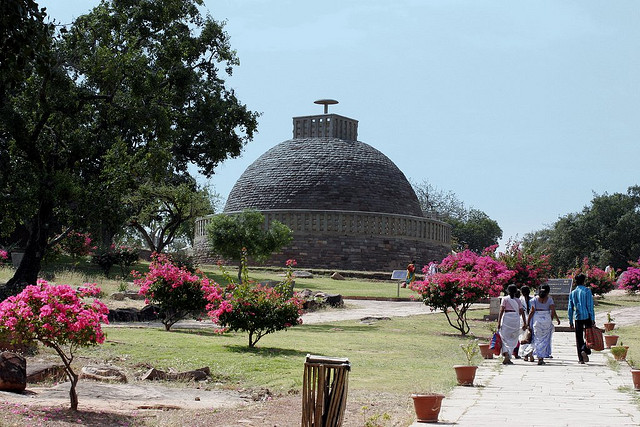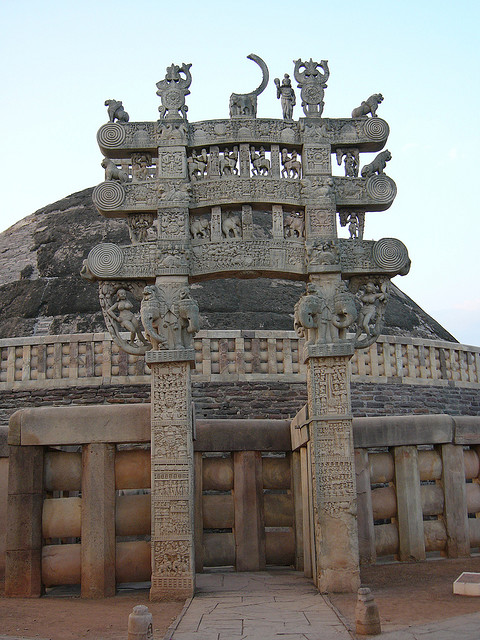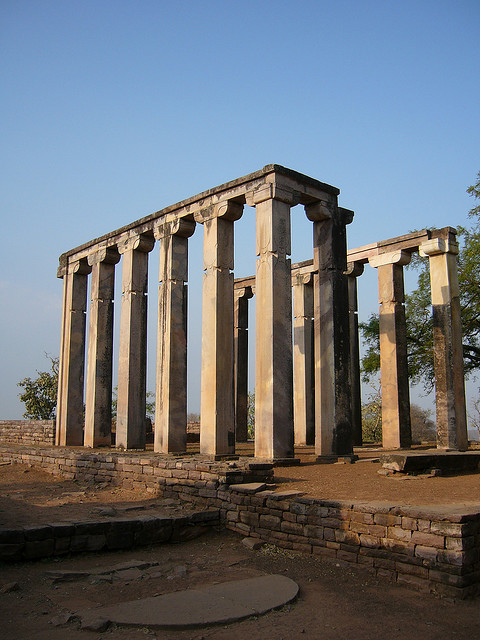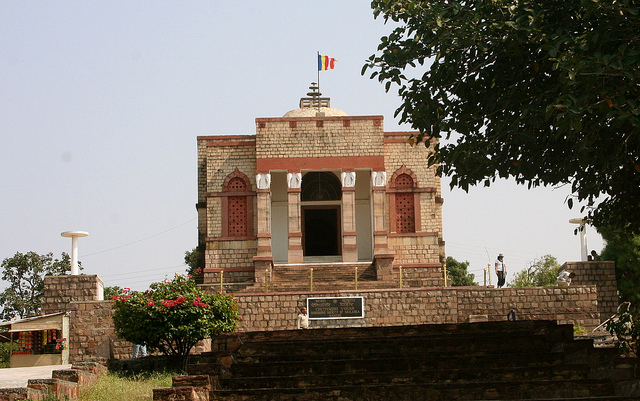 History:
Sanchi's importance as a major pilgrimage center began to increase from the time when Ashoka the Mauryan Emperor tied the knot with a woman from Besnagar, a place situated close by. Ashoka then went on to construct a glazed stone pillar and a stupa built of brick and mortar. These constructions were a significant landmark in the history of Sanchi. They can be traced back to the 3rd century BC. The complex was refurbished and additions and alterations were made by the successive dynasties, but the waning of Buddhism brought in its wake the decline of Sanchi that lay abandoned for a considerable time, till it was brought to life in the year 1818 by General Taylor of the Bengali cavalry.
On flipping through the pages of the history of Sanchi, you would stumble upon a lot of interesting information on the historical background of Sanchi that would have otherwise remained under covers. Restoration activity in Sanchi gained a fillip during the 20th century which saw the reconstruction of the chief stupas. However the major restoration work was undertaken by archaeologist John Marshall and the Buddhist scholar Albert Foucher in 1912. Beautiful parks and museums also came up. Due to its strong association with Buddhism and the life of Lord Buddha, Sanchi was ascribed the status of a World Heritage Site by UNESCO.
Accessibility:
Air: 'Raja Bhoj' Airport in Bhopal is the nearest airport. It is nearly 46 km away from Sanchi. Taxi fare is about Rs 1000 from Bhopal airport to Sanchi. Bhopal airport is connected to many cities in India by air, including Delhi, Indore, Mumbai, Gwalior and Jabalpur. Air India offers flights to Sharjah and Dubai from Bhopal.
Rail: Bhopal is the nearest railhead to Sanchi, which is nearly 50 km away from Sanchi. Tourist taxi services are available from Bhopal to Sanchi with a fare of about Rs 1000. Bhopal is a major railway junction, which is placed in the Mumabi – Delhi broad gauge line. It is connected to all cities in India.
Road: Many buses are available from different parts of Madhya Pradesh to Sanchi. Governmemt owned public buses and Private luxury buses are providing services from Sanchi to many cities, including places like Bhopal (46 km), Indore(232 km) and Vidisha (10 km).
Shopping:
Renowned to be a Buddhist heritage site dotted with monuments this city is not mush of a shopping ground. But you would surely love to carry some token back to your country, so pass trough the local shops that will give you a varied options for souvenirs. Some of the items that you can look forward to buy in Sanchi includes brass ware, terracotta, shell work, crochet, carved furniture, bamboo work As it is a very small town then there are not many bazaars and markets. The local people sell their concentrated items that were probably made at home and for an ardent traveller, this is more than a blessing.
Termperature:
Summer 24-48°C, Winter 9-36°C