Kumbhalgarh is the second most important bastion in the Mewar region, built during the course of the 15th century by Rana Kumbha, after Chittorgarh. It is also a birthplace of Maharana Pratap, the great king and warrior of Mewar.
Image Credit: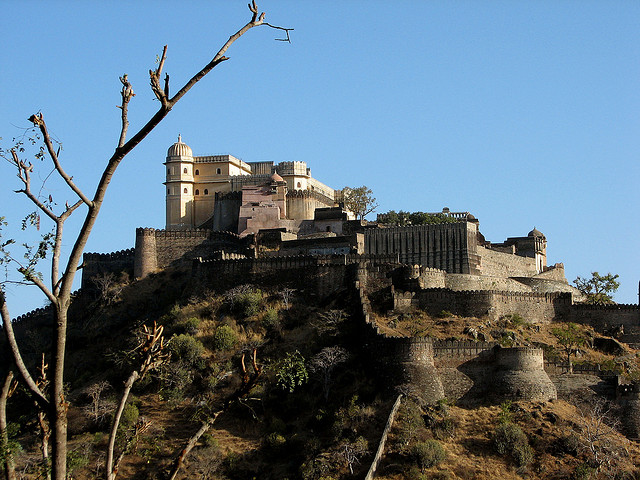 History
In Rana Kumbha's time the kingdom of Mewar spread from Ranthambore to Gwalior, including vast tracts of present-day Rajasthan and Madhya Pradesh. Mewar's rulers became patrons of all that was best in Indian martial and fine arts, architecture, and learning. Of the 84 fortresses defending Mewar, 32 were designed and built by Rana Kumbha. Of these, Kumbhalgarh with its 36-kilometer long wall and soaring towers is the most impressive. Kumbhalgarh stands on the site of an ancient citadel dating back to the second century AD belonging to a Jain descendant of India's Mauryan emperors. It defined the boundaries between Mewar and Marwar and became a refuge for Mewar's rulers in times of strife. Its steel gray ramparts encircle the fertile Shero Mallah Valley, with ancient monuments cenotaphs, ponds and flourishing farms. Kumbhalgarh fell only once in its history, to the combined forces of Emperor Akbar, Raja Man Singh of Amber, and Raja Udai Singh of Amber, and Raja Udai Singh of Marwar.
Accessibility
Air: Nearest airport to Kumbalgarh is Udaipur, which is about 84 km from the city. Pre-paid taxi charges about Rs 1600 from Udaipur to Kumbalgarh. Udaipur is connected by air to Delhi, Jaipur and Jodhpur.
Rail: Nearest railhead is Phalna, a junction railway station, which is well connected to Mumbai, Ajmer, Delhi, Ahmedabad, Jaipur and Jodhpur.
Road: Rajasthan State Government Roadways ordinary and deluxe buses have stop at Kumbhalgarh. It is connected to Udaipur, Ajmer, Jodhpur and Pushkar by the state buses.
Shopping
Shopping in Kumbhalgarh may not be a very pleasant experience. It is not actually a typical shopping destination where you can shop till you drop.
Hardly anybody goes for shopping in Kumbhalgarh. But if returning from a tour without buying a few souvenirs, a handful of gifts for your near and dear ones, sound preposterous, Travel.mapsofindia recommends you to shop in Udaipur instead of shopping in Kumbhalgarh.
Udaipur is the nearest city from Kumbhalgarh and is one of the prime destinations in Rajasthan.The region has a rich tradition of handicrafts. Miniature painting is a renowned craft in the area. Paintings featuring long necks, large almond-shaped eyes, long fingers and the use of subdued colours make for excellent souvenirs. Pick up a few pieces while shopping in Udaipur.
Other popular crafts include Silver jewelry, potteries, stone carved items and Puppets. Be it for personal possession or as gifts to friends and relatives these are worth buying.
Accommodation
Most of the hotels in Kumbhalgarh fall in the heritage category since they are the old forts or palaces opened for tourist accommodation. Impressive architecture, beautiful locale and royal splendor distinctly mark the hotels in Kumbhalgarh.
Here are a few notable hotels in Kumbhalgarh
Aodhi Hotel
Kumbhalgarh Fort Hotel
Termperature
Summer 32-45°C, Winter 28-35°C
Best time to visit
September to March
Famous For
Kumbhalgarh is famous the massive fort & the wildlife sanctuary.