Bithoor, situated on the banks of the Ganga, is an important religious and historical town. According to Hindu mythology it is the place where Lord Brahma, the God of Creation, started creating world.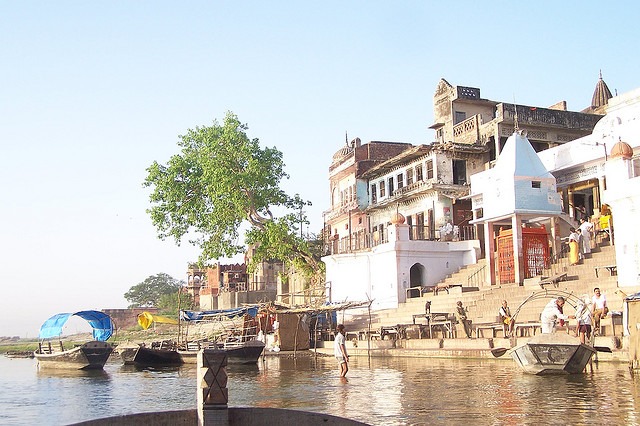 History:
According to Hindu scriptures Lord Brahma came to Utpalaranya, as it was known then, for the creation of mankind. The place, which witnessed the creation of mankind, came to be known as Brahmavarta, or the seat of Brahma. Later Brahma installed a Shivalinga, worshipped today as Brahmeshwar Mahadeva at the principal Ghat of Bithoor, the Brahmavarta Ghat. A nail of a horseshoe, embedded in the steps of the ghat, is considered to be dropped from Brahma's horse while the horse was going for Ashwamedha Yajna; this is an object of special reverence for devotees. On the completion of the Yajna, the forests of Utpalaranya became known as Brahmavarta, from which the popular name Bithoor is derived. In later centuries Brahmavarta flourished as the capital of the kingdom of Utpalaranya, over which ruled the emperor Uttanpad. His son Dhruva made penance here in order to please Brahma. The place is pointed out to be Dhruva Teela.
There is a small pool inside Valmiki Ashram, famous as Sita-Kund. Sita 'Rasoi' (Sita's kitchen) is still preserved, near which stands 'Swarga Naseinee' or Deep Malika Stambha, studded with niches all around for illumination. The tower has about 48 steps leading to its top, surmounted by a cupola, where one can have a panoramic view of the entire area.
Accessibility:
Air - Nearest airport is Chakuri Airport, Kanpur which does not have many scheduled flights. Lucknow is the nearest airport with regular flights to Delhi.
Rail - Kalyanpur is the nearest station, but serviced only by passenger trains, Kanpur Junction is the most suitable station for Bithoor. Some important trains that pass through Kanpur central railway station.
Road - Major road distances are : Kanpur - 22 km, Lucknow - 109 km, Agra - 308 km, Kannauj - 103 km, Sankisa - 166 km, Delhi - 430 km, Allahabad - 224 km, Ayodhya - 252 km
Shopping:
Only souvenir items are available on the Ghats on the banks of the river Ganga for shopping at Bithoor.
Famous For:
well known for the Ghats on Ganges.