Vailankanni is a small hamlet on the coastal region of Bay of Bengal near to the famous Nagapattinam, is a revered Christian religious destination. This holy city is known for the famous Basilica of Our Lady of Good Health (Velankanni Mother Mary Church). It is also an attractive location for delicate silks and handloom materials. This is a good shopping place with rare collections of marine products and cosmetic items.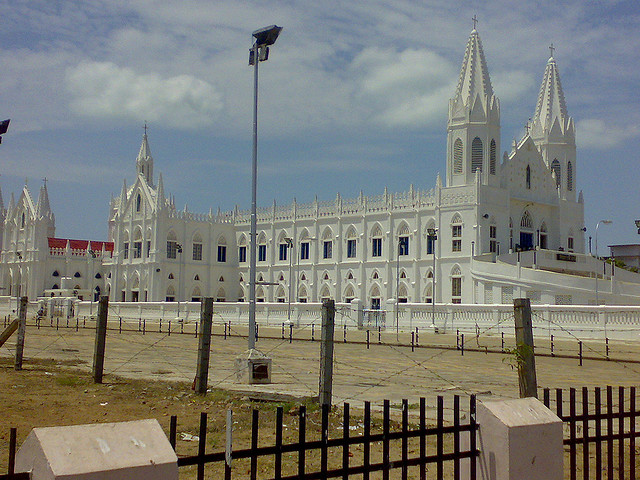 History
According to popular legend, Mother Mary appeared with Infant Jesus in Velankanni at the end of the 16th or early 17th century. Since then, for all pilgrims of the world, Velankanni has been the most important destination and almost the synthesis of all Marian Sanctuaries. Thus, the Pope in the Vatican City has declared Velankanni as a Holy City.
Accessibility
By Air: Nearest airport to Velankanni is at Tiruchirappali at distance of about 165 kms. It is well connected to Chennai airport by regular flights.
By Rail: Nearest railhead to Velankanni is Nagapattinam, which is just 12 kms away. Nagapattinam is well rail connected to all major cities in India through Chennai and Tiruchirapalli.
By Road: Velankanni is connected by buses to all the major towns and cities in Tamilnadu and also connected to cities in Kerala, Karnataka and Andhra Pradesh. Regular bus services are available to Madurai, Kanyakumari, Chennai, Trichy, Pondicherry, Trivandrum and Thanjavur.
Accommodation
Enjoy a comfortable stay while on a Tour to Velankanni at the hotels in Velankanni, offering a remarkable blend of tradition and modernity. Some of the major hotels in Velankanni are Quality Inn (MGM group), Hotel Velankanni, Hotel Golden Sand, Hotel Sea Gate, etc.
Termperature
Summer 22-37°C, Winter 19-32°C
Best time to visit
Throughout the year