Talakaveri is famed as a mountain region with the original source of famous river Cauvery and hence the name Tala-Cauvery (head of Cauvery). It is a holy pilgrim center for Hindu devotees and is located in the Brahmagiri hill at 1,276 m above the sea level. Talacauvery is located in Kodagu district of Karnataka, India.
At present the visitors can see a tank (pond) at the place where Cauvery is believed to be originated. A small temple is also seen nearby. This temple and the surrounding regions are frequented by the pilgrims. The temple in Talakaveri is dedicated to Lord Agastheeswara. The legendary stories say that Cauvery was held captive by sage Agasthya in a Kamndalu, a pot carrying the sacred water. Lord Ganesha in the form of a crow made the Kamndalu to topple at this hill when Sage Agasthya was meditating.
It is believed that taking bath in Talacauvery is very sacred and it can relieve the man form all his sufferings. There are many temples in Talacauvery. One of the most impressive attraction is Bhagamandala, the confluence of three rivers Cauvery, Kanake and Sujyoti. Other temples nearby devoted to Lord Ganapathy, Subramanya and Vishnu. An annual festival celebrated during October / November attracts many tourists to this hilly temple town. During this festival the region becomes very attractive with thousands of lights lit in the temples.
There are many breathtaking views in and around the hill town Talacauvery. This town has a facelift now with many buildings and hotels.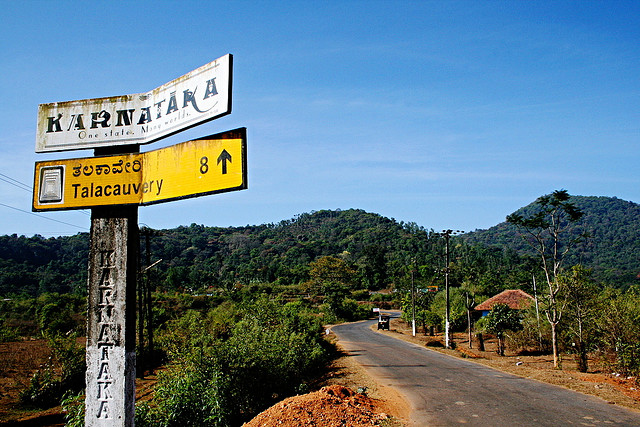 Accessibility
Air: Nearest airport to Talacauvery is Mangalore terminal, which is about 160 km from Talacauvery. Taxi charge for the travel from Mangalore to Talacauvery is about Rs 2000. Nearest International airport is Karipur (Kozhikode), which is 200 km away from Talacauvery. It cost around Rs 2500 from Talacauvery to Karipur. Karipur airport is connected to many Arab cities. Mangalore air terminal is connected to Bangalore and Chennai.
Rail: The nearest railway stations are Hassan, Thalassery, Kannur and Kasrgod, all are nearly 130 km away from Talacauvery. Nearby major railhead is Managalore which is connected to all cities in India with rail facilities.
Road: Talacauvery is well connected by KSRTC buses of Kerala and Karnataka. The nearest bus junction where frequent buses are available is Madikeri. Many private buses also connect Madikeri with other nearby cities