Shantiniketan, literally means "Abode of Peace", is a small town famous for the world renowned Vishwa Bharati University, maintaining Indian traditions while incorporating the best of other cultures. Nobel Laureate Rabindranath Tagore formed Shantiniketan as an International University and intended it to be a place where the cultures of the East and the West could meet and mingle. It was here that Rabindranath Tagore indited many of his literary classics.
Image Credit: http://www.flickr.com/photos/sabihspeaks/3972002545/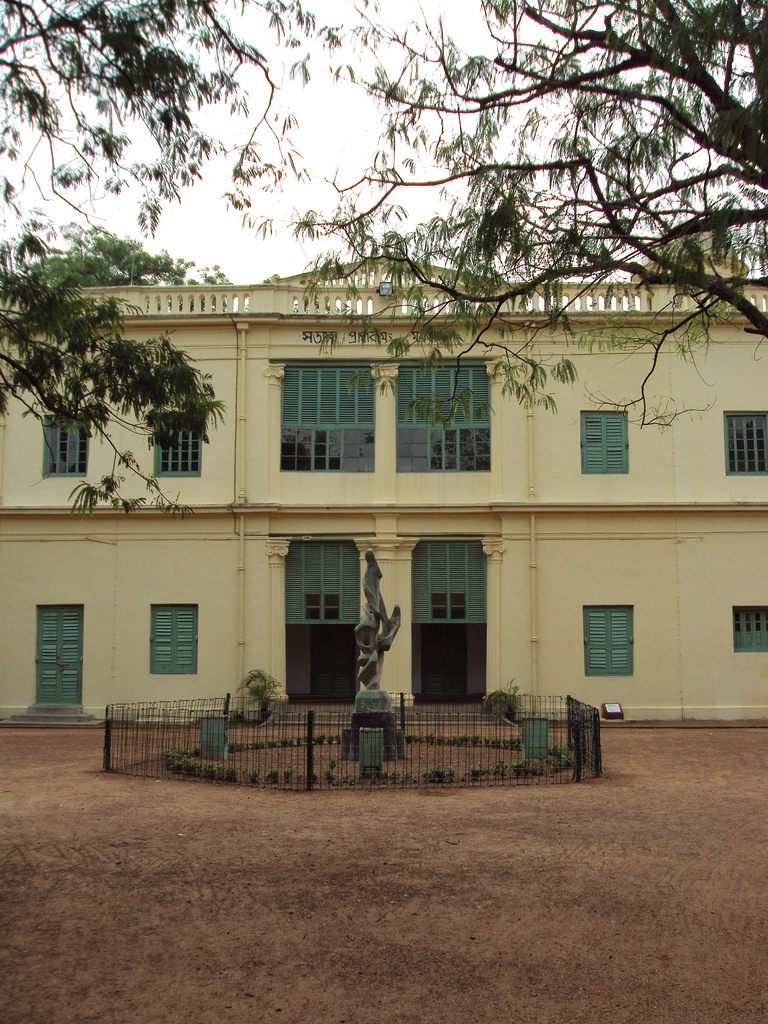 History
Santiniketan was previously called Bhubandanga (named after Bhuban Dakat, a local dacoit), and owned by the Tagore family. Rabindranath's father, Maharshi Debendranath Tagore, found it very peaceful and renamed it Santiniketan, which means abode (niketan) of peace (shanti). It was here that Rabindranath Tagore started Patha Bhavan the school of his ideals, whose central premise was that learning in a natural environment would be more enjoyable and fruitful.
Accessibility
Air: Kolkata International airport is the nearest aerodrome to Santiniketan. Kolkata is about 210 km from Santiniketan. Taxi fare from airport to Santiniketan is about Rs 4000. Kolkata is well connected by air to all major airports in India and also connected to many major cities in India.
Rail: Bolpur is the nearest railway station to Santiniketan, which is just 2 km away. Bolpur is connected to Kolkata by express trains. All major cities in India are connected to Bolpur via Kolkata railhead.
Road: State owned buses connect nearest cities with Santiniketan. Many tourist service providers arrange package tours by A/C deluxe buses to Santiniketan from Kolkata and Guwahati. They charge about Rs 4 per km in these A/C luxury buses.
Shopping
A rural development center, Sriniketan is located at a distance of few minutes' drive from Shantiniketan. You will find the locals creating a variety of stunning handicrafts like colorful batiks, intricate embroidery on saris, scarves, and bags, and terra-cotta items such as jewelry. A visit to this place will surely mesmerize you and leave you bewildered while choosing a few of those beautiful and exclusive crafts items.
Attractions
Briksharopan
Planting of saplings and Halakarshan, ploughing of fields on 22nd &23 Sravana (August).
Khoai Mela: It is a fair conducted on every saturday in Santhiniketan. It starts in the very early morning 4'o clock. All types of household items, handicrafts, artifacts, clothes and other tradable items are sold here. Locals throng this mela to have a valued purchase. This is a worth place to visit.
Poush Mela
Just in case you are visiting Shantiniketan in December, do not forget to miss out the Poush Mela that lasts for three days from December 22 to 25. The town's biggest festival, you can indulge yourself into a variety of traditional Bengali handicrafts and bric-a-brac like jewelry, leather goods and batik prints. Watch out for live performances by singers, dancers and bauls (wandering minstrels) singing their unique folk songs.
Rabindra Janmotsab
Though the birthdate of Rabindranath falls on May 8/9, the anniversary as well as the Bengali New Year is celebrated on the first day of the Bengali New Year (mid April).
Location
180 kilometres north of Kolkata
Best time to visit
October to March
Famous For
University town and a centre of learning