Osian is an ancient small temple town in the Thar Desert and a great centre of Brahmanical and Jain religions and contains the largest group of the Hindu and Jain temples in Rajasthan. This town houses numerous ancient Jain and Hindu temples, some temples dating back to 8th to 11th centuries. It is the gateway to Thar Desert and connected to the renowned Reggies Camel Camps.
Image Credit: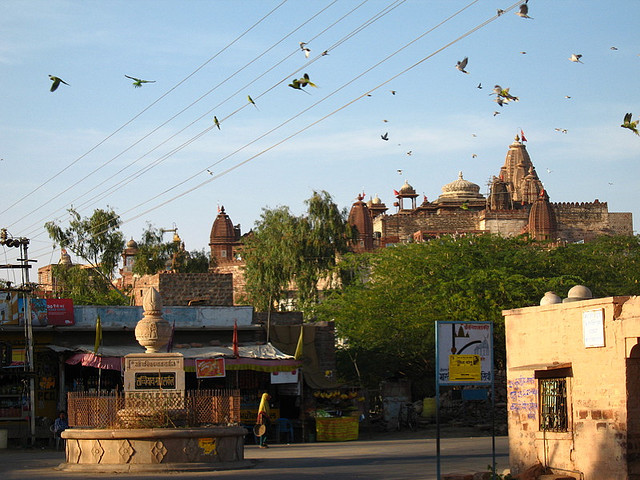 History
In the medieval period, Osian was a large and bustling town and caravans from Arabia, Persia, Afghanistan and central Asia arrived here for trade. Osian was also the capital of the Gurjara Pratihara dynasty from the 8th to 12th century. Osian was an important centre of pilgrimage between the 8th and 9th centuries. This can be known from the surviving Hindu temples of the Vaishnava, Surya (Sun) and Shakti (mother goddess) sects. The Brahminical influence was very strong in Osian during that period and later, Jainism also flourished in the place through the Gurjara Pratihara dynasty. But still, various Hindu devotees visit the Osian temple dedicated to the goddess Sachiyamata. In ancient times, Osian was known as Ukeshpur.
Accessibility
Air: Nearest airport to Osian is the Jodhpur domestic airport. It is about 70 km away from Osian. From Jodhpur daily flights are available to major Indian cities like Delhi, Mumbai, Jaisalmer and Jaipur. Taxis are available from Jodhpur to Osian and fare is about Rs 1500.
Rail: Jodhpur, 70 km away from Osian, is the nearest railway station. From Jodhpur regular direct train services are available to Bikaner, Jaipur, and Kota. Taxis are available in the railway station and fare is about Rs 1500 to reach Osian.
Road: Regular bus services are available in Osian. Rajasthan State Transport Corporation and many local buses join Osian to various parts of Rajasthan like Bikaner, Jaipur and Jodhpur. Overnight deluxe luxury buses are available from Delhi to Osian (650 km).
Things to do
Camel Safari: The major attraction for tourists visiting Osian is the naïve experience of Camel Safari, one of the spectacular and unique ways to experience Rajasthan. Camels are the ships of the deserts and the safari over this ship under the hot sun is exciting and vibrant. The Camel Camp in Osian, which is established by the grandson of Maharaj Rattan Singh named Reggie Singh, has a Safari club offering Camel safari around the deserts of Osian. It is Reggie Singh who started camping business with the highest sand dunes. The camp is brilliantly furnished and has a superb swimming pool. Those adventurous visitors looking for Camel safari can stay here with all comforts and have the real experience of Camel safari for affordable rates.
Termperature
Summer 32-45°C, Winter 5-28°C
Best time to visit
Oct - Mar