Mathura , the famous 'Janambhoomi' of Lord Krishna, is an important pilgrim place for Hindus and Krishna followers, located on the western bank of river Yamuna. The beauty of the city lies in its beautiful ghats, archways and temples stretching along the right bank of the River Yamuna. As the legend goes, Mathura was founded in the Treta era by Shatrughna, the younger brother of Lord Rama and later was under the royalty of King Kamsa, the maternal uncle of Lord Krishna.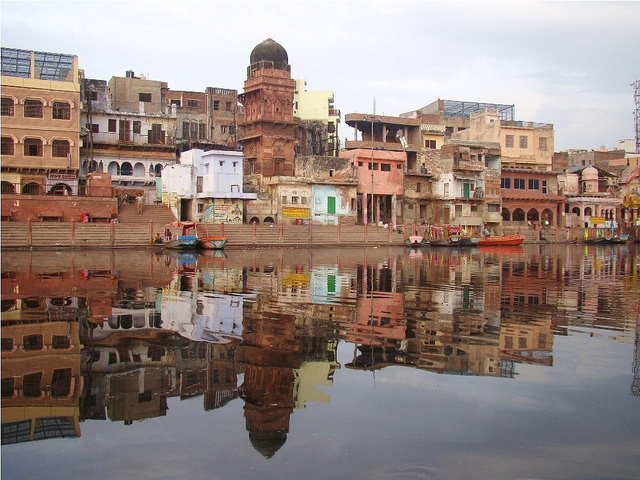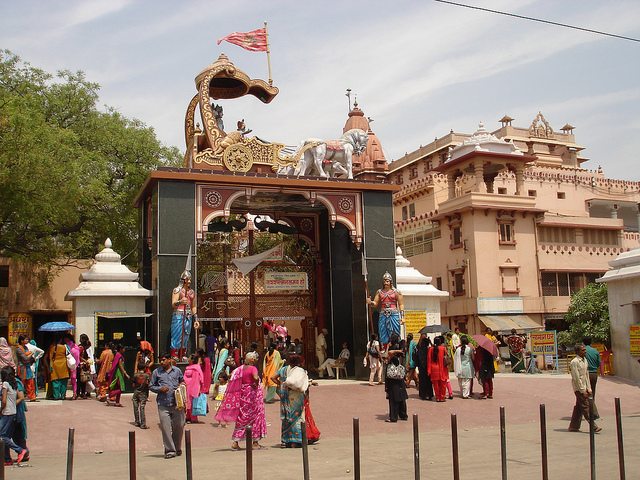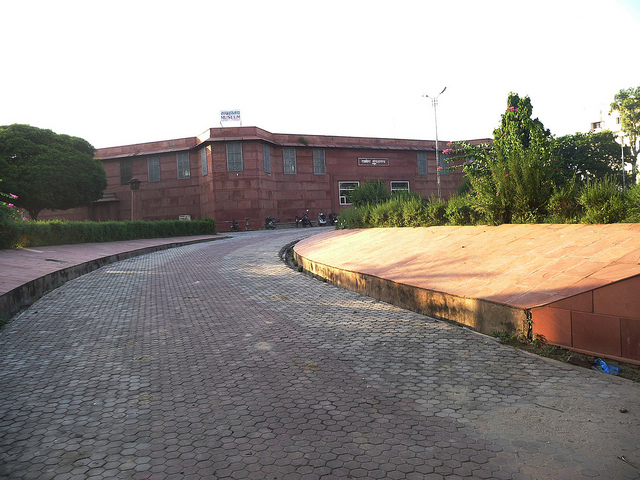 History
According to the mythological history of Mathura or Brajbhoomi is famous as a birthplace of Lord Krishna. Vasudeva had carried Krishna, the eigth child of Devaki, to Vrindavan or Mathura to save him from being killed by Kansa. Historical city of Mathura and its surroundings carry interesting stories and childhood exploits of Lord Krishna. Lord Krishna grew up here only to kill Kansa later.
According to the history of Mathura, it became a part of the Mauryan empire under the reign of King Ashoka. The benevolent king was an ardent follower of Buddhism. During this period, in the 3rd century BC he build beautiful Buddhist monuments and monasteries in and around Mathura. The city was an important center of art and culture between first century BC and first century AD. The wonderful carvings and sculpture of this period are referred to as the Mathura School of Art. After the decline of the Mauryan empire, Hinduism establish its stronghold in this region. Mahmud Ghazni ransacked the city in 11 th century AD destroying Buddhist and Hindu shrines. Finally, it came under the British rule in 1804.
Under the British rule the city was gifted with a cantonment. The Bhakti cult inspired the resurgence of Hindu movement. The Hindu rulers were instrumental in building up temples, river front ghats and finally revived the legend of Lord Krishna.
History of Mathura has undergone different phases, and has seen the fall and rise of many empires. Mathura has a long and fascinating history associated with mythology and tradition.
Accessibility
Air: Delhi International airport is the nearest one, which is 147 km away from Mathura. Delhi airport is well connected with major cities within the country and abroad. Taxis are available from Delhi and it takes about 9 hours to reach Mathura and fare is about Rs 2500.
Rail: Mathura Railway junction is an important rail head in the Mumbai – Delhi, Chennai – Delhi rail route. Pre-paid taxi services are available from Mathura to near by destinations. Regular train services are available from Mathura to Delhi and also to other cities in India.
Road: Mathura is well connected with nearby cities like Agra, Faizabad and Allahabad by state owned road transport corporation buses. Tourist Deluxe bus services are available from Delhi to Mathura, costing about Rs 500 per head.
Shopping
Mathura is a religious town and has a very little or no commercial activity besides religious tourism. Even most of the shops sell items that are primarily used either to perform rituals or as offerings. The city though offers a few items to shop for.
Mathura is famed as the city of cowherds and it stands true to its reputation. Milk products are something that can be brought from here. A sweetmeat called 'Peda' made of overly boiled milk is a must. Varieties of Peda are available in Mathura, we suggest, go for 'Kesharia Peda' that have generous dose of saffron in them. Another milk product called 'Khurchan' has a craze in Mathura. These are a semi-liquid variety of 'Peda' but are not made out of synthesized milk as 'Pedas' are.
Nowhere in India will you find 'Ghee' as pure and aromatic as Mathura. Buy a small can if you want to have the 'taste of India'. Other items such as sweetmeats, cheese and cheese-spreads can also be bought.
Mathura is basically a pilgrimage town; therefore it offers lots of ritual and religious paraphernalia to the visitors. Small 'Astadhatu' busts of Hindu deities are a must buy. They are costly but a treasure worth keeping. Other items such as Rosary beads, Brass statues and utensils for worship are available at Bengali Ghats, Chatta Bazaar and Chowk.
Accommodation
Hotel Brij bihari (0565-250.1090)
Hotel Shyam Inn (0565-250.2097)
Mayur Lodge
Shakti Guest house
Attractions
Janmashtami in Mathura
Janmashtmi is one of the most widely celebrated festivals in India as well as Uttar Pradesh. Although the festival is celebrated all over the Uttar Pradesh but it is the celebrations in the Mathura zone that has a special significance in this festival. The twin cities of Mathura and Vrindavan celebrate the festival of Janmashtmi with great pomp and show. Mathura being the birthplace of Lord Krishna and Vrindavan being his residence has a special place in the hearts of Krishna devout.
The festival of Janmashtmi Temples is celebrated in Mathura with great enthusiasm. The main celebrations are performed at the Dwarkadhish temple in the form of Jhulanotsava and the Ghatas during the entire month of Monsoon called 'Shravan' in Hindi. The Ghatas are the most spectacular feature of the month long celebrations. During the Ghata of a particular color the whole temple including the clothes of deities are covered with decoration in the same color.
Vrindavan has a distinct style of its own. The processions heavily decorated with 'Jhankis' or tableaus, depicting various episodes of Lord Krishna's life, are brought out in the city. The most spectacular displays during the period are the gold and silver 'Jhulas' or swings that are taken out on display only during the occasion. The Raslila enactments further add to the festive spirit. Apart from that Earthen-pots of curd and butter are hung up over the streets. Young men enacting an episode from Krishna's childhood form human pyramids by climbing on each other's shoulders and try to break these up.
Best time to visit
October to March
Famous For
birth place of Lord Krishna