Kolhapur, also known as the Varanasi Of The South, is situated on the banks of river Panchganga and is known as 'Dakshin Kashi'. Kolhapur is adobe of Goddess Mahalaxmi Ambabai and is one of the Shaktipeeths mentioned in Indian mythology. The city is also a gateway to destinations such as Panhala and Dajipur Bison Sanctuary. It also offers quite a lot for adventure seekers, proximity to Hills & Forests gives enough for the rough and tough ones.
http://www.flickr.com/photos/himanshu_sarpotdar/4137660444/in/set-72157…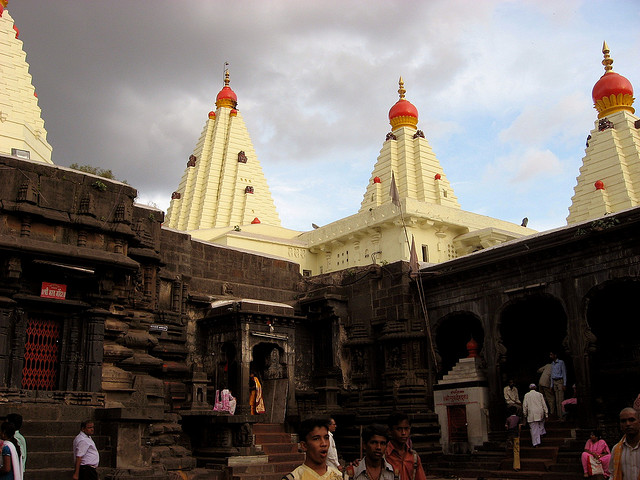 History
An excavation in 1945 on Brahnmagiri Hills in Kolhapur revealed the existence of an ancient town dating back to the Roman era. The city was ruled by many Indian dynasties in the years thereafter - the Yadavas, Rashtrakutas, and Chalukyas among others mostly rulers of medieval times. It was once the capital of the Silahara dynasty. The city is sprinkled with many of the temples built during the Satavahana dynasty However the city of Kolahpur flourished under the rule of Marathas when Kolhapur became the cultural hub promoting various crafts like drama, art, paintings. Today, the city is a prominent centre of the Marathi film industry.
Kolhapur was earlier called "Kolhasur". Legend suggests that a demon named Kolhasur was killed by Goddess Mahalakshmi, whose temple is the main attraction in the city. She relieved the local population of his evil deeds, but honouring the demon's dying wish, the city was named after him.
On the religious front Kolhapur was called as "Dakshin Kashi or Karvir" because the main deity here was Goddess Mahalakshmi or Ambabai. The city is one of the Shaktipeeths mentioned in Indian mythology – the book of Devi Gita.
The founder and architect of modern city of Kolhapur is Chhatrapati Shahu Maharaja.
Accessibility
By Air: Kolhapur has a domestic Airport at Ujlaiwadi which is connected to Mumbai International airport. Airport is located at a distance of 13 km from heart of the Kolhapur city.
By Rail: The Kolhapur railway station, Chatrapati Shahu Maharaj Terminus, is connected with many cities in India including Mumbai, Pune, Bangalore and Ahmedabad.

By Road: Kolhapur is well connected by state owned public transport buses. Deluxe luxury buses are available from major cities like Mumbai (400 km) and Pune (225 km) to Kolhapur.
Shopping
Kolhapur is well known for its textiles and cottons, in particular Kolhapuri sarees (also spelt as saris). But it is of course most famous for its jewelry and leather sandals or Kolhapuri Chappals. One could easily get five pairs of sandals for less than Rs. 500. The jewelry from Kolhapur is known to dazzle the beholder and is beautifully crafted with delicate embossing and workmanship.
Mahadwar and Shivaji Roads are good places to shop. One can find a good variety of Kolhapuri chappals and other leather goods on Bhausinji Road. There are a few good buys around the bus station in the Rajarampuri area. Shetkaari Bazaar is the cheapest place to shop and is popular amongst the villagers from surrounding areas.
Shopping Speciality
Kolhapuri Chappals (footwear)
The age old Leather and Footwear Industry in Kolhapur is a unique identity of Kolhapur in India. Apart from exporting Leather raw material in a big way, the traditional Chappals made here have a unique ethnic look and have been equally popular in India and abroad. These Chappals are still mainly prepared by hand, which helps them retain their unique appearance. Places like Kapashi, Kurundwad and Airoli in Kolahpur district have roughly 500-700 Small and Large scale Industries where these Chappals are prepared.
Silver Jewelry Art
Another town, Hupri, which is situated just 16-km away from Kolhapur is a place where people are skilled in the art of making Jewelry and Show items out of Silver. This traditional business has expanded throughout the Maharashtra State and notably through entire India, Nepal, Belgium, Romania and America.
Accommodation
Kolhapur is well equipped with excellent accommodation facilities in its hotels. Most of the Kolhapur hotels are centered around Station Road and the options vary from five star luxurious hotels to reasonable budget hotels and tourist lodges.
Kohlapur city is visited by a large number of people every year, comprising mainly of tourists and business travelers. This makes it necessary for the city to have adequate accommodation facilities. Providing the perfect options for the visitors are the numerous hotels in the city, ranging from the business-class ones to the budget ones. This is to ensure that travelers coming to Kohlapur find decent places to stay, which suits their budget as well as needs. In the following lines, we have provided information on the major hotels serving the accommodation needs of Kolhapur visitors.
Shalini Palace (Heritage Hotel)
Shalini Palace is located at Kolhapur, on the west bank of the serene Rankala Lake. It is the only heritage hotel in Maharashtra and is therefore, very popular amongst business tourists. The facilities provided at the hotel comprise of Conference Facilities, Multi-cuisine Restaurant, Club House, etc.
Hotel Vrishali Executive (Business Hotel)
Hotel Vrishali Executive is business-class hotel, situated in the city of Kolhapur. The facilities provided at the hotel comprise of Audio-visual equipments for Conference, Banquet Facilities, Travel Assistance, Safe Deposit Lockers, Laundry Service, Email, Tele-fax, Doctor on Call, Typing Facilities, Car Rental Facilities, etc.
Victor Palace (Three-Star)
Victor Palace is a three-star hotel, situated at a distance of 7 km from the Kolhapur Airport, 1 km from the railway station and ½ km from the bus stand. The facilities provided at the hotel comprise of Internet, Mini Bar, Business Centre, Banquet Facilities, 24 hrs Coffee Shop, Chat House, Ice Cream Parlor, Poolside Barbeque, Beauty Parlor, Health Club, Swimming Pool, Discotheque, Shopping arcade, Money Changer, Fax, Travel Desk Service, Baby Sitting, Open Lawns for Parties, etc.
Hotel Raysons Regency (Three-Star)
Hotel Raysons Regency is a three-star hotel, situated at a distance of just 2 min from the bus stand and 5 min from the railway station. The facilities provided at the hotel comprise of Multi-cuisine Restaurant, Tea and Coffee Joint, Bar, Banquet Hall, Lockers Car Rental Facilities, Conference Facilities, Business Centre, etc.
Hotel Tourist (Budget Hotel)
Hotel Tourist is a two-star hotel, situated at a distance of 8 km from the Kolhapur Airport, ½ km from the railway station and ½ km from the bus stand. The facilities provided at the hotel comprise of Room Service, Telephone, Fax, T.V., Safe Deposit, Channel Music, Banquet & Conference Facilities, Courier Service, Travel Desk Services, etc.
Location
228 km south of Pune, 615 km north-west of Bangalore and 530 km west of Hyderabad.
Best time to visit
November to March
Famous For
Kolhapuri chappals