Gulmarg, popularly known as "Meadow of Flowers", is known for unparalleled beauty and is rated as one of the matchless tourist spots of the world. The place is famous for Golf hikes and boasts of a beautiful highland golf course and is popular as premier resort for winter sports in the country.
Image Credit: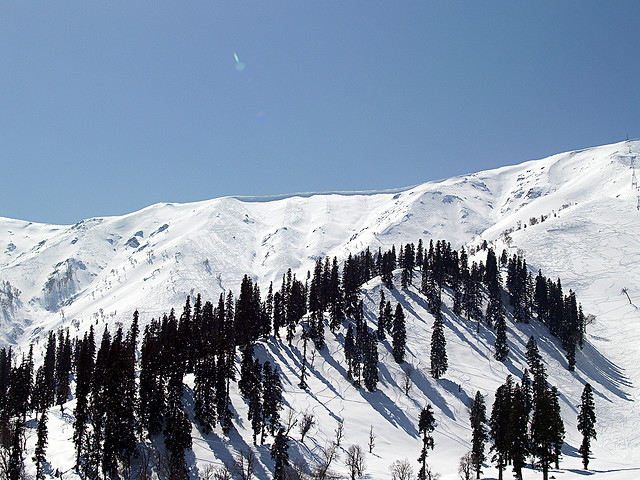 History
Gulmarg has been a resort for the kings like Yousuf Shah Chak and Jahangir who used to visit frequently. The old name of Gulmarg was "Gaurimarg", the name of Lord Shiva's wife. Yousuf Shah Chak changed its name to Gulmarg, meaning the place of roses. During the early part of the 20th century the famous Central Asian explorer Sir Marc Aurel Stein (1862 – 1943), made his home here in a tent between his expeditions. It was a favourite summer holiday destination for the British stationed in India.
The surrounding areas were politically restive during the 1990s uprising in Kashmir, but since a ceasefire between India and Pakistan in 2003, the town has enjoyed a period of relative peace and quiet. The town is nestled within the imposing Himalayan peaks, and lies within miles of the Line of Control. It receives heavy snowfall during the winter season and is a popular ski resort.[3].
With the abatement of militancy in the area, Gulmarg has quickly become one of the state's most visited destinations. The slopes of the Afarwat Hills of the Pir Panjal Range of the Himalaya Chain boast one of the longest and highest ski slopes in Asia. The total distance covered by ski lifts is five kilometres and the resort peaks at an altitude of 3,950 m (12,959 ft), accessed by an aerial gondola (telecabine). The skiing project was inaugurated by the Chief Minister on 25 December, 2004. The entire hill is guarded by the army at all times. The army, which is seen everywhere in the cities of Kashmir, is not in the town or the actual hilltop. Frisking is only done midway on the access road at 3 places: Tangmarg, near an army camp on the road from Tangmarg, and 5 km before entering Gulmarg. Gulmarg does not have any permanent residents. All living in Gulmarg are hotel employees and guests. Everyone else is required to leave the village by sunset, due to a curfew imposed by the army in 1990.
Accessibility
Air: Nearest airport to Gulmarg is Srinagar, which is 56 km away from Gulmarg. Jeeps and Taxi cabs are available from airport to Gulmarg, which will cost around Rs 1000 – Rs 1200. Srinagar is well connected to Delhi with daily regular flights. Many other Indian cities are also connected to Srinagar by air.
Rail: Closest Railhead from Gulmarg is Jammu. Jammu is connected by rail to many cities in India; especially direct trains are available from northern cities.
Road: Gulmarg is 56 kms from Srinagar. J&K SRTC operates regular deluxe and ordinary bus services from Srinagar. In winter, the buses operate up to Tangmarg (11 kms from Gulmarg), the remaining distance being covered with smaller vehicles. Tourist taxis also operate between Srinagar and Gulmarg.
Shopping
Gulmarg does not offer much to shoppers, better you shop in Srinagar which is home to a number of markets.
Accommodation
When you plan a visit to Gulmarg you need not worry much about accommodation options. Gulmarg has several hotels and tourist lodges which offer comfortable stay to guests at reasonable rates. If you visit Gulmarg in the peak season then it is advisable that book hotels well in advance. Some of the popular hotels of Gulmarg include Welcome Hotel, Hilltop Hotel, Nedous Hotel, Highland Park etc. You can also stay at hotels run by the Jammu and Kashmir Tourism Development Corporation.
Things to do
Golfing Holidays: Gulmarg in summers - It is for golfing that Gulmarg has long been famous. The Gulmarg Golf Club has been in existence for over a hundred years and there are records, dating from that time, which make fascinating reading. The Clubhouse itself, reminiscent of a Swiss chalet with its quaintly sloping roof, has a rare old character. Temporary members are also welcome: the payment of a daily fee entitles one to play 18 holes on course maintained by the State Tourism Department. A limited supply of golfing equipment is available for hire.
Horse Riding: This is the best activity by which all the sites of Gulmarg can be seen. Horses can be hired directly or through the Tourist Office.
Skiing: Skiing and snowboarding are two main activities which can be carried out in Gulmarg and it has become the most popular spot for skiing in India. Winter comes here with all its majesty and snow falling makes the landscape covered with thick glossy smooth snow. Long run Skiing is the major attraction for all kinds of tourists in Gulmarg.
Many ski resorts with all kinds of facilities for skiing and also for enjoyable vacations are out there in Gulmarg attracting huge flow of domestic and foreign tourists. A tourist can get the help of skiing guides from the resorts or government shops. They offer all supports for an enthralling and exciting skiing vacation in Gulmarg.
Sledging: Sledging at Gulmarg - A flat wooden board is taken up the hilltop and, without a navigator, allowed to slide downhill on the snow-covered slopes. Sledges as well as sledge-pullers are always available on hire. . There are also snow scooters and snow bobbing, neither requiring special skills.
Trekking: Gulmarg is a very popular trekking base in the Himalayan regions. Many trekking trails offering medium to hard adventurous trekking originates from the hilly terrains of Gulmarg. There are many resorts offering all supports for trekking expeditions and also there are many skilled guides.
Gulmarg-Khilanmarg, Gulmarg-Apharwat and Gulmarg-Alapther trekking trails are very popular among the trekking enthusiasts. The trekking through the breathtaking undulated snow covered sloppy Himalayan ranges is really an adventurous experience to extol. Majestic views of Namga Parbat, enchanting snow covered valleys and dense forests make the trekking in Gulmarg a wonderful experience for any traveler.
District
Baramula district
Best time to visit
May To September, November To February
Famous For
Winter Sports, Ski Resort and Highest Golf Course in World