Nestled among ancient temples and architectural splendors, Chidambaram is a small temple town in Tamil Nadu, India where the Indian culture, tradition and religious rituals are preserved with all its aesthetic values and beauty. Chidambaram, the word synonym to Lord Shiva, is a hot spot among Shivaites (devotees of Lord Shiva) with the renowned Chidambaram Natarajar temple.
Chidambaram is famed as the land of one of the most ancient Shiva temples referred in Puranas and Mythologies. As per Hindu belief there are five natural elements forming the whole world and there are five Shiva temples representing each of these elements. Chidambaram is one among the five temples and represents the air (space), one of the five natural elements creating the body and world. The other Shiva temples coming in this category are Kanchi Ekambareswara (earth), Thiruvanaikaval Jambukeswara (water), Kalahasti Nathar (wind) andThiruvannamalai Arunachaleswara (fire).
Lord Shiva appears in the form of the cosmic dancer Nataraja in this temple. This temple has a Nataraja idol as the prime deity, a distinct feature from other temples where Shivalingam is worshiped as the prime deity. This ancient temple, visited by thousands and thousands from all over the world every year, was constructed by Chola Kings. The temple has imposing architecturally built gopurams (towers) on each side and has five spacious courts. The temple also has a deity of Lord Govindaraja Perumal, a form of Lord Vishnu. This temple is one of the few temples in which both Lord Vishnu and Lord Shiva are worshiped. The Pallava king Simhavarman, Hiranyavarman of 5th century CE, had renovated this temple with Dravida style of architecture. The sculptures and images display the mesmeric talents of South Indian and Dravidian creativity and artistic talents.
Tourists from all over India and abroad flock to this temple down all through the year, especially during the festival seasons. The eye feasting car festivals extending to 10 days in April/May and December/January attracts huge number of devotees. It is believed that performing dances in front of the Nataraja is bliss. Natyanjali festival celebrated in February attracts many performers of folk arts and dance to Chidambaram town. Chidambaram houses numerous other temples as well.
There are many shopping options in and around the city. These include the Khadi Craft centre and the Car Street near the Nataraja temple.
Situated some 250 km from Chennai, the city of Chidambaram is located in the east central part of Tamil Nadu and is the most important pilgrim spot for the devotees of Lord Shiva. The word Chidambaram comes from words 'Chit' and 'Ambaram', which literally means the sky infused with an atmosphere of intelligence and wisdom. Spread over an area of 5 sq. km Chidambaram has a population of around 60 thousand most of them speaking Tamil and English. It totally has a plain topography with the highest point just 6m above sea level. So don't expect a very adventurous trip in this city. Chidambaram had been the northern frontier of the ancient Chola kingdom. Now Chidambaram is famous for its cluster of temples and their Dravidian style of temple architecture, with few of them being absolute gems in the architectural domain.
Image Credit:
http://www.flickr.com/photos/dopey_boy/1414712555/in/photostream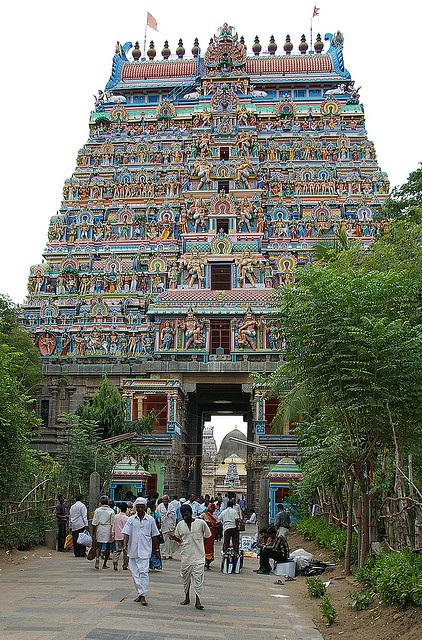 History
Chidambaram (also Thillai) literally means the sky permeated by an atmosphere of intelligence and wisdom. According to legend, it was once a forest of tillai, a mangrove species of trees. There was once a small shrine on the banks of a tank. The saints Vyagrapada and Patanjali are said to have worshipped at this shrine, now called Thirumoolanathar. It is believed that their penance attained fruition with the revelation of Shiva's cosmic dance by Lord Nataraja on the auspicious Thai Poosam day. The golden hall of dance was built and covered with gold plates by Jatavarman Sundra Pandya (AD 1251-1272). He was very proud of his achievement, and as such assumed the title of Hemchandandana Raja (literally the king who covered the temple with gold).
Accessibility
Air: Nearest airport to Chidambaram is at Tiruchirappali at distance of about 195 kms. It is well connected to Chennai airport by regular flights. Taxi services are available from Tiruchirappalli to Chidambaram for a fare of about Rs. 2200. Chennai International airport is at a distance of 245 km away from Chidambaram. Taxi charge from Chennai to Chidambaram is Rs. 3000.
Rail: Chidambaram is well rail connected to all major cities in India through Chennai and Tiruchirapalli. It lies on the major rail route connecting Trichy and Chennai.
Road: Chidambaram is connected by buses to all the major towns and cities in Tamilnadu and also connected to cities in Kerala, Karnataka and Andhra Pradesh. Regular bus services are available to Madurai, Kanyakumari, Chennai, Trichy, Pondicherry, Trivandrum and Thanjavur.
Shopping
Shopping in Chidambaram is restricted to local handloom and textile products. There are daily markets around commonly visited places like the Nataraja temple where tourists can buy souvenirs.
They range from stone carved images of Shiva in the Ananda Tandavam posture, replicas of the temple, laminated or framed images of the gods and deities etc. apart from these, during the festivals there are large fairs throughout the city where villagers from the nearby areas set up their stalls.
One could buy trinkets of local jewelry, or refresh their taste buds with the local sweets and snacks. Beside these there are state handicrafts and khadi houses.
Attractions
Natyanjali Festival
The Natyanjali festival, which brings all the prominent dancers of India, together on the same platform, opens on the auspicious occasion of Mahasivaratri, in the month of February. It is performed at the 'Prakara' of the temple, and the dancers, full of intense bliss and devotion, with their evocative abhinaya, offer their dance to the great divinity, Lord Nataraja.
Termperature
Summer 22-37°C, Winter 19-32°C
Best time to visit
September to March
Famous For
Temple town visited by a number of Shaivite and Vaishnavite pilgrims.