Bhagalpur is popularly known as "Silk City of India" as it is renowned worldwide for the production of exceptional quality silk (famous for its Tussar Silk & Tussar Saree). It is supposed to have been concurrent to Patliputra or Patna and finds its mention in the Vedas and Ramayana as well. The city located in the planes of the Ganges river basin and is the third largest city of Bihar.
Bhagalpur is well-known for its sericulture, silk yarn manufacture and finally weaving them into products.
Image Credit: http://www.flickr.com/photos/travelwyse/6511263705/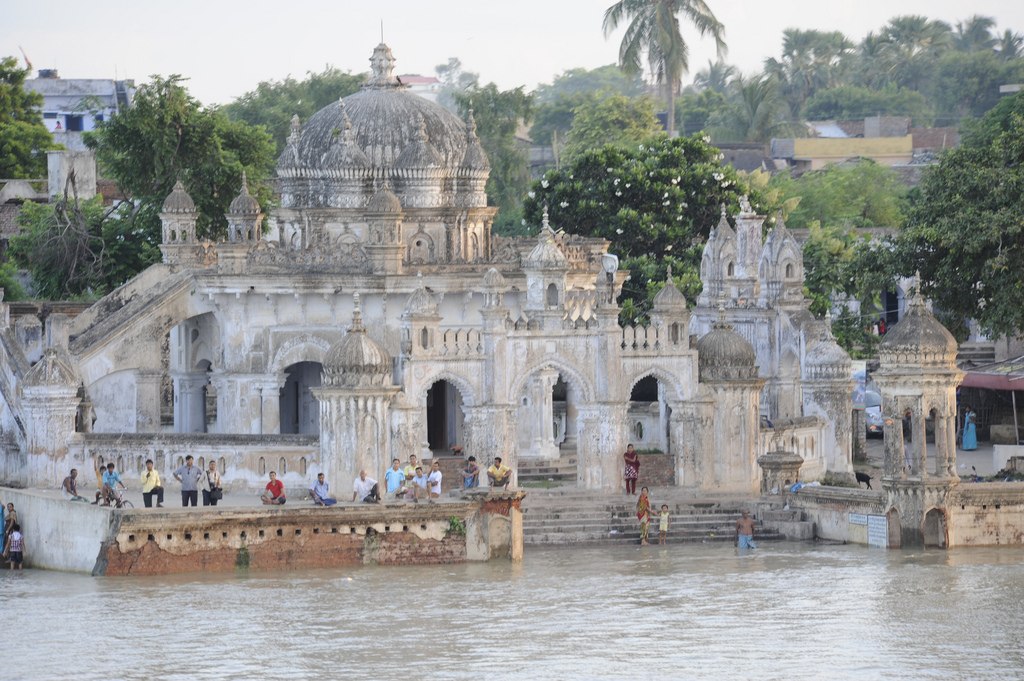 History
The city of Bhagalpur has a lot of mythological and historical significance. References of Bhagalpur can be seen in epics like Mahabharata, Ramayana as the kingdom of Anga, which was ruled by the charitable king Karna. The first railway line passed through Bhagalpur in 1861. Mount Mandar is situated around 52 Kms southwards of Bhagalpur. This hill is well known in Indian mythology. According to mythology, this hill was used by the Gods to churn the ocean, using the serpent "Vasuki" as a rope to get "Amrit". According to the puranas. Lord Vishnu, covered the demon Madhu with the hill after destroying him. This 800 foot granite hill is a popular picnic spot. The residents of Bhagalpur have been producing silk for hundreds of years. Fa Hein and Heun Tsang, the reknowned ancient Chinese travellers have made references to this city as one of the largest trade centers of eastern India. Bhagalpur also had a harbor on the river Ganga. This place is now Champanala, but it is referred to as Champanagar in history. Bhagalpur is the home of the first South Asian woman doctor, Kadambini.
Accessibility
Air
The domestic airport located in Patna, the capital city of Bihar, provides the nearest air connectivity to Bhagalpur district, situated 235 km away from the place. An international airport, it is well connected with all the key cities of India, through almost all the major airlines.
Rail
Bhagalpur railway station, one of the oldest junctions of India, serves the Hawrah-Kiqel loop-Line. The city is situated on the broad-gauge Loop Line of Eastern Railway, which connects Kiul to Burdwan. Some of the important railway junctions of Bihar, including Sultanganj, Bhagalpur, Sabour and Kahalgaon, are located on this line. A branch line connects Bhagalpur to Mandar Hills. The Barauni-Katihar section of North Eastern Frontier Railway serves as the northern part of Bhagalpur. The railway junctions lying on this line include Narainpur, Bihpur, Naugauchia and Katihar.
Road
Bhagalpur is connected by an excellent network of national and state highways, along with district and rural roads. National Highway 31 (NH 31) runs through the Navgachia Sub-Division of Bhagalpur district. It links the subdivisions of the district directly with Patna, via Begusarai and Khagaria. It also runs up to Guwahati, via Purnea-Kishanganj.
Shopping
There is nothing much to shop in the town of Bhagalpur.
Accommodation
Private Hotels/Guest Houses and Dharmshalas are available at Bhagalpur.
Attractions
Bihula-Bishahari Puja or Mansa Puja
It is a local festival held' at Nathnagar every July. Snakes are worshipped at the Bishahari Sthan which is believed to be the site where a devout lady's dead husband became alive.
Durga Puja
It is celebrated with typical Bengali fervour. Broari (community) style of puja at Durgabari and Kalibari, which is famous among the traditionally rich Bengali community, attracts people from far-off places.
Kali Puja
Bhagalpur's Kali puja is also quite famous. 'Akharas' (mock display of traditional combat art and martial art) are taken out on the roads as part of the idol immersion processions.