Pachmarhi is a famous hill station in Madhya Pradesh and is widely known as Queen of Satpura. It lies in Hoshangabad district and is located at an elevation of 3500 ft. in valley of Satpura Mountain-Ranges. Its name is derived from presence of 5 ancient caves. "Panch" means five and "marhi" means caves. Pachmarhi is often pronounced as Panchmarhi or Pachmadhi or Panchmadhi also.
The highest point in Madhya Pradesh, Pachmarhi is the most scenic spot in entire central India. Situated amongst the sedate Satpura Range, Pachmarhi is located at an altitude of 3500 ft above sea level and at a distance of 200 km from the capital city Bhopal. This is one of the best getaway for a solitaire who is looking for a quiet, sleepy and subdued place, far from the chaos and clamor of cities. There are numerous walks through the deep Sal and bamboo forests that are mostly untrodden paths. Stride along these forests and deep valleys that enviously guard this pearl. Occasionally stop by for a refreshing dip in the many crisp ponds that you will find scattered through out the hill station. The saucer shaped town has few churches and army buildings that lend a colonial aura to the environment.
Panchmarhi is the only hill station of Madhya Pradesh. It is an ideal place to escape the summer heat of central India. Captain Forsyth of Bengal Lancers was the first to spot this saucer shaped valley in the Satpura ranges in 1857 and recognized its potential for growth as a health resort. The point from where he first saw this place used to bear his name but now it is known as Priyadarshani Point. Panchmarhi was developed as a hill resort by the British and still retains that old-world colonial charm.
Visitors have the option to just laze around in their hotel enjoying the nature or they can choose to spend the time actively. There is a small golf course which is maintained by a local club. Engage in a game or two and watch the ball get lost in the splendid backdrop of Satpuras. Adventure doesn't seem to be a part of such a calm place but people who have visited Pachmarhi beg to differ. There are ample of trekking routes along the valleys of the Satpura range that are good enough to keep the trekkers on their toes.
http://en.wikipedia.org/wiki/File:Pachmarhi_valley_Madhya_Pradesh_INDIA…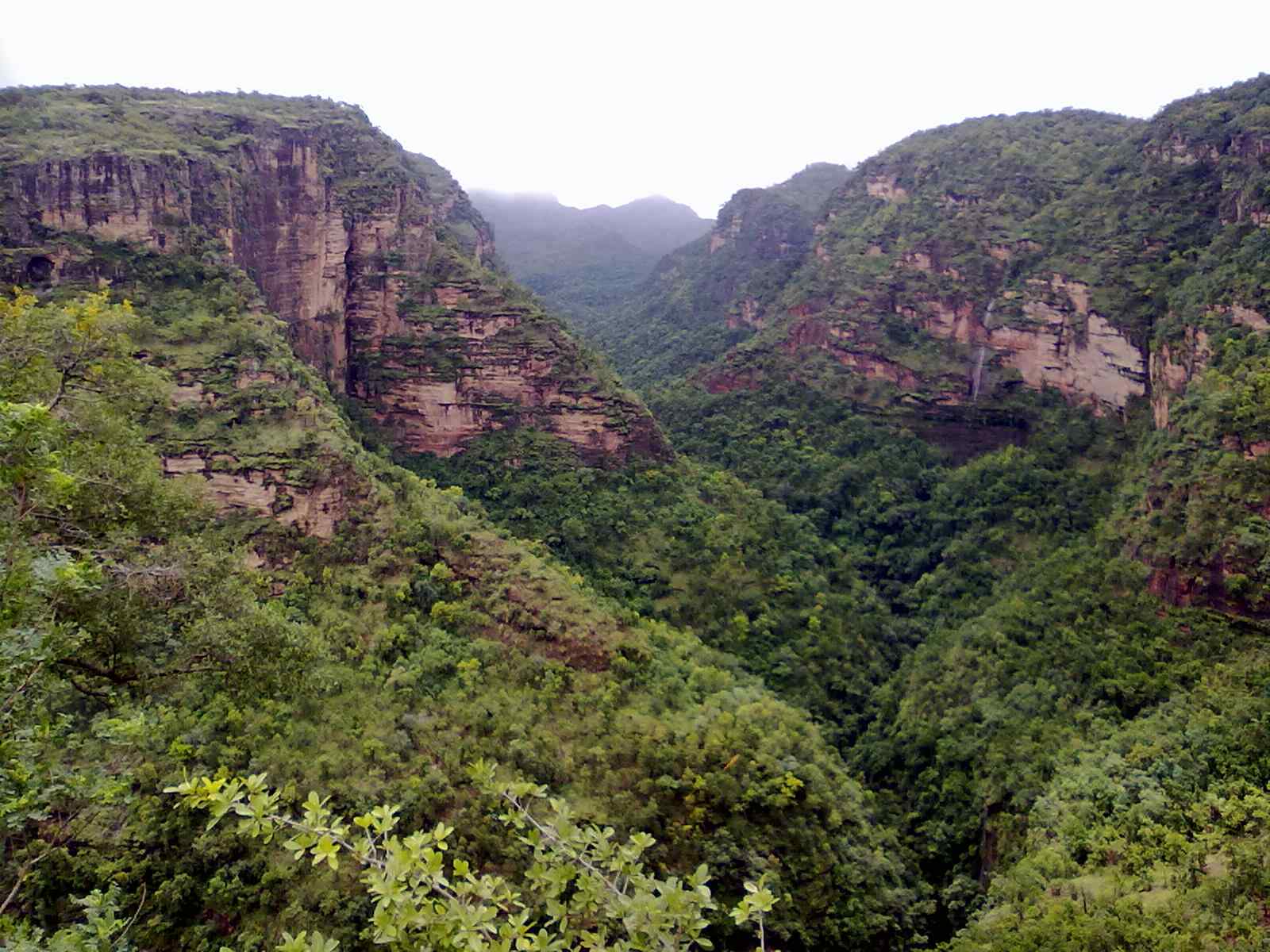 History
The history of Pachmarhi according to popular belief dates back to the age of the Mahabharata. Near the state gardens at Pachmarhi one can see the 5 madhis or huts. It is these huts that gave the name Panch Madhi to this region. In course of time, Panch madhi was corrupted into Pachmarhi giving the resort its current name. According to legend, the 5 ornamented caves resembling a Buddhist monastery actually belonged to the 5 Pandava brothers who lived here during their exile. However, geologists have classified them to be of Buddhist or Jain origin.
The course of the History of Pachmarhi in Madhya Pradesh India underwent change with the British who rediscovered the place. Pachmarhi was discovered anew by Captain Forsyth in 1857 riding at the head of a column of Bengal Lancers; the British developed it as a sanatorium and health resort. In British India Pachmarhi served as the summer resort of the Central Province.
The History of Pachmarhi in Madhya Pradesh has archeological relevance as well as religious significance with its ancient rock paintings in cave shelters seen in many locations all over the Satpura hills.
Accessibility
Air: Bhopal airport is the nearest airport to Pachmarhi, which is about 195 km away. Major airlines connect Bhopal to various cities in India, including Gwalior, Mumbai and Delhi. Flights are available to Shargah and Dubai from Bhopal airport. Delhi is the major International airport nearest to Pachmarhi. Taxis are available in the Bhopal airport and cost about Rs 4000.
Rail: Pipariya is the nearest railway station, which is 47 km away from Pachmarhi. Pipariya is on the main line to Mumbai – Howrah and most of the major trains stop at this junction. Pipariya is connected to major Indian cities like Mumbai, Chennai, Bangalore and Delhi. Taxis are available in the railway station and cost about Rs 1000 to Pachmarhi.
Road: Regular bus services are available from Pachmarhi to Chhindwara, Pipariya and Bhopal daily. Madhya Pradesh Tourism Development Corporation buses and many private buses ply on this route.
Shopping
Shopping at Pachmarhi is a unique experience in itself. This quaint little town offers an interesting options to the shopping freaks. While shopping around you will come across the beautiful bamboo and canopy work of the tribal. There are agricultural implements, baskets, hunting tools and even fishing rods from the local weekly markets. Another important buy is the metal artifacts in which the Bastar community of tribes have created a niche. Your choices do not end here. Do not forget to buy the world famous paintings where the colours are produced from dyed vegetables and almost anything conceivable. This ancient art is practiced in full fervency here.
The markets in Pachmarhi are like most small town markets in India. There are no glazed shopping malls or multiplexes, but simple looking shops owned by locals that cater to tourists as well as the inhabitants of the area. The shop near the bust stand is famous for jute and marble decorative.The queen of Satpura range of mountains invites all the tourist and provides the opportunity to practice the real work of man, that is to complement the nature. The nature in its crude form, the nature that is full of vitality and bliss. A variety of flexibility will not allow to rest even for a single moment of your sojourn in Pachmarhi. There is Adventure, Heritage, Pilgrimage, Wildlife, Pictorial Beauty, Shopping and something for everyone. So what are you waiting for. Its time you enwrap the invitation that nature holds for you.
Things to do
Trekking: Camping out in Pachmarhi's forests is a rare joy. It is famous for its scouts training camps, winter training camps and mountaineering camps. Pitch your tent in any clearing, light a fire, follow the smoke to the heavens. Pick up any trail and in no time you are surrounded by the sound of burbling water and the rustling of leaves. Tall ant-hills, that look like bits of sculpture, meditate under the sal trees and langurs stare down mysteriously from the occasional huge gular trees. The Satpura National Park, a lesser known wildlife sanctuary and reserve forest, surrounds Pachmarhi.
District
Hoshangabad District
Termperature
Summer 24-37° C, Winter 9-28°C
Best time to visit
September to May